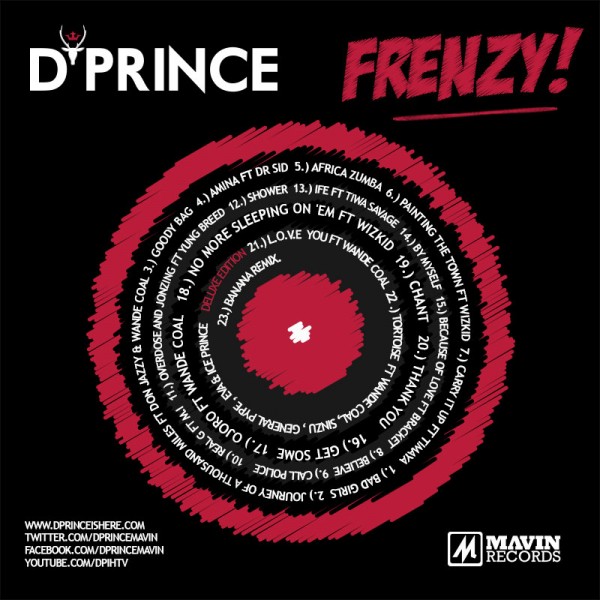 D'Prince, over and over again, has gotten us into a "Frenzy" with his club-banging singles and features. And, as his debut album "Frenzy" is dropping today, the 5th of November, 2012, we've got you the album's official track list featuring from his label mates – Wande Coal, Dr. Sid, Tiwa Savage and of course, Don Jazzy; to the likes of M.I and Wizkid amongst many other talented acts.
D'Prince also commemorated this day with a piece of art… on his body.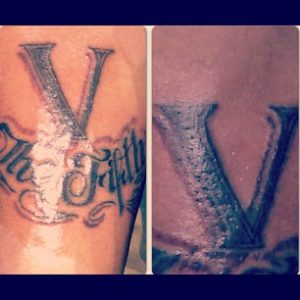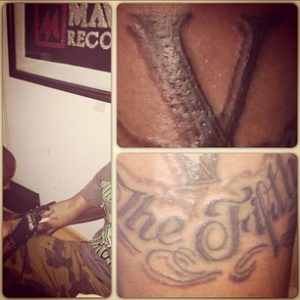 I'm sure we are all really in for a "Frenzy"!
Check on it!
Track List
1. Bad Girls
2. Journey Of A Thousand Miles Feat. Don Jazzy & Wande Coal
3. Goody Bag
4. Amina Feat. Dr. Sid
5. Africa Zumba
6. Painting The Town Feat. Wizkid
7. Carry It Up Feat. Timaya
8. Believe
9. Call Police
10. Real G Feat. M.I
11. Overdose And Jonzing Feat. Yung Breed
12. Shower
13. Ife Feat. Tiwa Savage
14. By Myself
15. Because Of Love Feat. Bracket
16. Get Some
17. Ojoro Feat. Wande Coal
18. No More Sleeping On 'Em Feat. Wizkid
19. Chant
20. Thank You
21. Skit
DELUXE
22. L.O.V.E YOU Feat. Wande Coal
23. TORTOISE Feat. Wande Coal, Sinzu , General Pype , Eva & Ice Prince
24. Banana (Remix)
25. Mr. World Critic Skit
All Tracks Exclusively Produced by Don Jazzy
Except 5,6,7,11,12,23   Co-Produced by BabyFresh for Mavin Records
20 Co-Produced by BabyFresh and AltimsBeats for Mavin Records
24 Co- Produced by AltimsBeats for Mavin Records
18 Co-Produced by Aonebeats of Maybach Music Group
15 and 17 Produced by by Spellz
14 by Joshbeatz
Check out the official "Frenzy" promo video!
And also, official behind the scenes footage from his new "Take Banana" Remix video
To promote his new video, spanking new singles and debut album, "Frenzy", the Mavin released brand new photos on his official website,  DPrinceIsHere.com. Check out all the new photos.