What's not to love? An intimate wedding, on a stunning private island with a helicopter whisking the bride and groom away and landing back on ground for them to begin their joyful lifelong journey. This was Ehi and Ade's wedding day!
From the boarding pass invitation cards with leather passport covers to the groomsman dressed as an airline pilot and friends as chic air hostesses, the helicopter ride after the marriage blessing, guest tables labelled after airlines, the exquisite aeroplane-shaped cake and a performance by award-winning Canadian soul singer Akin Busari, Ehi and Ade's wedding in picturesque Caledon, Ontario, Canada was simply beautiful and oh-so unique. All that without breaking the bank as the bride shares her top wedding planning tip, "Negotiate Negotiate Negotiate! – You can get the best wedding without breaking the bank."
Ehi and Ade met at the most unexpected place (a baby shower!) and then a wonderful surprise proposal; Definitely tips the romance scale on BN Weddings!
Enjoy…


____________________________________________________________________________________________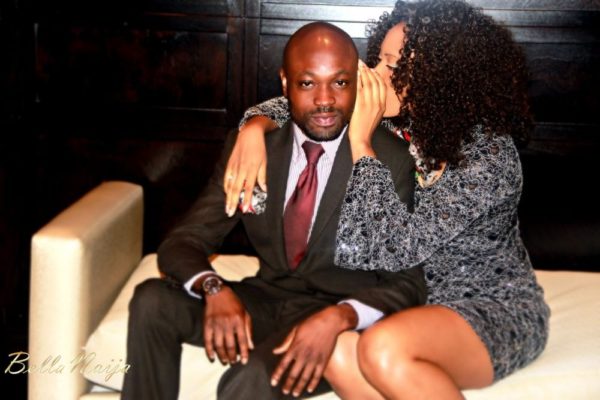 How Ehi & Ade Met
by Ehi
We met at a baby shower in December 2009. Ade walked up to me and said "you are the most beautiful girl in this place and I happen to be the best looking guy here, what do you say, we exchange numbers?"
I was taken aback by his cocky attitude and overconfidence and I just yelled "NO". I normally don't do that but I just had this sweet urge to pop his self assurance 🙂
To cut the long story short, he later tracked me on Facebook via tagged pictures of the event and we found out we attended the same church. So when I needed a ride desperately to church the Sunday after, guess who made me take his number to call him? Yup…me! It all started there…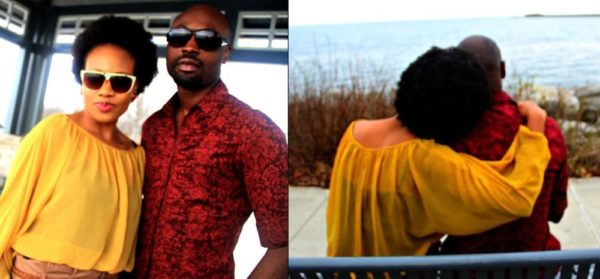 The Proposal
My surprising proposal came during my birthday party which I had planned with so much excitement and vigor. I was carried away with making sure my party went as planned and catering to my 100+ guests. Little did I know that my Mister had another plan.
Sometime during the event, I was called on the hot seat amidst all my guests to unwrap my gifts and attempt to guess who they were from. One after the other I went through my gifts until I got to a huge box!
As I unwrapped it, the box got smaller and smaller; box in, box out, it mysteriously reduced in size and at this point, my first disappointment was "this is definitely not the iPad I requested for"..well after what seemed like 15 boxes and a gazillion of wrapping sheets, I finally get down to a tiny trinket and in opening it, nothing could have prepared me for what I was about to behold, A RING?!!!.
"Well, why would anyone give me a ring for my birthday" (I silently thought). I thought hard about this for 5 long seconds and as I turn around to seek answers, I see Ade kneeling right behind me and all I remember is him saying a bunch of things which I don't remember because the whole party went ballistic and I must have ran around the whole room saying "NO WAY…NOO WAAY".
It was most surprising to me because he was supposed to be out of town for work that weekend and I was too busy being a planner to think of this proposal, it was a nice surprise and I said YES…
_____________________________________________________________________________________
To the sounds of Frank Edwards' stirring gospel track "Mma Mma", Ehi Irianan walked down the aisle with her father to the beautiful gazebo where her groom, Ade Mabo was waiting for his wife-to-be. Everyone was there to celebrate Ehi and Ade's love, as their marriage was blessed, guests clapped and cheered as they were pronounced as husband and wife.
The couple were literally whisked away after the ceremony as they embarked on a helicopter ride. After they landed, they savoured the special moments with their bridal train, family and friends. Smiles were all around as photos were taken and everyone soaked in the stunning landscape on the scenic island. The bride, Ehi looked angelic in her ruffled mermaid silhouette wedding dress paired with sparkly pink shoes which matched her bouquet of fresh pink roses. The groom, Ade was sleek in his suit paired with Ray Ban Aviators which matched the aerospace theme of their wedding.
Then it was time was the reception where everyone enjoyed the delicious food, a taste of the aeroplace-shaped cake and all the fun games Ehi and Ade had lined up. It was a simply marvelous day!
BN wishes Ehi and Ade all the joy and blessings of marriage.
Traditional Wedding
Ehi and her sister celebrated their traditional wedding on the same day. So sweet!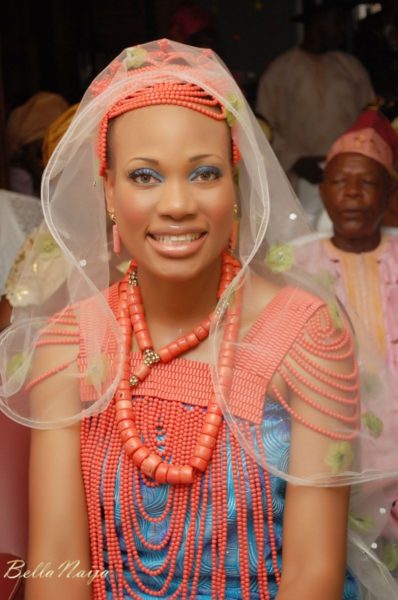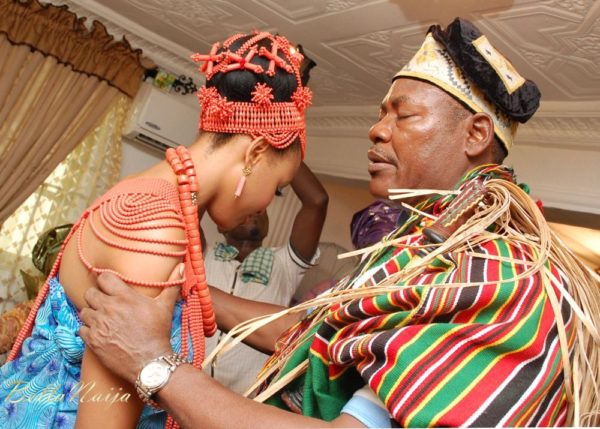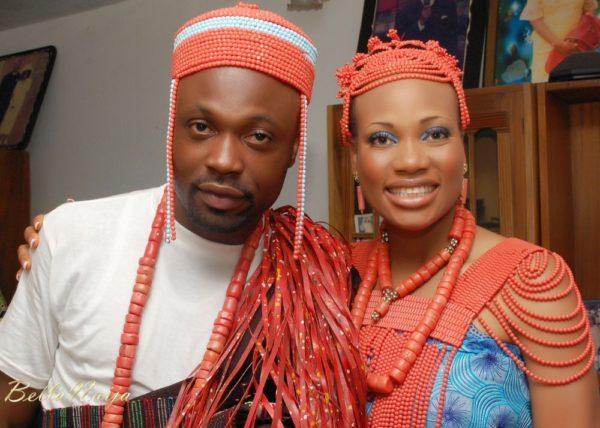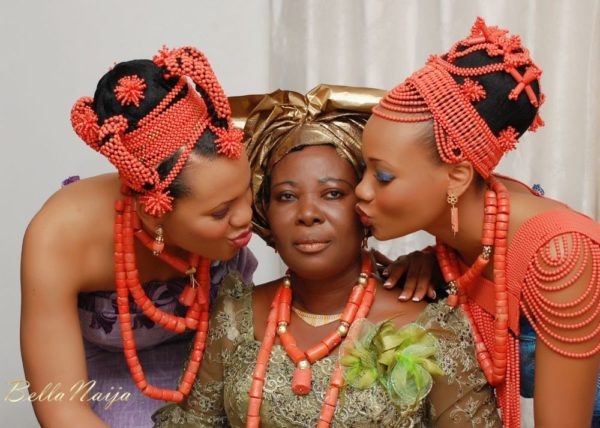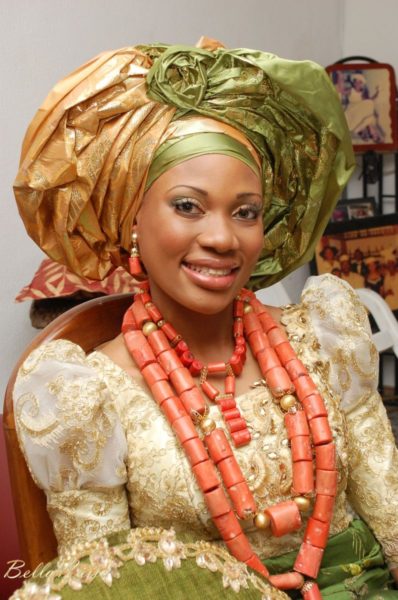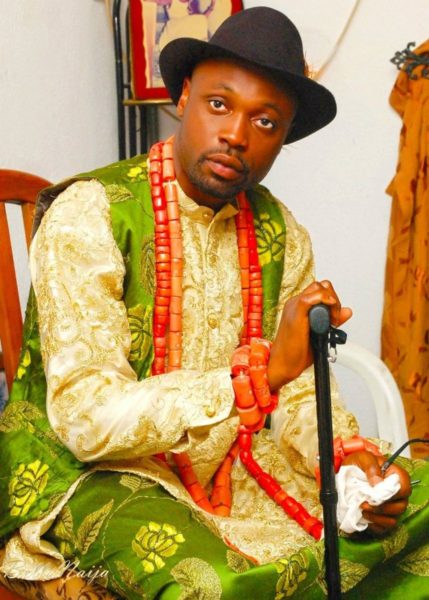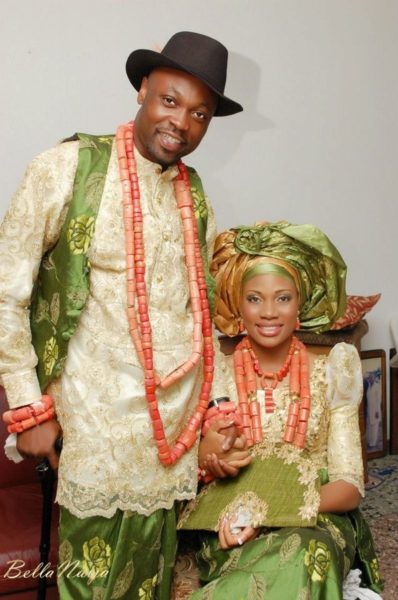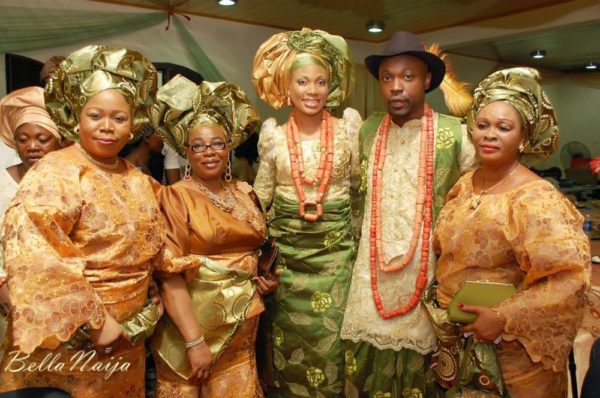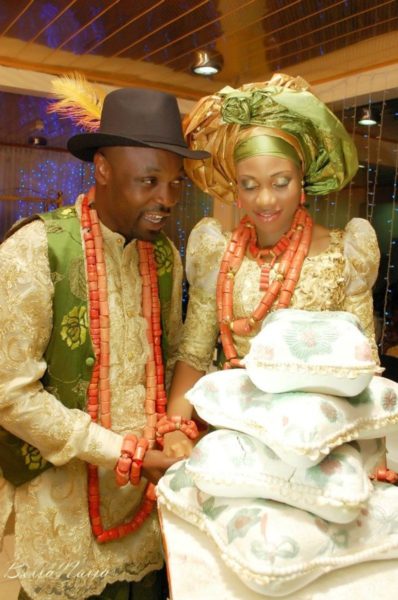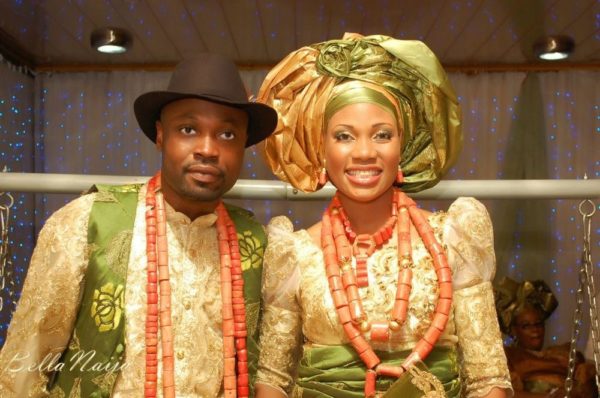 Wedding Details
Wedding Dates:
Traditional Wedding – April 21st 2012
White Wedding – August 2nd 2012
Wedding Venues:
Traditional Wedding – Family Home in Warri, Nigeria
White Wedding – Private Island in Caledon, Ontario, Canada | Royal Ambassador Event Centre, Caledon, Ontario, Canada
Wedding Colours
Traditional Wedding: Gold and Mint Green
White wedding: Pink and Silver
Wedding Theme: Aerospace Theme
~ Photography: Andy E. Williams – www.andyewilliams.com
~ Additional Photography: Event Union, Toronto – www.eventsunion.com
"Flying with the Mabos" – Ehi and Ade's Creative Wedding Video Introduction

Ehi & Ade's Stylish Wedding Film Preview

Vendor List
Event Coordination: Lola Coker-Esu for The Socialites Manual – Facebook | Twitter | Website
Wedding Dress: Allure
Groom's Attire: Harry Rosen (Suit) | Hugo Boss (Shoes) | Louis Vuitton (Tie & Pocket Square)
Decor: FETES
Cake: Airplane Cake by For the Love of Cake – www.fortheloveofcake.ca
Food: Agape Food
Bridesmaids' Flowers: Gift Solutions by Blossom – www.blossomsoccasions.com
Wedding Favors: Gift Solutions by Blossom
Performing Artist: Akin Busari
Music: DJ Chigzy
Cinematography: Frank Coral