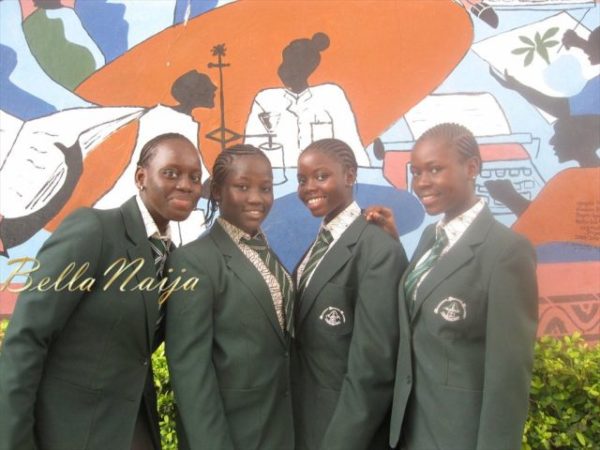 Two weeks ago, Nigerians, and indeed the entire world were stunned with the pleasant and extraordinary news of four teenage girls who successfully developed a Urine-Powered Generator. I call it extraordinary because the invention was not developed by some Professor or University Students or experienced Engineers, but by four girls between the ages of 14 and 15. The Senior Secondary 2 students from Doregos Private Academy, Ipaja, Lagos exhibited the project at the Maker Faire Africa, an exhibition for inventors which took place in Lagos and from there, their story was spread across the world.
I was so impressed with the news of their invention that I sought them out. An email sent to the organizers of the exhibition got me connected with the supervisor of the project and after a few exchanges, I headed over to their school.
The girls are perhaps some of the youngest I've ever had an interview with, but as we sat chatting in their school's Chemistry Laboratory, I had no doubt that I was in the midst of some very bright minds.
Adebola Duro-Aina (14), Oluwatoyin Faleke (14), Eniola Bello (15) and Abiola Akindele (14) are close friends and members of their school's JETS club. They've consistently had good grades in school, and are very passionate about making positive changes in their society. The idea of a Urine- Powered Generator was borne out of a desire to solve critical problems in Nigeria and they shared with me the journey from the birth of their idea to its fulfillment.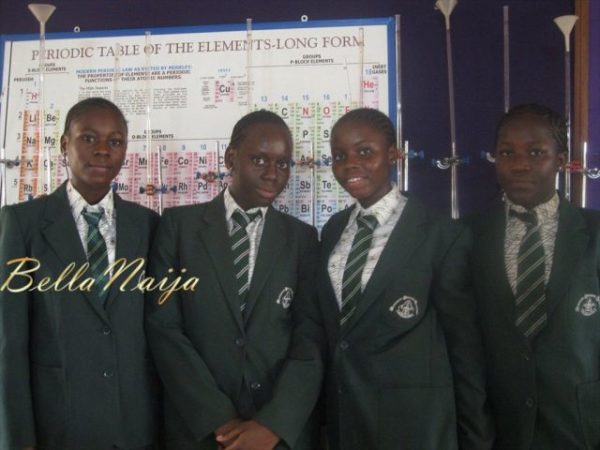 Were you inspired to develop a urine-powered generator by any particular event? How did you come up with the idea?
Adebola: We have a regular problem of fuel scarcity and epileptic power supply  in Nigeria. Nigerians have sought for alternatives using generators but these generators are mainly carbon and fuel based. And fuel is expensive due to the hike in price. There are also many cases of Carbon Monoxide poisoning in our homes so we began to think of what could be done to reduce the death rate from Carbon Monoxide poisoning and also provide cheap alternatives for fueling our generators. We've been taught in Chemistry that all waste materials contain energy, so we thought of using this energy to power our generators. We thought of urine, did some research and found that it had hydrogen and oxygen molecules. We also found out that the exhaust of urine is water vapour which is not poisonous. So we opted for urine.
Have you ever heard of anyone in any part of the world inventing something similar to what you girls did?
Abiola: When we thought of it, we asked ourselves if it could actually work. We went on research and found out that it was possible. I've heard sometime that someone tried to use urine but it didn't work out. So we developed our own idea.
Did you have any help from your teachers or a professional engineer in developing the project?
Eniola: Our supervisor helped us during the research and when we were also developing the project. He helped us get some of our materials and advised us on some adjustments we had to make to our engine. He helped us in calculating the risk involved and came up with ideas for precautionary methods we used in our Generator.
How long did it take to develop the project and what challenges did you face in getting your materials and resources together.
Oluwatoyin: It took us about three to four weeks to complete it. The first project we made exploded. This was due to the fact that we didn't insert a one way valve in the Generator. When we inserted it, it enabled the Hydrogen go into the Generator and not go back into the Electrolytic Cell where the urine is. Most of the materials we used were gotten from the refuse dump apart from the generator and the water filter. We picked the gas cylinder from a dustbin and got a used car battery which we emptied the contents and used the case to put the urine in. That served as our electrolytic cell.
When I first saw the picture of your project online, I assumed the coloured liquid in the glass container was the urine.
Adebola: That was Borax actually. The urine is inside the Electrolytic Cell because urine has to be electrolysed to Hydrogen, Oxygen mixture. The Borax is used to dry the Hydrogen gas because if moisture gets into the Generator, it spoils the engine.
Were you ever doubtful about the project while you were working on it? Did you ever think that it would not work?
Abiola: When it exploded after our first try, we were meant to be discouraged but we were not. We attempted it again and it worked.
What you girls have developed is quite impressive, but how useful is it to the average Nigerian? Do you think this is something that can be replicated in every home?
Adebola: Definitely. This is still a raw idea. It needs to be made compact and we also need funding from the government. Nigerians love cheap things and if you tell them they can use their urine instead of fuel to power their generator, they'd go for it.
Oluwatoyin: We are still brainstorming on how to make it portable instead of it having so many parts.
Eniola: We just want to make it portable for everyone to be able to use it. We need help from the government to make it more portable.
Abiola: We need the support of the government to get it mass produced.
When the news about your project was reported in the media, it was noted that One Litre of urine can power the generator for six hours. Is that true?
Adebola: Actually, 6 litres of urine can power a generator for 36 hours while I litre powers it for 6 hours. In our electrolytic cell, we have 6 litres capacity which can work for 36 hours.
Abiola: But it needs regular topping of urine because the urea will be getting more concentrated over time.
Adebola: So when you use one litre for six hours, it needs to be topped up. You don't need to pour it out, just to top it.
What is the current voltage that can be obtained from using urine to power a generator?
Adebola: The voltage depends on the capacity of the generator. For this project, we used a 1.2KVA generator.
Your project got world-wide recognition after you exhibited it at the Maker Faire Africa. Tell me about your experience at the exhibition? What did you gain from it?
Adebola: So many people were interested in our project and we were so happy, it really boosted our confidence. It gave us courage that we could embark on other projects that would improve Nigeria.
When exactly did you start developing the project and when was it completed?
Oluwatoyin: We came up with the idea sometime around September 2012 and we completed it in October 2012.
Did you carry out this project in preparation for the Maker Faire Africa or was it something you just did because you thought it was a good idea?
Eniola: In our JETS club, we heard about a family of five that died of Carbon Monoxide poisoning so we wanted to find a solution so that Nigerians won't be dying like that. It wasn't because of the exhibition. By the time we heard about the exhibition, we already had something to showcase.
Do you do such brainstorming regularly at your school's JETS club and have you carried out any similar projects recently?
Abiola: We are still thinking of more projects to do. We are hoping we can replicate this idea to be used for other machines that use fuel apart from generators such as motorbikes and cars. We are thinking of a situation where urine can be used as an alternative for fuel on a larger scale.
Tell me more about your individual interests. What are your best subjects, where would you like to further your education after your Secondary School and what do you want to be in future?
Adebola: My best subjects are the three core science subjects – Chemistry, Biology and Physics and I want to be a Gynaecologist. I'd like to study in the U.S, actually at Harvard University.
Oluwatoyin: I like Biology, Chemistry, Physics and Mathematics and I want to become an Ophthalmologist. If at all I want to study in Nigeria, it would be at Obafemi Awolowo University, or maybe I'd study in Ghana.
Eniola: My best subjects are English, Biology, Physics but most especially Chemistry and Economics. I want to be a Computer Engineer. I'd love to study in Canada.
Abiola: My best subjects are Geography, Biology, Chemistry and Further Mathematics. I want to be a Neurosurgeon. I want to study in Australia.
With your invention, I'm surprised none of you said you wanted to study something like Chemical or Mechanical Engineering. Three of you want to go into the medical field. Doesn't anyone want to continue inventing useful items like the Urine-Powered Generator? 
Adebola: I can still affect lives in any profession I do. I can also put this innovative streak into medical methods like finding a cure to HIV or Cancer. This Generator idea just came up because we are trying to solve a problem we noticed around us.
Oluwatoyin: No knowledge is wasted. We can apply the knowledge of what we've learnt into any aspect of our lives. I might be needed to do something in the hospital related to the project we've done in school someday.
Eniola: Just like in movies where people bring up computer screens in the air and use their hands to operate them, I'd love to invent something like that!
Abiola: I want to be a neurosurgeon and I would really love to build a machine that will automatically perform surgeries on a patient.
Your parents must have given you some support while you were developing the project. Tell me about some exceptional things they did that you are grateful for.
Adebola: While we were doing this project, we closed late most times so our parents gave us permission to stay long hours in school. They also gave us spiritual support, advised us, corrected our mistakes and I was able to confide my Mum.
Oluwatoyin: Our parents understood what we were doing so they always tried to bring out the best in us. They give us financial, moral and spiritual support. When the initial project exploded, they encouraged us to try again.
Eniola: Our parents have been really supportive. They understand what we are into and want to bring out the best in us.
Abiola: My Mum really stood by me but when I told my Dad that we were making a Urine-Powered Generator, he just laughed at it. When I told him we finally did it, he didn't believe until he saw us on the internet and he was so excited.
Having developed a project this important, I must once again congratulate you girls. What is your message to Nigerians and to the Government? What do you want to tell them?
Adebola: This idea is for Nigerian homes. Nigerians are really dying from Carbon Monoxide poisoning. We really need help and this is just a way of saying that we can help. We are saying this is our idea, government, please help improve on this idea.
Oluwatoyin: Our message is that urine can be used as an alternative for fuel.
Eniola: Many Nigerians have lost their jobs because their businesses depend solely on power supply. Also, because of the problem of fuel scarcity, we don't get enough fuel to power our generators. We've made an alternative and we want our government to take up on this idea and make mass production.
Abiola: My message to Nigerians is that we shouldn't neglect our waste. Instead of dumping refuse, there are so many things we can recycle that can still be useful for us. Waste is not waste until you waste it.
The news of the girls' invention has been followed by claims on some media platforms saying the idea was not completely theirs and a similar invention had been developed elsewhere. Oluseyi Lawal, the supervisor of the project had this to say.
"It is a new concept entirely. What others have tried to do was to electrolyze urine but so far they have not been able to successfully perfect the system. Not only have we generated enough gases, we have been able to use it to power a generator. You can crosscheck all these facts from the internet. The idea of using gases from urine to power a generator was entirely ours."