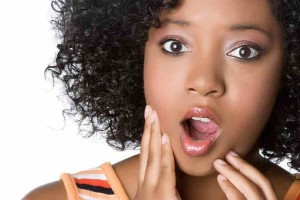 In Nigeria, the end of the year is usually marked with a change in the weather (albeit slightly), the exchange of gifts/hampers and a lot of parties. With the season also comes an influx of foreign accents; the American, the British, the Canadian, the Australian, the Polish… yes! We hear all sorts of accents in December. You don't believe me? The next time you go for a party or an event in Nigeria, look out for the diverse accents.
Anyway, my cousin and I went to The Palms Shopping Mall on Saturday and we ran into one babe who lives down the road from us. Being the courteous babe that Tosin is, she went to say hello to the girl. How was she? Where has she been? We haven't been seeing her around… You know, that sort of thing. Then this girl started: I know she was replying, but I really couldn't make out the words between the long drawn out consonants and the stress every time she said a word that had the letter "R" in it. I stood there with a smile on my face, nodding stupidly and praying that Tosin, at least understood what the girl was saying. The girl clearly liked the sound of what was coming out of her mouth; looking like she wasn't going to stop anytime soon, I told them I wanted to buy solution for my contact lenses in MedPlus. You see, I'm not usually perplexed, but that girl's matter left me wondering. This girl went to Command Children School; from there, she went to Command Secondary School, Bode-Igbo, Ibadan. I know she was in Unilag too. So, where did she acquire this foreign accent? :O I mean, I get that a lot of people have foreign accents in Nigeria. In fact, if I need to hear a foreign accent, I know what radio station to tune to, they're all over the airwaves. You can imagine my shock when my cousin met up with me and said the girl had been talking to her about how she had been away in Manchester for her Masters' degree. Masters? She acquired that accent in one year? Odinma!
As usual, I tabled the matter before some of my friends. "What is this new trend of people speaking foneh* all over the place?" Tayo said "It's December. The 'returnees' will disseminate a little in the air and some Unilag students will inhale it" Folarin said he had absolutely no problem with foneh as long as the grammar and syntax is correct. "I have no problem with foneh, it's even sweet sef! The only problem is when the speaker is just gbagauning in every sentence"
I understand that some people have actually lived abroad for quite a bit and it appears that's how they speak "normally" but I believe that communication is key. I mean, what's the point of my having to say "Pardon?" to every thing you're saying? Wouldn't it be easier for us to just communicate in Yoruba? It will save both of us having to pop Tylenol, in my opinion!
What do you guys think? What's the socially accepted time frame for someone who has lived abroad to have acquired a foreign accent? What's the socially accepted time frame for someone who has lived abroad, and emigrated to Nigeria to have lost their foreign accent? (One headboy in my secondary school, his parents went on Sabatical in America when they were kids, 7 years after they were back this boy was still speaking foneh for us in Ilorin oh!) Are people who complain about foreign accents just "haters"? and finally, is there a booth at MMIA where this foreign accent transaction takes place? I might like to help myself to one! 😀
Anyway, I'll leave you guys with this: stay safe, be happy and love like there's no tomorrow!
Love, peace and cupcakes!
Toodles.
*foneh is coined from phonetics which is an informal way of referring to a foreign accent
Photo credit: futurity.org