Hey BN readers, it's my first time on here I would like to share with you a few recipes using one of my favorite ingredients, Tortillas. I love tortillas because you can do a lot with them and they are really easy to work with whether you are an amateur home cook or a professional chef.
The first recipe I would like to share with you is a simple starter; it can also be served as a canapé if you are having a fancy cocktail party.
1.  SHRIMP & AVOCADO QUESADILLAS WITH MANGO SALSA
What You Need

1 mango, peeled, pitted and cut into ¼ inch cubes
½ red bell pepper, seeds removed and finely chopped
¼ cup finely chopped coriander leaves
2 green onions chopped
2 tbsp lemon juice
Pinch of salt
Quesadillas
1 ripe avocado
2 green onions minced
1 tablespoon minced coriander
1 cup pre-cooked shrimps roughly chopped
4 ounces sharp cheddar, shredded
1 tablespoon hot sauce (you can make it 2 tablespoons if you want more heat)
Salt and black pepper to taste
4 8inch flour tortillas
Oil for the tortillas (canola or sunflower)
How To

To make the salsa combine all ingredients in a bowl, taste and adjust seasoning if necessary, set aside.
For the Quesadillas, mash the avocado in a medium sized bowl; fold in the green onions, coriander, cheese, shrimps, hot sauce, salt & pepper. Mix well, taste and adjust seasoning if necessary.
Preheat a medium sized non-stick skillet over medium low heat. Take one tortilla, fold it in half and brush one side with oil. Spread about half cup of the avocado mixture on the other half of the tortilla (the un-oiled side).
Cook for a couple of minutes per side until tortilla is golden brown and the filling is heated through; repeat on all four tortillas. Slice into wedges and serve with salsa on top.
It's super easy to make and it comes nice, colorful and will definitely impress your guests.
And for the main course…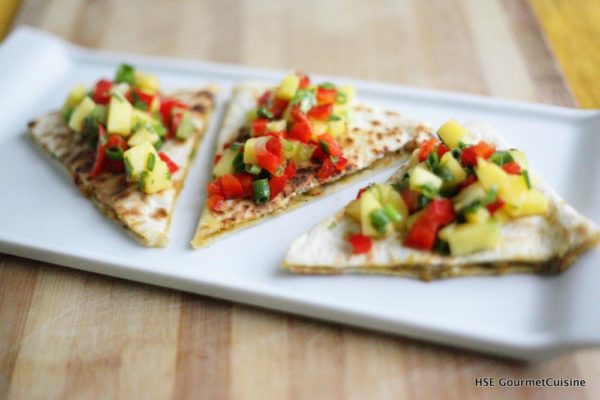 2.  CHICKEN ENCHILIDAS
What You Need
1 red onion, chopped
2 pickled jalapenos' pepper, seeded and finely chopped
3 birds eye chili peppers finely chopped
1 teaspoons finely minced garlic
2 teaspoons cumin powder
3 teaspoons of sugar
1 can plum tomatoes, blended
1 cup chicken stock
2 cubes Knorr chicken
2 large skinless, boneless, chicken breasts
2 cups sharp cheddar, grated
¼ cup fresh coriander, chopped
6 '10 inch' flour tortilla
Salt and black pepper to taste
How To

Heat 2 tbsp of oil in a medium sized pot, add the first four ingredients and cook over medium heat until peppers and onions are softened, about 8 minutes.
Stir in the cumin and the sugar and cook until fragrant for about 1 minute.
Stir in the blended plum tomatoes, chicken stock and Knorr cubes. Bring to a simmer until sauce is thickened, about 5 minutes.
Add the chicken breast to the mixture, reduce heat, cover the pot and allow to cook for about 12 minutes or until chicken is cooked through. You can add a ¼ cup of chicken stock if it gets to thick.
Remove chicken from sauce and set aside to cool.
When the chicken has cooled down, about 10 minutes, shred chicken in a separate bowl, add ½ cup of the sauce and 1 cup of cheese, toss to combine.
Place the tortillas on a plate and microwave on high for about 30 seconds, until tortillas are warm and pliable.
Spread the tortillas on a clean work surface and spoon ¼ cup of the chicken mixture down the center of each tortilla. Tightly roll each tortilla and lay seam side down in a well-greased medium sized baking dish.
Preheat oven at 200oC; pour remaining sauce over the top of the tortillas. Add remaining cheese, cover with foil and bake for 30 minutes.
Remove foil and bake for another 5 minutes allowing the cheese to brown. Remove from oven, let cool for about 10 minutes before serving.
Notes:  You can switch the bird's eye chili pepper for habanero pepper, they are hotter, easier to find in this region and as a typical Nigerian I personally prefer them for the spiciness.
And finally, an even easier dessert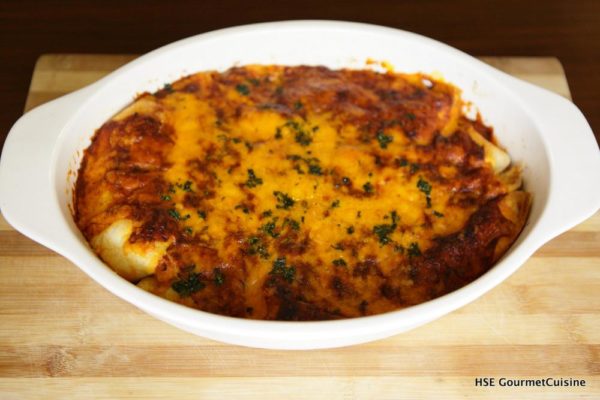 3. TORTILLA CRISPS WITH FRESH FRUIT COMPOTE
What You Need

1 tablespoon lemon juice
1 tablespoon orange liqueur
¼ cup water
1 cup strawberries
1 cup blackberries
2 kiwis
¼ cup caster sugar
For the crisps;
4 '8 inch flour tortillas
3 tablespoons ground cinnamon
3 tablespoons light brown sugar
How To

In a saucepan combine the berries, lemon juice, orange liqueur, water and caster sugar.
Place over medium low heat and let simmer for about 5 minutes, take off the heat and let cool.
Thinly slice the kiwis and fold into the berry mixture, set aside
Cut each tortilla into 8 wedges, and fry in hot oil, 350oC for about 3 minutes.
Place in a colander and sprinkle with cinnamon and sugar, toss well making sure it gets to every part of the crisps.
Serve with fruit compote.
It's super easy but I promise you those crisps are just divine.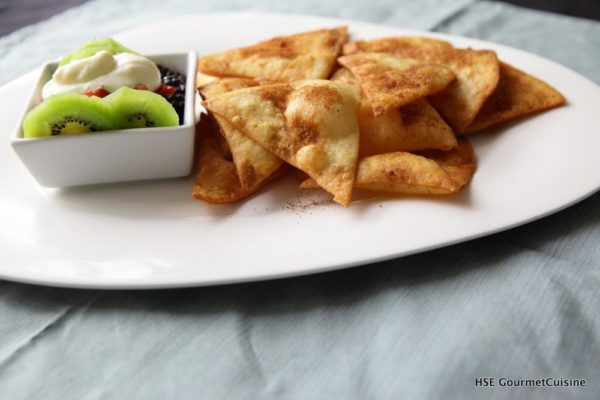 Note: You can spoon your favorite yogurt on top of the compote; it works beautifully.
Ok so there you have it! That was fun; hope to be back again soon.
_____________________________________________________________________________________________
Nkesi Enyioha grew up in a household where bonding was either cooking or dining together as a family whether at home or in a new restaurant. This fuelled her passion for food and slowly started her on this gastronomic journey that she is presently on. After training as a lawyer, she gave in to her childhood passion of becoming a chef and started taking short courses in renowned culinary schools such as Le cordon bleu, London. She later returned to the UK and trained in one of the country's top culinary schools, Ashburton cookery school, Devon.She founded HSE GOURMET CUISINE, where she fuses European culinary techniques with the bight bold flavors of Africa and Asia; the result being an outstanding array and a vast variety of gourmet meals.