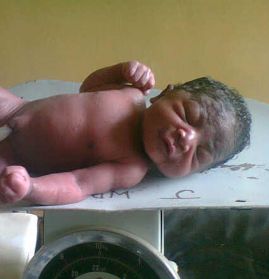 There are some stories you hear that just make you sick to the pit of your stomach and at the same time, marvel at the wonders of God's miracles. This story is one of them.
It would be hard, almost impossible, to understand what must have been running through the mind of the person who buried this innocent child or the circumstances that could have led him or her to take such a decision. But we are thankful that God preserved the life of this little child who was left to die and and gave her another chance at life.
Details of where the child was buried are still sketchy, but the pictures of the child buried in the ground and how she looked shortly after she was dug up with mud all over her body has gone viral online, leaving many people in shock. She was just a new born with the her placenta still attached to her navel. To see the pictures click here.
We are thankful to God for this miracle!