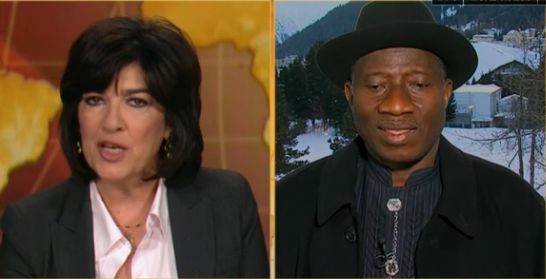 Nigeria's President Goodluck Jonathan was yesterday evening, interviewed by CNN's Christiane Amanpour where he talked about several issues including Boko Haram, power supply, and more.
President Jonathan who spoke from Davos, Switzerland, where he is attending the World Economic Summit claimed that Nigerians were impressed with the current level of improvement in power, and that if there was one area "ordinary Nigerians" applauded his administration for, it was power.
"I would have loved that you ask ordinary Nigerians on the street of Lagos, Abuja or any other city this question about power. This is one area that Nigerians are quite pleased with the government that our commitment to improve power is working. So if you are saying something different, I'm really surprised. That is one area that even civil societies agree that the government has kept faith with its promise. 
"We have not got to where we should be and of course we know that power infrastructure is one investment that you must complete the chain before a bulb can light. You must generate, you must transmit, you must distribute and even if you have the money and the political will, you cannot do it overnight and we are working very hard, you cannot do it overnight."
His claim was immediately challenged on Twitter by Nigerians who were  following the interview in Nigeria with many tweeting that they were monitoring the interview using generators. When Amanpour put that forward to the President, he acknowledged that his administration had not achieved the targets it set for itself and promised to deliver results by the end of the year.
Speaking on Boko Haram, President Jonathan said the violent Islamic sect poses a threat to the African continent if not contained effectively. "Definitely, Boko Haram, if it is not contained, will be a threat. Not only to Nigeria, but to West Africa, North Africa, and Central Africa and of course we know that we have element of Boko Haram link up with some of the al Qeada operating in Northern Mali and other North African countries."
He also denied that security forces were rounding up and killing innocent Nigerians who had nothing to do with the sect, describing the reported high-handedness of security agencies as "insinuations by some interest groups."
President Jonathan did not give a direct response on what he is doing in tackling the massive corruption ravaging Nigeria, nor the impunity that has seen culprits left unpunished.
He lauded the conviction of a militant leader in the Niger Delta, Henry Okah, by a South African court on Monday adding that Okah's trial and conviction were an example of his administration's commitment to pursuing suspected criminals till they were caught and brought to book.
Watch the interview below:

Some Nigerians have said that most of what he said during the interview was untrue. What are your thoughts?