Today's post was born out of a challenge to cook for my friend Amuche. We usually have our catch up session but we're in this everlasting battle against the bulge so we try to avoid all the white stuff when we eat, but when your mother makes one hell of a mama-put stew, you're not going to pair it with bulgur wheat or lentils… I mean hot steaming rice is the ordained-by-destiny- pairing.
I'm at this phase of cooking pork. I'm trying new things with it as many times as I take a self imposed compulsory trip to Goodies in Ikeja. For weeks now I have been trying to perfect my take on Asian BBQ Pork. However, on the day before our lunch they had run out of ribs so I opted for the double chops and a shoulder cut with the bone in. The idea to serve pork two ways started to fill my mind like a strong beam of stadium lights.
For the chops, I used a simple grinding of mixed peppercorns(red, green and black) some Knorr, dried rosemary and some a very little amount of crushed garlic. This was done because I wanted to sear them well and didn't want the garlic to burn as it would give a burnt taste as opposed to caramelised flavour. I also added a bit of olive oil to help start to help move everything around. I allowed it rest overnight.
The shoulder cut got a similar marinade but I added some fresh thyme, freshly grated cinnamon and dry roasted some coriander seeds that were powdered and went in as well. A bit more garlic went in here because I was going to braise this for a while in the oven, Even at that I still wanted to braise it whole cloves of garlic, onions, and sprigs of rosemary, thyme and some whole dried chillies for a kick.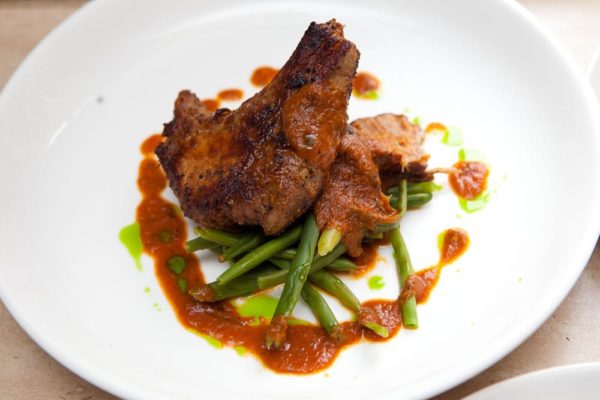 The Cooking |The Starch confusion |The sauce formation |The Plating
The Shoulder
To be honest this part of the dish can be made a day in advance and if left in its brazing liquid the flavours would mature and be more amazing. However, if you are like me you can set it to brasie at 7am in the morning till 11.30am and you would be just as good.
So, in a hot pan the shoulder cut got a good searing on all sides. My pan started to burn so I scraped off the burnt bits and deglazed with some left over chicken stock (you could just use water) then threw in some whole pepper corns and garlic cloves and onions and for the next 3 hours it was in a 180 degrees celsius oven simmering away.
The Chops
In a hot pan the chops get a good sear and colouring on all sides, about 4 minutes per side in total. While they cooked, I threw in cloves of garlic and some pieces of carrot and onions that I didn't want to discard. They went into the oven that had the braising shoulder for about 5 minutes then took it out and allowed it to rest covered in tin foil.
At this point I had wondered what I would serve it with aside my plan to add some blanched haricot vert aka green beans with some lemon then like an epiphany it hit me "why don't you do a butter bean puree?!". So I rushed to the supermarket nearby and after I picked up the butter beans I saw some freshly cauliflower being delivered to the vegetable people and another eureka moment happened. A Cauliflower and Butter bean puree who needed potatoes or rice?! Right? Truth is for the first time I honestly didn't crave carbs the puree was simple to make and was a great accompaniment with the pork.
The Puree
In a saucepan boil the cauliflower in some salted water. When it's about to be done add some strained and rinsed butter beans into the water and allow it cook slightly then when the cauliflower is completely cooked drain the cooking liquid in to a bowl so you can use it to puree the cauliflower and the beans. I used a hand blender to puree mine but you can use your blender or food processor adding the cooking water bit by bit till I got the consistency I was looking for. Check for seasoning. To be honest I wanted to throw in a blob of butter but the fat from the pork was sufficient (I reminded myself).
The Sauce
My roast red bell sauce never fails I wonder why I haven't done a whole post about it?! In a pan some Red Bell Pepper aka Tatashe alongside some roughly chopped onions, green peppers get a scalding toss around till it starts to blacken around their skins then I add the pork braising liquid (I usually use a stock cube to even water when I don't have any) rosemary and some black pepper go in it. I left it to simmer for 15 minutes and again my hand blender to the rescue. I left my finger on that turbo button and stirred till it was a silken smooth sauce.
The Plating
The puree was smeared in fancy chef action by dropping a dollop of the puree and then with the back of the spoon in one stroke spread it in the direction you want it to go. The braised pork goes in the middle, then the pork sits on top then the green beans nestle by the side then the sauce all around and i finished with some basil oil.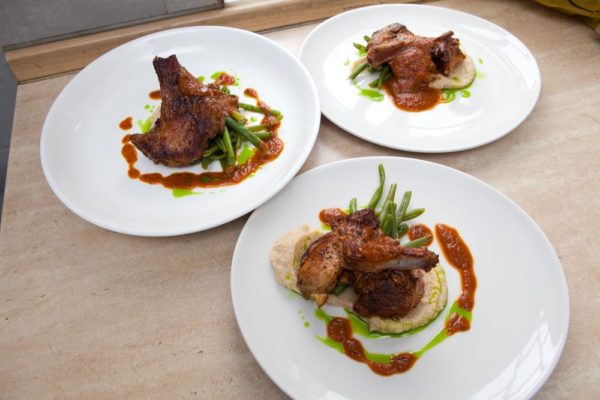 This was a simple but extremely satisfying and delicious meal. It felt good beating the starch/carb and of course seconds were had. It is a dish I would add maybe some broccoli florets and some shaved or grilled fennel to and serve at my restaurant(when I have one… insert *amen* here… God bless)
If you have dietary restrictions with regards the consumption of pork, I suggest you try this with lamb, duck or good ol' beef.
Have a flavour-filled weekend and don't be afraid in your kitchen, have an adventure there!
Ciao!
___________________________________________________________________________________________________
Chef Fregz loves to cook! He is a graduate of Le Cordon Bleu Paris Culinary Arts School in France and hosts monthly "Chef Fregz Specials" where he whips up a yummy menu with a different theme each time then everyone enjoys a taste.He also caters special events and private dinners. To find out more, visit target="_blank">theskinnychefthatcould.com