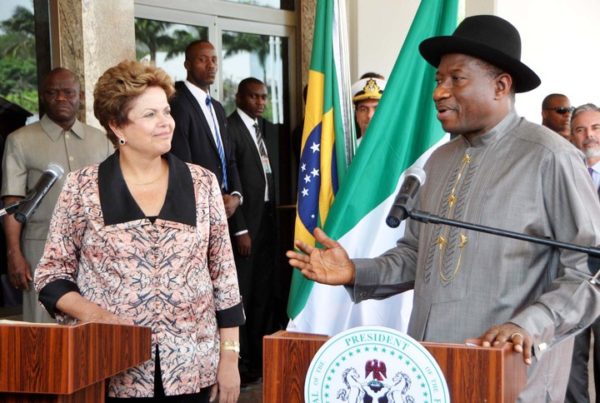 The President of Brazil Dilma Rousseff yesterday paid a state visit to Nigeria at the invitation of President Goodluck Jonathan.
Channels TV reports that the two presidents held talks on promoting and strengthening the bilateral relations between Nigeria and Brazil and provided strategic guidance and direction at the bilateral talks to further enhance their ties and friendship.
The highlight of her visit was the signing of a MoU establishing a mechanism for strategic dialogue that will set up a bi-national commission to fashion out the areas the two countries will be impacting on each other.
The areas to be covered in the MoU include agriculture and food security, petroleum, power, biofuel, trade and investment, mining, education, infrastructure, finance and culture.
The Brazilian president on her part said that Brazil will welcome Nigeria with open hands especially as the World Cup approaches. She said she is interested in ensuring that both countries are well positioned in the international scene.