Good afternoon BellaNaijarians. It's time for BN Bargains!
Online retailer TTISO is giving you a whooping 90% discount off its jewelry for every jewelry bought on the site while Cima Brawn Stores is giving you 20% discount on all clothes, shoes and accessories this Easter season.
Be sure to check them out. Have a fun filled day
See you all.
Get a 90% Discount off TTISO's Jewelry for every Jewelry bought
This Easter season, for every jewelry purchase you make on TTISO.co.uk, they will offer you the opportunity to pick a second piece of jewelry in the sales category with a 90% discount.
Be sure to watch out for the buy one get one free shoe event by TTISO . For more details, follow them on Twitter @ttiso | like their Facebook page – www.Facebook.com/ttiso.co.uk
___________________________________________________________________________________________________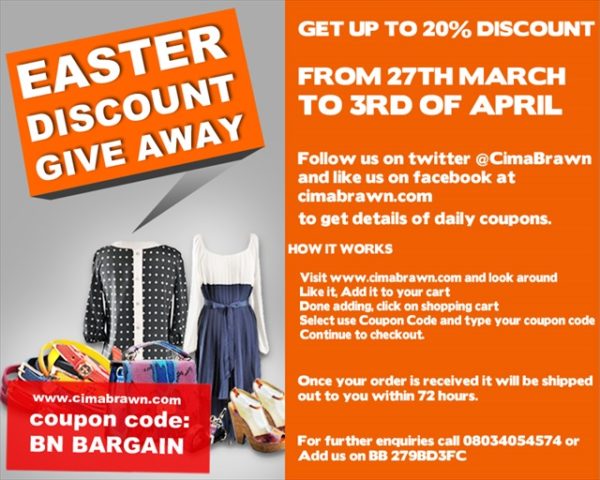 Get 20% discount on items from Cima Brawn Stores this Easter
Online retailer Cima Brawn Stores is giving all BN readers up to 20% discount on all products; clothes, shoes and accessories.
To get this discount;
Log on to www.CimaBrawn.com & Take a look at the products
Like & Add to Cart
Click on shopping cart
Select use Coupon code & type the code – BN Bargain
Check out
Once your order is received, it will be delivered to you within 72 hours. This promo runs from today Wednesday 27th March 2013 to Wednesday 3rd April 2013.
Contact: For more info and general inquiries, call 08034054574 | add BB Pin 279BD3FC | follow them on Twitter @CimaBrawn | log on to their website
__________________________________________________________________________________________
Sponsored Content
Will you like to have bargain to be featured on BN Bargains? Email us via adsales (at) bellanaija (dot) com