I've been in the in between a bun mood for a minute now. So I've decided in the spirit of The FREGZINATOR (a burger which is going to be served at the 10th edition of Chef Fregz Special) I would post about a posh burger.
On this side of the world, restaurants just add bacon and some more BBQ sauce to their burger. I've never found a burger that really knocks it out of the park. Not that I'm hating on places like Cactus, Eko Hotel and GET Arena that make really good burgers but still it's all relate-able.
So, that's why for this period of my life I decided to dig deep and draw inspiration from too many episodes of unique chops and discussion with my friend Jide.
Today I present to you the Oyster Mushroom Truffle Burger.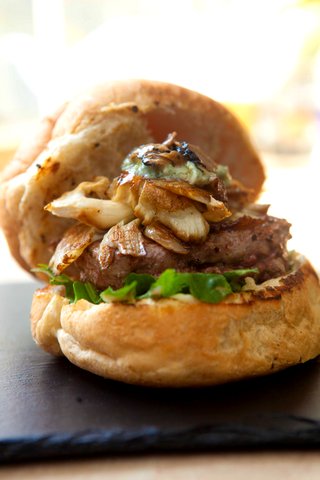 This burger I reckon if I were to charge for it would be anywhere between seven to nine thousand Naira because I used real truffle shavings preserved in some oil so i had both truffle oil and truffle to play with isn't God good?!
For those of us wondering what truffles are, according to Wikipedia, truffles are a type of subterranean mushroom, or the fruiting body of such a mushroom. Spore dispersal is accomplished through fungivores, animals that eat fungi. Almost all truffles are ectomycorrhizal and are therefore usually found in close association with trees.
There are hundreds of species of truffles. The fruiting body of some (mostly in the genus tuber) are highly prized as a food: French gourmand Jean Anthelme Brillat-Savarin called them "the diamond of the kitchen". Edible truffles are held in high esteem in Middle Eastern, French, Spanish, northern Italian and Greek cooking, as well as in international haute cuisine.
In a nutshell one of the most expensive ingredients ever! And one of the most delicious too!
So, for this burger the buns got a little toasting on the grill pan then got smeared some truffle mayonnaise (I mixed some chopped truffle shavings and its oil with some already made mayonnaise) on both buns, liberally put slices of truffle on the base bun, then laid the juicy 100% beef patty that had a roast coriander and rosemary salt crust then some sautéed oyster mushrooms I picked up from Shoprite went on top then some blue cheese butter finished it off. For me this burger was just to die for. The truffle, along with the neatness of the meat and the mushroom too!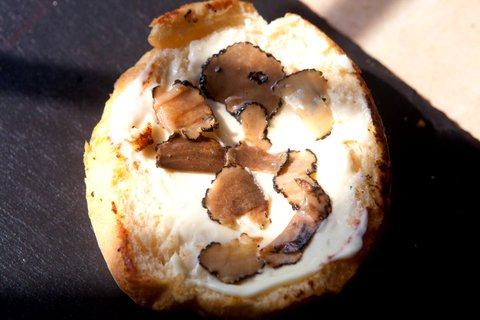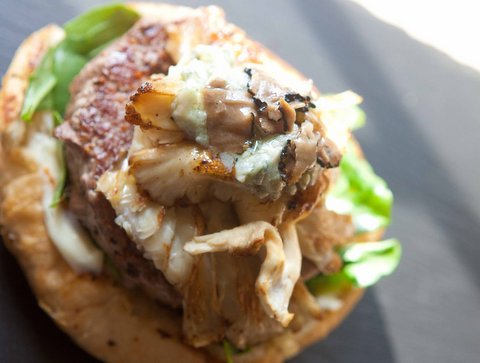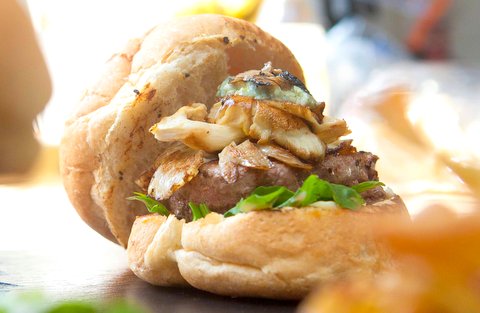 My glass of cider was there for me to wash it down and it was good.
I think you should find time and make something "between the bun" that is a bit luxurious and differs from the norm. You can make a lobster sandwich for your next BBQ party or make some chicken burgers stuffed with blue cheese like Danblu or Rouqefort and for the truffle effect a drizzle of truffle oil which is the cheapest way to get truffle flavour.
With all this talk about Burger don't miss The Chef Fregz Special.
Date: 24th of March 2013
Venue: GET Arena near Four Points Hotel in Oniru
The full menu would be out shortly but so far so good, on the menu is the FREGZINATOR (The Burger of Life), Oga At The Top (A rack of delicious ribs) SAMBA (A take on the black rice. A spanish rice or black rice calamari and shrimps) — Dazzall!
Please visit www.cheffregz.com now to see pictures of the Fregzinator Burger.
Have the best weekend ever and remain an adventure seeker in your kitchen
Ciao!
___________________________________________________________________________________________________
Chef Fregz loves to cook! He is a graduate of Le Cordon Bleu Paris Culinary Arts School in France and hosts monthly "Chef Fregz Specials" where he whips up a yummy menu with a different theme each time then everyone enjoys a taste.He also caters special events and private dinners. To find out more visit www.cheffregz.com