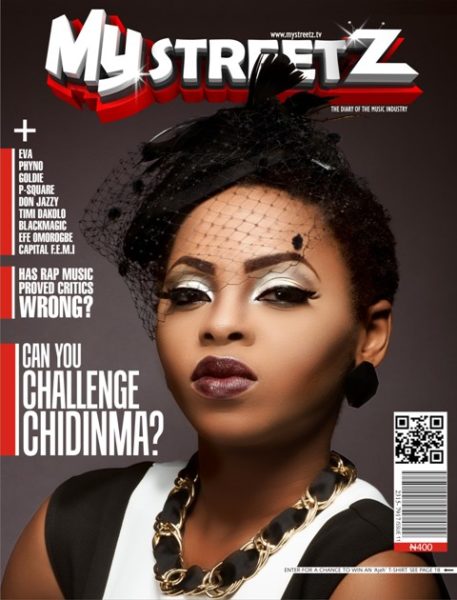 Burna Boy, Vector, Eva Alordiah and the late great Goldie have all looked stellar on the previous issues of  MyStreetz Magazine. This time around, KORA award winner, the baller herself Ms. Kedike, Chidinma takes the cover, looking like she really shouldn't be messed with.
This is what Sesan Adeniji, the publisher of Mystreetz magazine, had to say about their eleventh issue:
"My belief about Chidinma's growth and success is that she is indirectly sharing the same mindset with Sheryl Sandberg, one of the most powerful women in America right now; the co-pilot of the biggest network of humans the world has ever seen which is the chief operating officer of Facebook,
Sheryl Sandberg in her latest book titled 'Lean In', a memoir-slash- 'sort of feminist manifesto' in which she encourages women to pursue their carrier with more rigor. According to this woman who runs a 66 million dollar tech company and sees it as not much of a challenge, Sandberg's thesis is unique. Stripped of many caveat, it boils down to this, like she puts it –
'the sisters are doing some of it to themselves. For a variety of reasons, they are not aiming high enough. They're underestimating their abilities. They're doing too much housework and child care, They're compromising their career goals for partners and children- even when such partners and children do not exist'. 'We hold ourselves back in ways both big and small, by lacking self-confidence by not raising our hands, and pulling back when we should be leaning in' in her words.
Such feminist manifesto which drove female artistes such as Onyeka Onwenu, Funmi Adams, Stella Monye, to mention a few, to great heights, also drives Chidinma to achieve all the once unattainable things she now poses. This is why we are asking the question, Can you challenge Chidinma?"
This April edition will be out on news stands very soon.
Photography – August Udoh.
Make up – Eva Alordiah for Makeup by Orsela.
Stylist – Jane Michael.
What do you think about the cover?
Watch the Cover Photo Shoot Here!