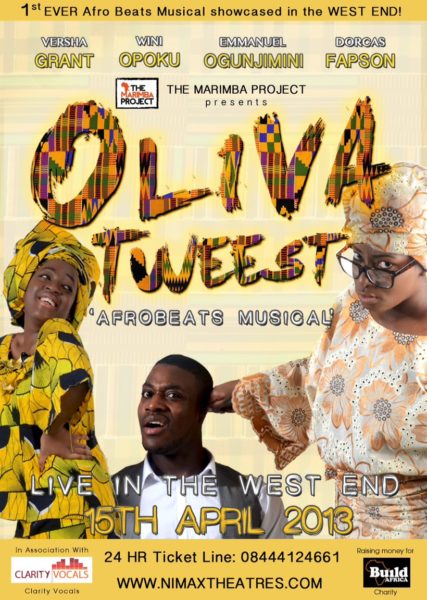 Who would have guessed how influential D'Banj's "Oliver Twist" single was in the UK? The single which climbed UK charts, despite its new genre over there, is now the inspiration for the first ever Afrobeats Musical, showing Live in "England's Broadway", The West End.
Slated to take place on April 15 2013, at the Lyric Theatre (home of Thriller: The Musical), "Oliva Tweest" is the very first play of its kind to feature in London's West End and will feature some of the most popular faces in the burgeoning UK Afrobeats scene. The Musical, presented by The Marimba Project, will also feature special guest cameo appearances from award-winning comedians Eddie Kadi and A Dot Comedian.
The Synopsis
"The story, which is based on D'Banj's 2012 HIT single "Oliver Twist", is set in present day London and is about a promiscuous young man (Tobi) whose past comes back to haunt him when he meets a girl (Testimony) that will change his life forever. Combined with excellent comedic performances, notably from Dorcas Fapson as Tobi's mother (Aunty Funke) and her lover, Pastor (Bayodele), great imagery, captivating choreography and resounding vocals are all on show throughout this production, driven by a fresh and exciting cast of some of the best new and emerging theatre professionals of 2013."
It looks like it's going to be quite a show as the Marimba Project has been working tirelessly since August 2012 to make this happen.
For tickets, visit http://bit.ly/olivatweestmusical | call 0844 482 9674 (24HRS)
Source: WePlugGoodMusic