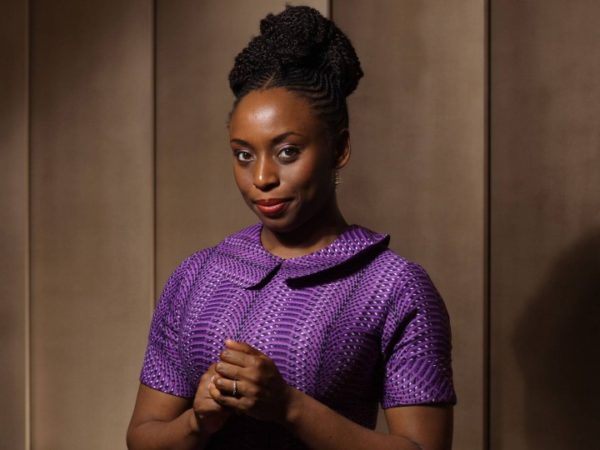 With the imminent release her book "Americanah", renowned Nigerian author Chimamanda Ngozi Adichie is making press rounds all around the world. As her book touches on themes including race, national identity and even African hair, she has been asked many questions on these subjects and her responses are sure to be major talking points.
Her interview with Susie Mesure for the Sunday Independent was very interesting as Chimamanda tackled subjects that many will shy away from.
On the marginalization of "dark skinned women" on the big screen
"The black people who are stars in Hollywood are all light-skinned" and saying she gets "very, very" frustrated that black women are so marginalised on the big screen.
"There's no dark-skinned woman who is a babe. There just isn't. The dark-skinned woman, she is the Serious One. She is the Friend. She is the Sassy Girl. She is never the person we root for."
On the decision to cast Thandie Newton (a bi-racial woman) as the lead in the movie adaptation of her book
Nigerians are in uproar about the decision, which had nothing to do with Adichie, to cast Newton. "They're like 'Ohhhhhhh!'" she admits, but brushes aside their qualms that Newton doesn't look Igbo: "My brother is lighter than she is." She is sympathetic about Nigerians wanting a local actress but says film-making is about "who's good, who has been tested, who can do it well".
I want to add: "And who's marketable," but I bite my tongue.
On Race & Assumptions
"When I was an undergraduate, I wrote an essay for the first day of my English class, and it was the best essay in class. My professor walked in and said, 'Who's Adichie?' – Americans would sometimes tell me that from my name they assumed I was Italian – so when I raised my hand, I saw on his face this expression of surprise. That's when I realised, 'Oh! The person who wrote this essay is not supposed to look like me.' That was when I understood why race is a stupid, absurd thing. That you look a certain way, and people have all sorts of assumptions, right?"
On Hair & the Statement behind It
And yes, Adichie's hair is every bit as "Afro kinky" fabulous as you might expect given Ifemelu's obsession with the stuff. Indeed, hair is practically the book's third protagonist after Ifemelu and her high-school sweetheart Obinze.
For Adichie, it's political: her hairstyle is a statement against the idea that "beauty has become this homogenous thing". That's why neither she nor Ifemelu straightens their hair, preferring an Afro or the cornrows with extensions she is sporting for her trip to London.
On People Viewing Africa as a Charity Case
Take the lady who approached her after a recent reading in Oslo: "She said she really wanted to help," Adichie smiles, "'Nigerians with computer skills'. I said, 'Yeah, but people have phones. I text my uncle who's in my ancestral hometown.' But she just kept telling me about how she wanted to 'help Nigerians with computer skills'. And I thought, 'This woman has what she has in her head and it doesn't matter what the reality is.'
"I'm thinking, 'Why don't you help, by finding out the policies your government has, and see how you can petition to change certain things that bring about inequality, rather than going off to 'help starving Africans'?'"
It was definitely an interesting interview!
Let us know your thoughts. You can read the complete article HERE
Photo Credit: The Independent UK
_______________________________________________________________________________________
"Americanah" will be released by Farafina in Nigeria on the 21st of April 2013. In the months following the release, the author will go on a national book tour with stops in major cities across Nigeria.