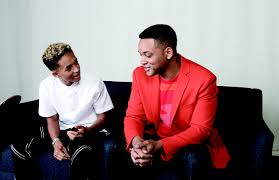 A few weeks ago, actor, Will Smith and his son, Jaden had an interview with Metro US, New York. The talked about family, social media, their new movie together titled "After Earth" and PARENTING! Parenting is hard enough. Being a family of entertainers is no doubt particularly challenging. With parents constantly in the media and having to raise teenagers, we were quite intrigued by the responses Will Smith gave when asked about the issue of punishment for Jaden.
"We don't do punishment. The way that we deal with our kids is, they are responsible for their lives. Our concept is, as young as possible, give them as much control over their lives as possible and the concept of punishment, our experience has been — it has a little too much of a negative quality. So when they do things — and you know, Jaden, he's done things — you can do anything you want as long as you can explain to me why that was the right thing to do for your life."
Anyone who grew up in an average, typical Nigerian family probably has horror stories of the kind of whooping Nigerian parents give their children. However, times are changing and parenting has taken a different angle. More and more people are inclined to adopting a new style of parenting. Where the parents of the 70s, 80s and 90s employed canes, (pankere), belts, and all forms of physically abusive punishment devices, the modern day parents have tried to replace these things with more psychological methods. So where you'd have been asked to "pick pin" or "do Angle 90", you'd probably get a stern talking to or a withholding of your privileges.
Some have argued that modern day parenting is going to lead children astray or cause them to be more westernized. Others have argued that the physical abuse has a longer lasting effect on the mind of the child.
What do you guys think? Do you agree with Will Smith's type of parenting or do you think that Nigerian/African parents should stick to the traditional "spare the rod and spoil the child" system. Should children be allowed to take control of their own lives? If so, what's the ideal age to do this?