Last weekend I had a task in mind. Well, two. Find banana leaves (moi-moi) and Soko vegetables (efo riro) for my BellaNaija post and the blog. This resulted in me driving from one African store to another. Goodness me, you would have thought I was searching for the proverbial pot of gold at the end of a rainbow. I kept going from store to store, calling up friends for ideas on the next store to go to, yet to no avail. Oh, we are sorry but we don't have, we haven't stocked in ages, ah, these items are in high demand, the best time to come is on Wednesday or Thursday afternoon when fresh stock arrives from Lagos. Huh, during the week? WHAT? I am not going to face the curse of the M25 on a weekday. No thank you Ma'am.
I gave up and decided to go home, very disappointed. As I was in my cousin's neighbourhood, I decided to stop by to say hi and vent my frustrations. She mentioned a particular store and she called to confirm if they had the items in stock. Luckily, they stocked one of them – the Moi-Moi leaves. Yippee, my Israelite journey was not in vain.
On the drive home, I kept thinking to myself, peeling the beans for Moi-Moi? Nah, I am not in the mood. I have a ton of housework that I neglected because I was traipsing around town looking for elusive ingredients, so Sunday will be devoted to that. Dunni, think, think what can you cook? No ideas, so Food Network to the rescue. I flicked through recorded shows and came across an episode of Bitchin' Kitchen by Nadia Giosia. Inspired by one of her creations, I decided to put my own little twist on it. So today I am bringing romance into the kitchen in a 3 part series,starting with breakfast. I know Valentines was months ago and you've probably forgotten all about your gift, well unless it was a memorable one. Nevertheless, romance should not be dedicated to just one day in a year.
So, you've met this great guy, you've gone on a couple of dates and if you are like me, restaurant food gets tiring and you would like to chill out at home and get to know each other better in a relaxed atmosphere without the pressure of being on your best behaviour. You can invite him to yours, (or if he spent the night, er my hand is not there!) and start the day with an incredibly sweet breakfast. Now you don't want to look like you are trying too hard, so this is a very simple meal but with a wow factor. If you are a guy who loves to cook, hey save yourself a restaurant bill and offer to cook her breakfast instead. Women love that. Are you married and it has been so hectic lately, you haven't had the time to put some spice into your relationship plus meal times have been a lot of reheated food from plastic bowls. How about you ship the kids off to Grandma's, or Aunty Kate who owes you big time or a trusted friend, and devote a day to each other.
This is part 1 of my food romance series. My Salted Caramel French toast, all gooey, crunchy, soft and sweet, designed to set a beautiful mood.
What You Need
1 cup of Sugar
1 cup of Double cream – you can substitute with milk especially condensed milk
2 tablespoons of Desiccated coconut
Salt
1/4 cup of unsalted Butter
Vanilla
3 Eggs
Milk
1 teaspoon of Cayenne pepper – dry pepper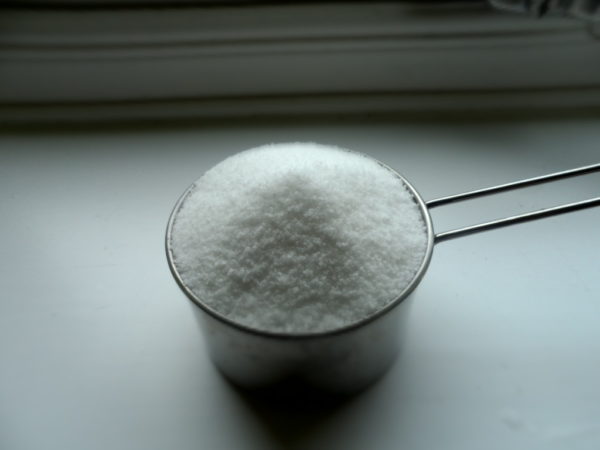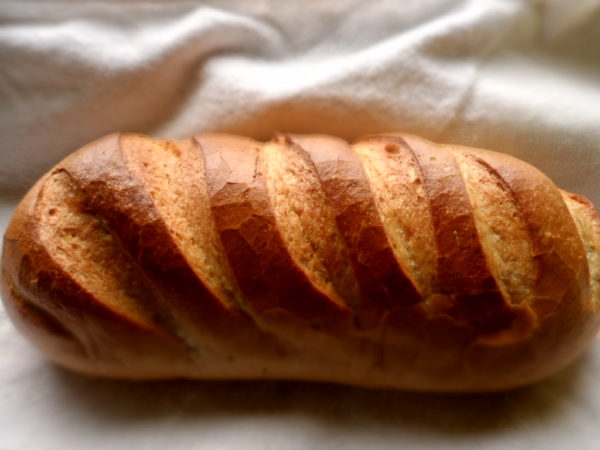 In the spirit of romance, I had Michael Bublé, Luther Vandross and Lady Antebellum (highly recommended) on my playlist while I made this. I felt really Zen and all mushy mushy while cooking. That Zen disappeared when it got to taking pictures. I never knew photographing bread was so darn hard.
Anyway, you guys won't have any such problems so, here goes…
How To
Pour half a cup of water into a deep saucepan and blend 1 cup of sugar in a mill. This is to make the sugar granules finer. Pour the sugar into the saucepan and turn up the heat to medium. Keep a close watch until the sugar solution turns a nice caramel colour. This took 15 – 17 minutes. Do NOT stir the sugar solution and be very watchful. As soon as the colour starts to change to golden brown, shake the saucepan to spread the caramel evenly otherwise the centre will burn while the outer edges haven't fully caramelised.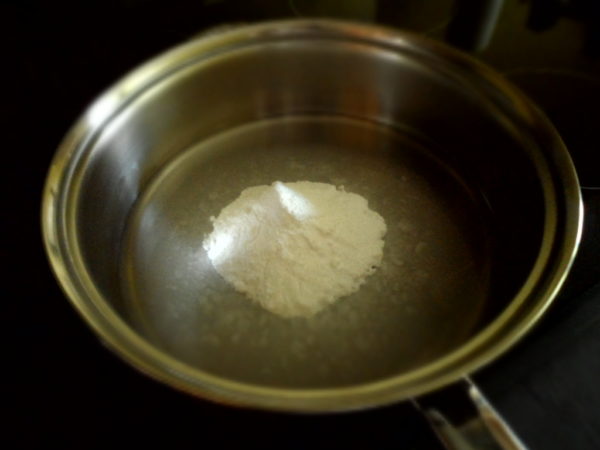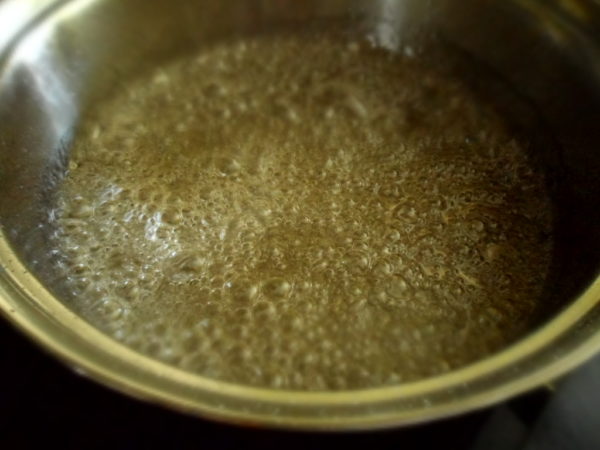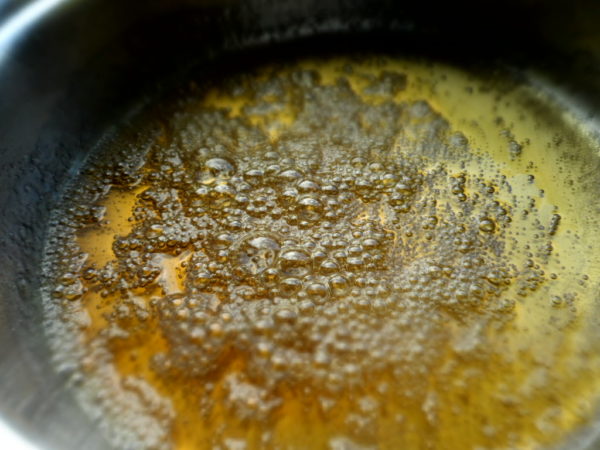 Turn off the heat and add pour in the cream. I used a combination of 150ml double cream and 100ml milk making 1 cup. You have to be careful here because as soon as you add the cream it will bubble vigorously. This is why you need to make the caramel in a pot or a deep saucepan to prevent kitchen accidents. Melting sugar is dangerously hot. You are trying to set a romantic mood and not end up in the emergency room.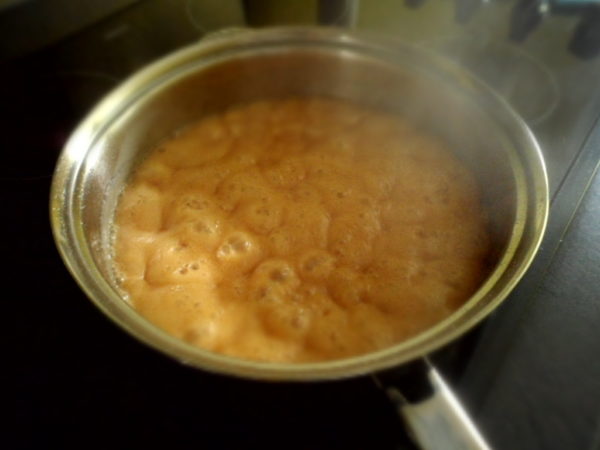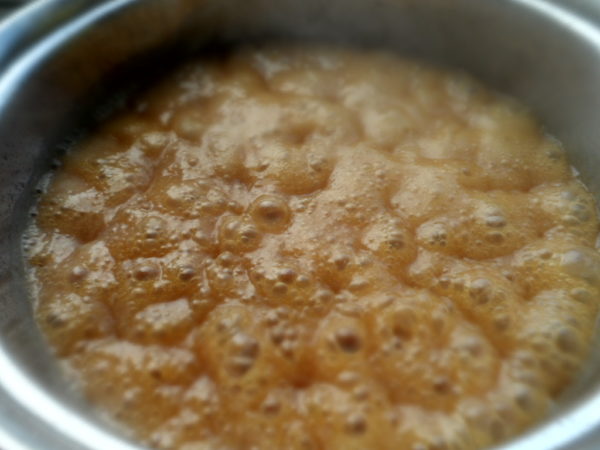 As double/heavy cream may not be easily accessible my some of BellaNaija readers, I did some research on using milk as a substitute. This is what I found. Traditionally, caramel is made with double/heavy cream because it has a much higher fat content that milk (kitchen science). If you are going to use milk, use less milk to prevent ending up with runny caramel or make a mixture of half milk and half butter to emulate the fat content of double cream.
If you are also using milk, make sure it is slightly warmed in a microwave and pour it in gradually while stirring. Remember, milk has a lighter weight than cream (less fat), so you pour until you achieve a thick consistency of caramel. Any more and you end up with runny caramel which is basically sweet milk and you will be very disappointed.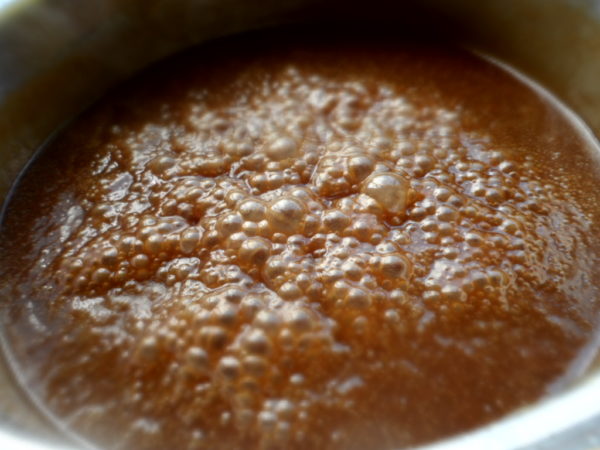 Add the butter and whisk. You may need to put it back on low heat depending on the temperature of your kitchen – I actually used a butter substitute, which is a healthier version and it still turned out great. If you used a mixture of milk and butter, you will not need to add any more butter. Once the butter has melted, add salt in pinches until you achieve the salty taste that you like. I used roughly 1/2 a teaspoon of salt.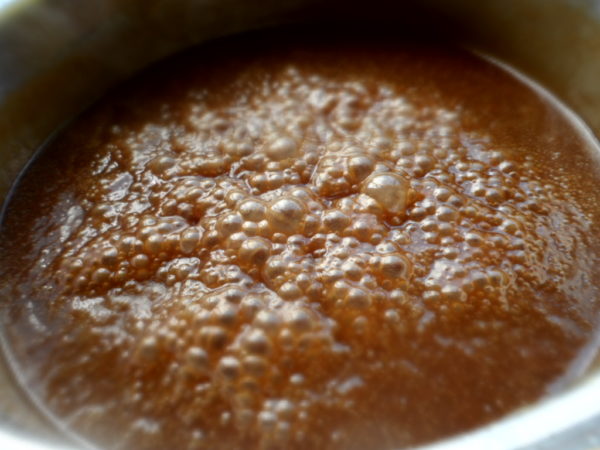 If you have always bought caramel from a plastic bottle, once you taste this you will never go the store bought route again. Caramel can stay refrigerated for 7 days or for 3 months in the freezer. You only need to reheat gently on very low heat – do not be tempted to boil it again.
Cut up a loaf of bread into thick slices and set aside. Beat three eggs in a bowl add the cayenne pepper, a splash of vanilla and a splash of milk. Whisk until thoroughly combined. Add each slice of bread to the egg mixture and let it soak through thoroughly. A common mistake many people make and it results in dry french toast. Press the bread down into the mixture and ensure that it soaks through completely. 3 eggs were just about enough to soak through 3 1/2 thick slices.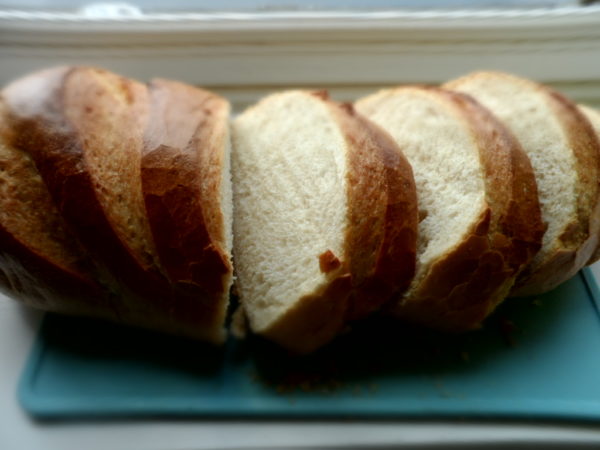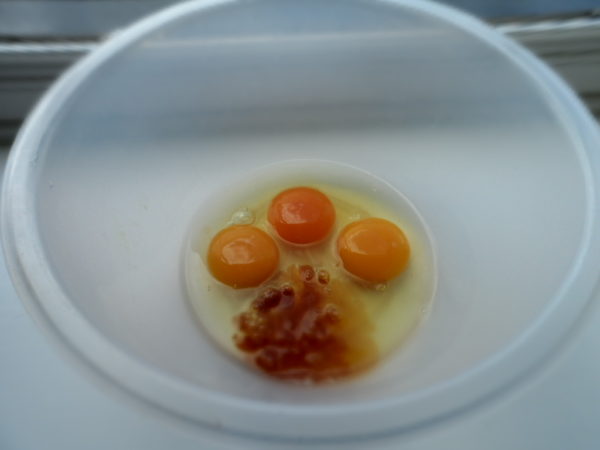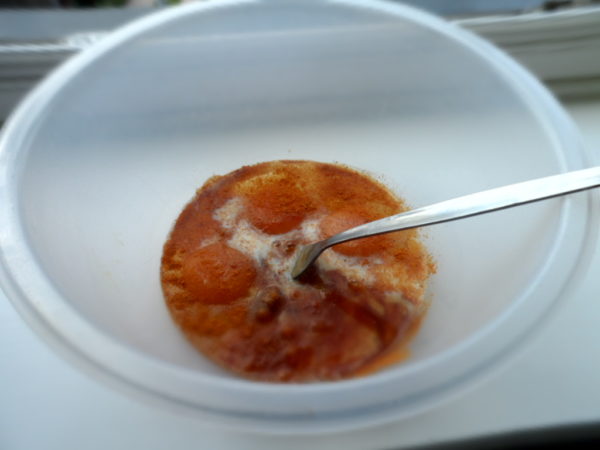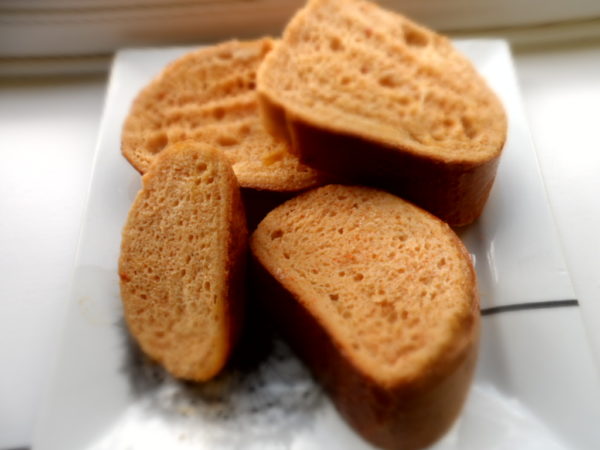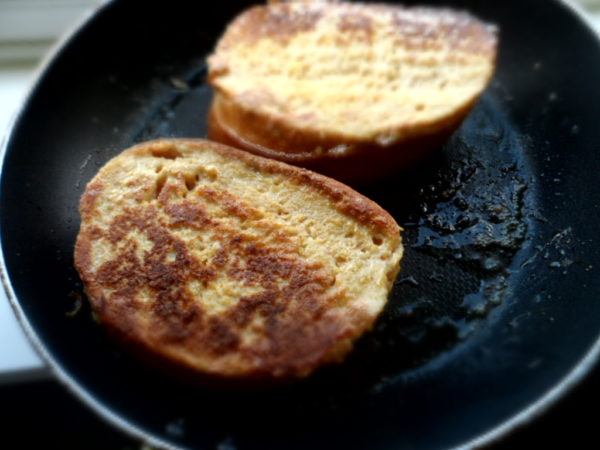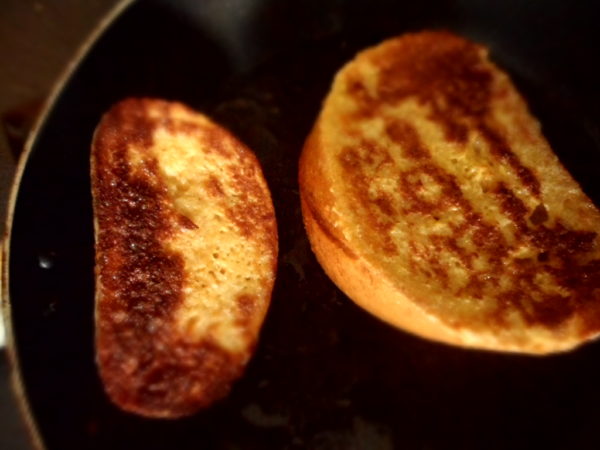 Heat a teaspoon of butter in a pan on medium heat and add the bread. Let it fry for about 2 minutes on each side. Once it has browned, lower the heat to allow the eggs cook through. This will create crunch on the outside and softness from the cooked eggs on the inside.
While the french toast is on the heat, in a separate pan heat up the desiccated coconut with a pinch of sugar. let this sit on the heat for about 2 minutes till the coconut shavings turn brown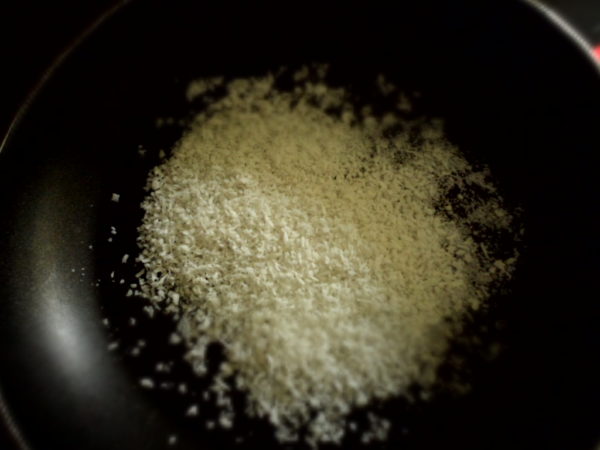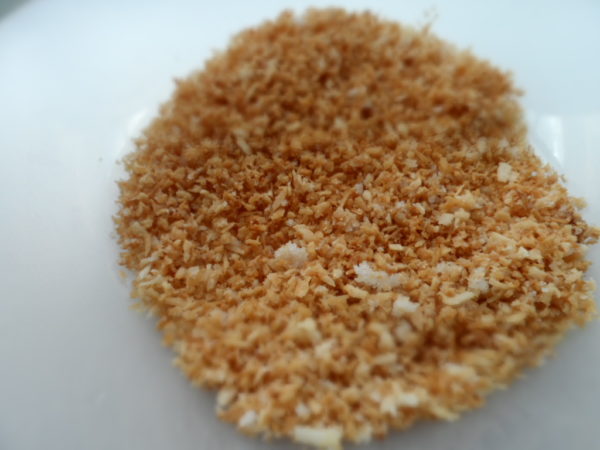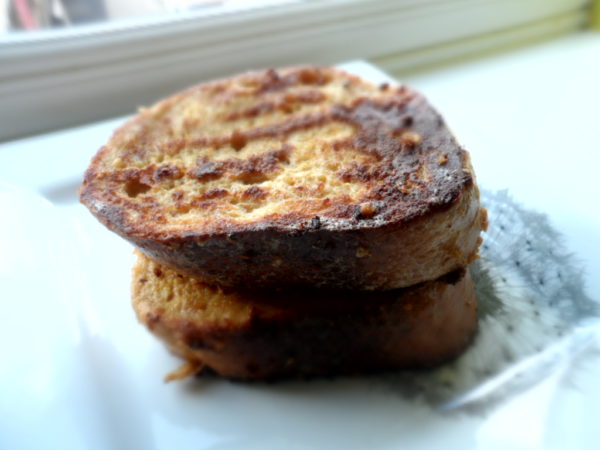 Plate the french toast, and drizzle the caramel generously over it. Complete it with a sprinkle of desiccated coconut to create extra crunch and flavour.
You are probably going to scream about the calories. Come on people, move over to the dark side just for this morning. Crunchy and soft french toast with gorgeous sweet caramel, er whatever you do with the caramel after breakfast is none of my business.
To feel less guilty, add a bit of fruit. I have used strawberries, tangy mango and apple slices.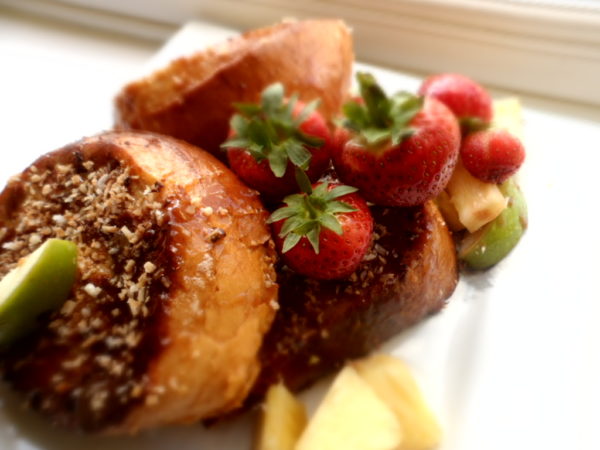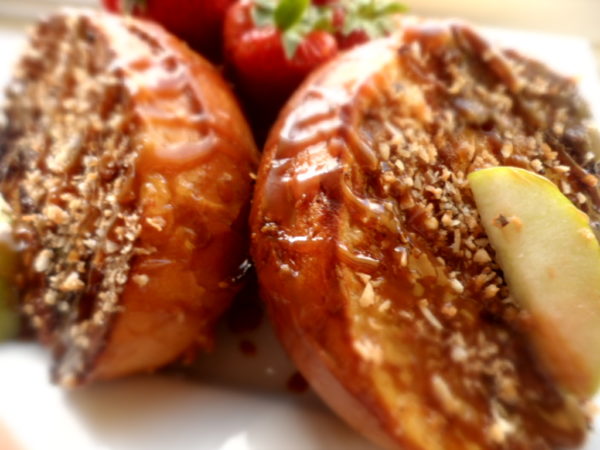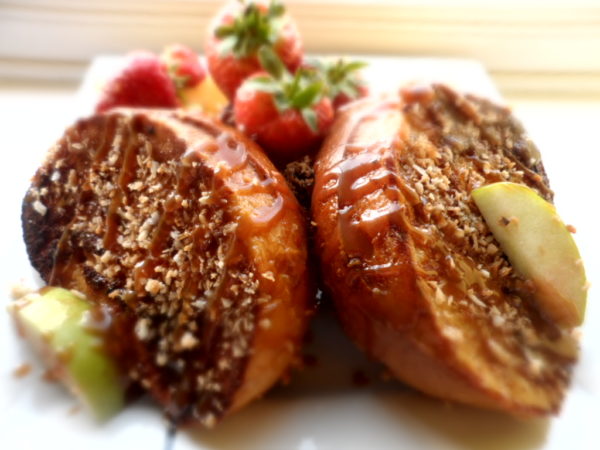 P.S – Have I given you ideas? Good. Take out your pen and paper and go grocery shopping.
_________________________________________________________________________________
Dunni Obata is an IT Project Manager by day and a cook the rest of the time. She loves entertainment and one of her bad habits is feeding people. When she's not cooking, she's watching the Food Network. Dunni is very passionate about Nigerian food and believes they have a lot to offer globally. Visit her blog – www.dooneyskitchen.com