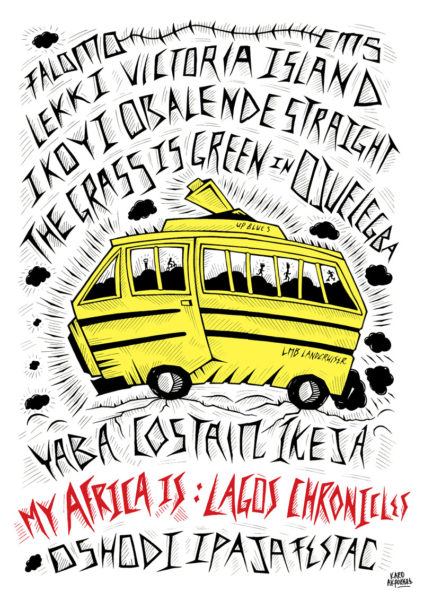 My Africa Is is an initiative which seeks to tell the story of Africa with the goal of creating  an awareness for the continent. According to the executive producer and host, Nosarieme Garrick, "Perceptions are shaped by what we see, so we're staying true to our vision to change the lens, not the topic on Africa. My Africa Is is a credible resource and visual gateway to Africa, keeping it real and embracing the challenges as well as the successes our subjects experience, as they navigate the realities of their various cities."
In February, the My Africa Is crew came to Lagos and shot three different episodes for a series which they have titled "The Lagos Chronicles". The series seeks to give an insider's perspective to the bubbling city. Together with the guys at Davis Media and 37th State Production, they hope to tackle misconceptions about Africa, one city at a time. ckling misconceptions about Africa one city at a time, season 1 begins its cross-continent journey in Lagos, Nigeria.
The fusion of Bolaji Kekere-Ekun of  37th State Productions, producer Wale Davies of Davies Media Ltd, and cinematographer Ibemele Ahamefula, presents Lagos Chronicles as a gritty, true-life perspective of the views and realities of three different narratives, layering a multi-perspective story-telling approach that engages the audience and provides unique insights into revealing aspects of the characters' lives .
Kunle Adeyemi: The Architect behind the floating school in Makoko
Lakin Ogunbanwo: One of Lagos's star fashion photographers, whose work has been featured in Italian Vogue
Bilikiss Abiola: The founder of the WeCylers a recycling initiative putting a community to work in curbing the waste of plastic
The first installment of the series will air every Wednesday, starting from the  12th of June 2013 and the series premiere will be marked by screening events in New York City and Washington DC. The series is sponsored by Nigeria's Arik Airlines, and  there will be round trip Lagos-New York ticket giveaways.
For more information you can follow My Africa Is on Twitter – @MyAfricaIs. You can also reach Nosarieme Garrick and Kathleen Bomani at [email protected] and [email protected] respectively
Watch the trailer here