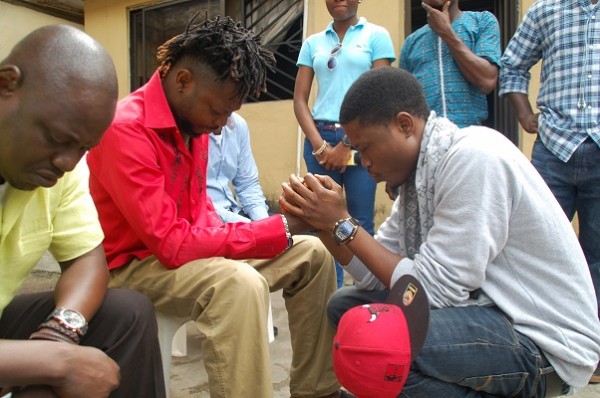 Over the past few days, #SaveOJBJezreel has become a trending topic on Twitter as different Nigerian musicians opened up about the veteran Nigerian musician 's renal failure.
OJB Jezreel is a very talented singer, songwriter and producer and has been directly involved in the success of some of our biggest Nigerian musicians today, the likes of Wizkid & 2Face Idibia, to name a few.
On the radio and on social media, fans, family and friends have shown support as they have helped with raising awareness of his ailment and solicited donations to special account numbers dedicated to accruing funds for a 16 million Naira kidney transplant operation.
Recently, some entertainers made a visit to his home, amongst them were DJ Jimmy Jatt, Jaywon, Vector and Yemi Alade. And, in a statement to theead of the 'SaveOJBJezreel' committee, Nomoreloss said
'…gradually a few people have been responding to the call for donations and we are grateful for those that have even found time to at least visit despite their busy schedules…'
Also, on Monday 24th June, 2013, OJB spoke to Encomium magazine about his condition. Here's an excerpt from the interview:
"When early diagnosis was done, it was just a case of renal failure. Right now, my two kidneys are gone. We are running dialysis at the moment. It started two years ago, but gradually depreciated.

"Most people tend to attribute kidney problem to drinking and smoking. I was told it doesn't have anything to do with that, because as much as I drink and smoke then, it was casual drinking. Maybe they offer you a bottle of drink and all that but not like I drink 15 bottles a day. I have a friend who has gone through this and he never drank or smoked.

"The whole process of the treatment from pre-process, transplanting process and post-transplanting will cost about $100, 000. In two years, I have spent up to five million Naira which I have been trying to maintain myself. That is why it has been kept secret.

"God willing, I have like eight to ten weeks more to get the transplant done. It's strange, I still walk around a little. I can't eat much though. I trust God and Nigerians for their financial support"
Later on, he also spoke to several news, entertainment and lifestyle stations about his present predicament. Here's OJB's most recent interview with Hip TV.
Check on it!
Please keep OJB in your thoughts and prayers and hopefully aid his recovery in any way you can. Get well soon OJB!
Photo Credit: TheNetNG