Last night as I was in one of my "Spring cleaning" modes I found some old pictures my friends and I in a group photo. We looked so adorably juvenile with our weird hairstyles and small frames. However, the thing that really made me chuckle was a photo from our 'Socials'. Apparently, my best friend thought it was a good idea to rock an all-yellow ensemble and get her eye shadow to match. Unfortunately, the match didn't go so well. She looked like Big Bird from Sesame Street.
Funny enough the problem of not rocking the right shade or too much bright eye shadow is one that has followed us to date.
Everywhere I turn make up is getting more intense and no one wants to be left behind. So, we amp up our beauty game but  some ladies still don't get it.
Rocking a bright colored eye shadow is all about proportion and the right shade. Once you have got that down, you would be rocking it well and true.
Here are a few  tips to help you go from this funny photo of Lorane of HautePeople.net on how not to wear make up…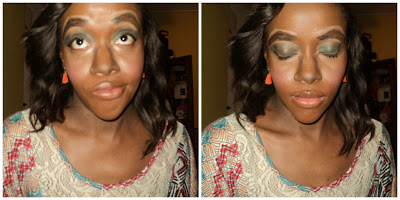 …to this gorgeous photo of Lucy from the AccidentalBeauty blog.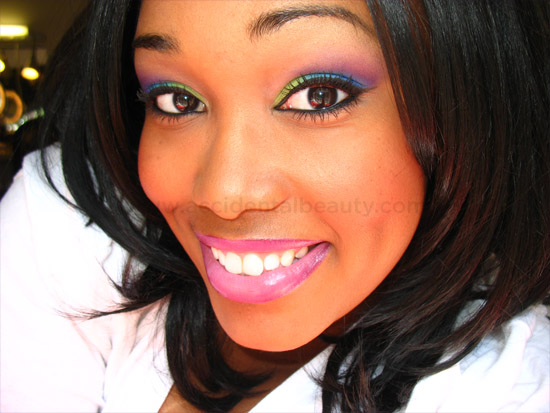 Get the Base Ready
To rock bright eye shadow for a long period you need to prepare the eye lid first. Do any necessary eyelid preparations in your routines and then apply a primer. The primer helps the make up set, stay in place and last longer.
Blend
When using bright eye shadow, especially if you are a first timer, it is important to blend it in properly. In every make up brush set there is a blending brush which helps you achieve this. When you blend your eye shadow, especially at the crease, it creates a great transition colour which moves from light to dark towards the eyelashes.
Blending also prevents staining. If you leave the eye shadow on your eye lid with the harsh line, every time you blink, a part of the eye shadow will stain your upper eye lid giving you a messy look.
Matching your Eye Shadow with your Outfit?
Now, I know a lot of girls would like to match their eye shadow with their outfit but you have to be cautious when doing it. When you have a bright eye shadow on, it is best to alternate colour strengths with your outfit. For example, if you want to wear a bright yellow eye shadow, wear different colours or shades of the yellow. You could also try a different toned down look that will keep the attention on your eyes.
Sometimes Less is More
When you are not too sure about wearing bright eye shadow, try alternating it with a bright eyeliner or eye pencil. Sometimes it is better to keep to a small streak of bright eye shadow than covering the entire eye lid. The eyeliner or pencil would give you a lot more precision during application.
Stay away from Glitter
If you are going for a day look, do not use glitter. Glitter adds a bit too much to bright eye shadow making it look excessive and too busy. However, if you are moving out at night then a mild amount is permitted.  Keep it simple with just one swipe of eye glitter.
Like I always say when it comes to beauty, the key thing you need is your personal touch. Get creative and try different things because you never know what you may come up with. Now, I decided to drop a familiar face giving us a tutorial on how to achieve a pretty bright coloured eye shadow look. Chdimma Umeh has a beauty and style blog called ThatIgboChick and today she is trying out her yellow and lilac inspired look.
Watch the video

I hope this has been helpful and if you have any ideas or tips on how to rock a bright coloured eye shadow, don't forget to share.
Photo Credit: ThatIgboChick | HautePeople.net | AccidentalBeauty