Salut a Toutes and Ramadan Kareem to all my Muslim readers. Before I go further, I would like to know who DocDeola is? I want her to know that she is just a superstar and I want to give her a prize… We should meet up for lunch one day if she lives in Lagos. So, DocDeola please send an email to [email protected] I would also like to give a special shout out to TopDiva, a friend of my friend Tosin Okusaga, who apparently was in between her cooker and iPad trying out my Thai Fried Rice recipe.
Ok, enough with the pleasantries. Today, we continue with the marinade series. Lemon has always been a favourite thing of mine. I love it in drinks, especially with some crushed ice(sometimes), sparkling water and mint leaves for a real refresher. It is also amazing squeezed into apple pie at last second to round off the flavour.
However, every time I saw a lemon and herb spice mix or saw it on a menu at a restaurant, I judged it to be a weak flavoured dish as lemon was way too "citrusy and floral" to really up the game of whatever it was on. I was totally wrong. Lemon is amazing especially when you use both the zest (the yellow/green layer of the fruit not with the white pith) and juice to flavour fish, chicken or couscous!!
For today's recipe, I have decided to stay away from the usual "main dish protein" and bring you a side dish or focus on an accompaniment before the recipe.
Let's look at what's in the mix.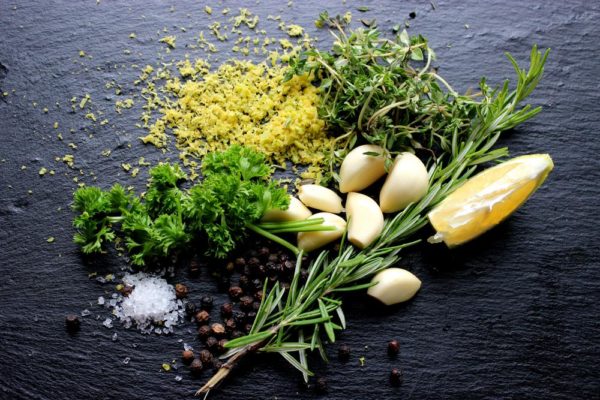 Lemon
According to Wikipedia, The lemon (Citrus × limon) is a small evergreen tree native to Asia, and the tree's ellipsoidal yellow fruit. The fruit is used for culinary and non-culinary purposes throughout the world, primarily for its juice, though the pulp and rind (zest) are also used in cooking and baking. The juice of the lemon is about 5% to 6% citric acid, which gives lemons a sour taste. The distinctive sour taste of lemon juice makes it a key ingredient in drinks and foods such as lemonade. Sometimes, here in Nigeria, you would find a slightly greener and somewhat wrinkled back lemon… apparently, thats a "Citron" which has less juice than a lemon and isn't as fresh tasting. Citron is french for lemon as well.
Parsley
This fragrant herb is such a staple in world cuisine today. From Italy to Africa it is one herb that you would find is widely used. It is one of my favourite herbs to use. It has a slight anise flavour and it is usually chopped and used to garnish at the last minor cooking. It is also a good salad leaf and the stalks are great for making stock.
Rosemary 
People who cook with me or read my articles would already know that rosemary is my favourite, not one of… my absolute favourite herb in the world. I find its the cousin of thyme which has a deeper perfume essence and since its a woody herb, its flavour and oils can withstand long term extraction, i.e, it can braise with sauce for a long period and would only keep adding flavour. Rosemary pairs well with most things but I would not recommend it for fish as such. Chicken, lamb, beef and root vegetables are better options.
Black Peppercorns
Whole black peppercorns are fresher that the powdered stuff. You can breakdown to whatever size you want from coarsely ground to a fine powder. You choice! However, be careful, black pepper can be overwhelming so easy does it.
Garlic
Need I say more? Garlic is the beginning and the end of cooking for me. Lemon mixes pretty well with garlic. They give off a really good flavour. Again, I have used the big bulb variety here. The smaller ones are more pungent so you can use whichever one you like. Personally, I prefer the bigger cloves.
Thyme
Fresh thyme is one of the things you would always find in my fridge. When it is very fresh, it has the most perfumery scent. The older/drier it gets, the more the scent begins to concentrate into a deep cologne smell if you may. You could dried thyme in this recipe but it would be too deep a flavour profile for the lemon. So I would recommend fresh thyme.
Rock Salt
This is for taste but most importantly it acts as an abrasive to help crush everything in the mix.
LEMON BROCOLI POTATOES
Today, I wanted to focus on something you would serve alongside the main protein. So what better than potatoes? This recipe was a light bulb to me in the sense that I have never thought lemon and potato could work in any sense but after thinking about the possibilities, I went for it. Like most of my recipes, they are really just guidelines, however I would list what you need and how to make this dish
You'll need
1-2 tablespoon lemon zest (zest the lemon my using a microplane or the fine end of your grater but ensuring you only grate the green/yellow skin and not the white pith as thats bitter)
1 tablespoons lemon juice
2 tablespoons rock salt
1 tablespoon black peppercorns
A small of bunch parsley
1 sprig rosemary
A few sprigs of thyme
6-7 garlic cloves
1.5kilo potatoes
1 large broccoli about 700g to a kilo
3 tablespoons butter or a good margarine like "I Cannot Believe It's Not Butter"
How to
Peel and cut the potato into cubes and parboil them with a pinch of salt for about 10mins or till they are soft but not cooked all the way through. While that is happening, place all the marinade ingredients in pestle and mortar or a food processor and blend them all together…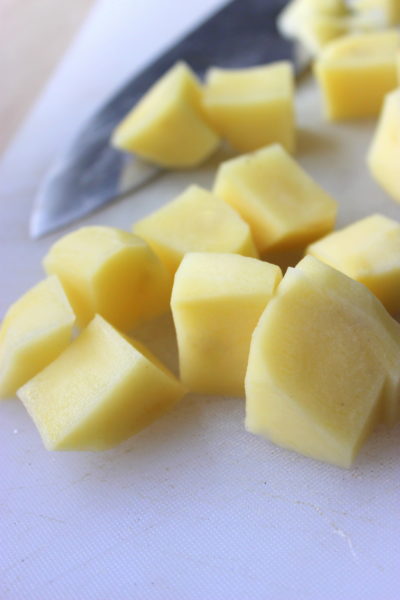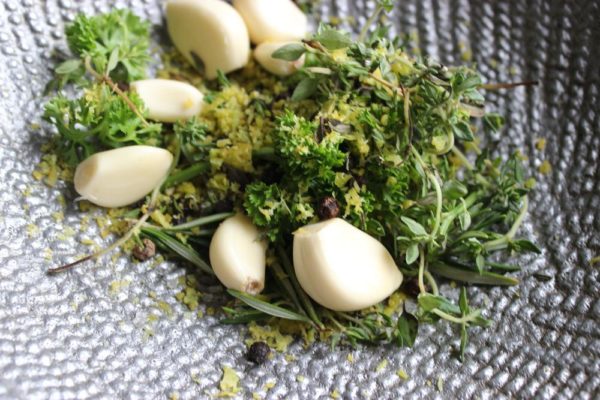 Cut the broccoli up and do not throw away the stalk. Slice thinly and add crunch to a salad or something later. Taste just like cabbage. Leave the broccoli to one side…
When the potatoes are done, drain the water and allow to cool for two minutes. When warm, transfer to a baking tray, mix with the broccoli, herb mix and butter. Toss well and pinch a potato and taste so you know whether or not to adjust the seasoning. Drizzle with olive oil then head for the oven.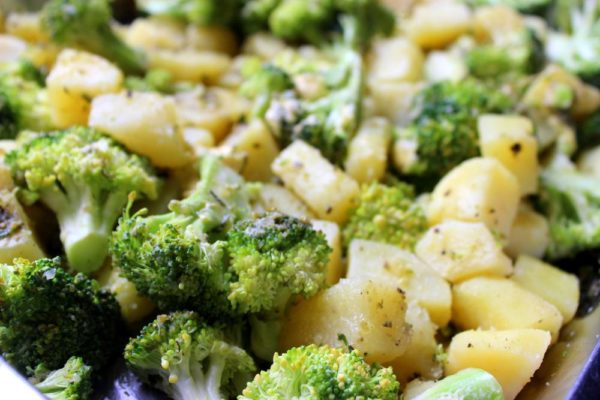 Place in a preheated 200 degree celsius oven and bake for 15-20 minutes till it's golden brown and is slightly charred at some corners.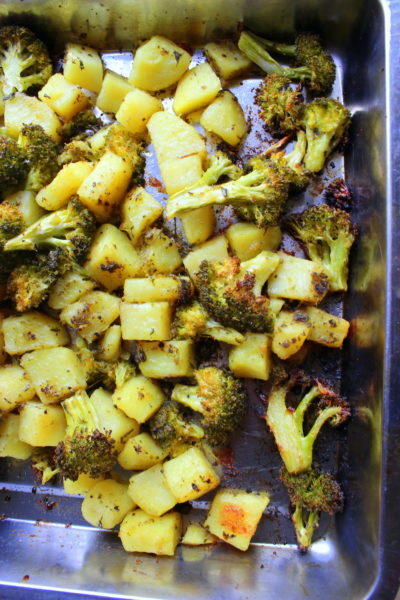 Just as you serve, sprinkle some more chopped parsley on it and add the 1 tablespoon of lemon juice for a final touch of freshness toss through and it's ready!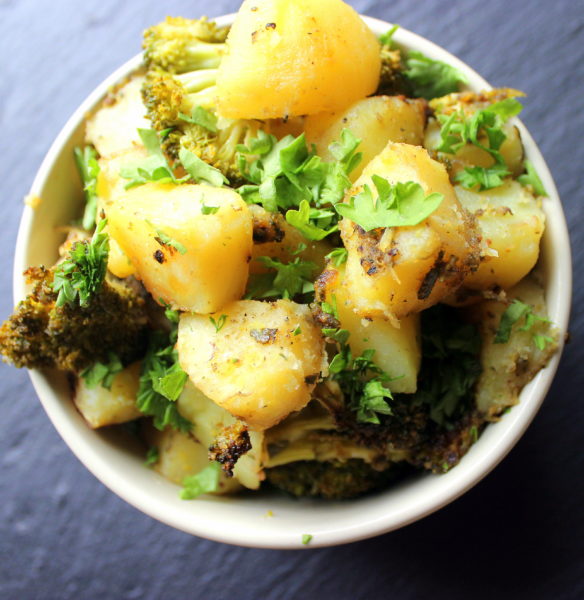 This makes what I think a great accompaniment to a chicken or grilled fish dish. This seasoning mix can be used to crust some chicken, turkey or lamb, It could also be tossed through some breadcrumbs to coat some chicken or fish(you can use for fish here since it has lemon and other ingredients) to be deep fried and served with a simple salad and a cold drink.
So there you have it. How will you use this seasoning mix? Let me know by taking pictures of what you have done and email to [email protected]
Before I sign off, Chef Fregz Special is on the 28th of July yes this month! It's happening at the GET Arena in Oniru, by Four Points Hotel. The menu, featuring the OMAWONDER is at here www.cheffregz.com
You also stand the chance to win one of 11 Fregzinator Tee-Shirts from @giddimint check the shirt out on my Instagram page www.instagram.com/chef_fregz
For you to win make sure you are following @chef_fregz and @giddimint on twitter and Instagram and Facebook so you can see live updates and stand a chance to win!
Wanna make something to eat with these potatoes? click here
Ciao!!!
___________________________________________________________________________________________________________
Chef Fregz loves to cook! He is a graduate of Le Cordon Bleu Paris Culinary Arts School in France and hosts monthly "Chef Fregz Specials" where he whips up a yummy menu with a different theme each time then everyone enjoys a taste.He also caters special events and private dinners. To find out more visit www.cheffregz.com.Chef Fregz provides premium private catering services. For bookings and orders email [email protected] @Chef_Fregz on Instagram and Twitter. You can check out the Chef Fregz Page on Facebook as well.