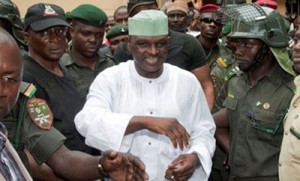 The Lagos division of the Appeal court has discharged and acquitted former Chief Security Officer to the Late Head of State Sani Abacha, Major Hamza Al-Mustapha of the conspiracy and murder of Alhaja Kudirat Abiola.
According to Channels TV, the court decision was unanimous.  They ruled that there was no direct circumstantial evidence that he conspired with anyone as evidence of prosecution witnesses in that regard were contradictory.
Lateef Shofolahan, Al-Mustapha's co-accused has also been discharged on the same grounds.
Al-Mustapha and Shofolahan were first arraigned in October 1999 on a four-count charge on conspiracy and involvement in the 1996 murder of the late Kudirat Abiola (Wife of Chief Moshood Kashimawo Olawale Abiola) on the Lagos/Ibadan expressway.
They both appealed against the judgement of a Lagos High Court which sentenced them to death.