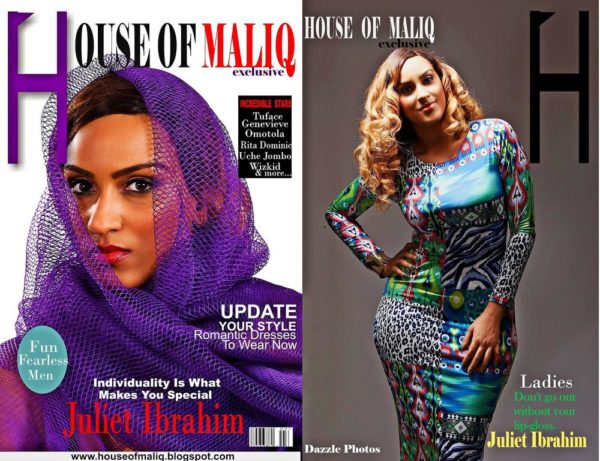 Ghanaian Actress Juliet Ibrahim braves a storm of colours in the July 2013 issue of House of MaliQ Exclusive. The online magazine feature from the fabulous House of MaliQ blog features follows up last month's cover with popular Ghanaian actress, Yvonne Nelson with yet another fun Ghanaian actress, Juliet Ibrahim
Here's what the House of MaliQ team have to tell us about their cover diva!
Juliet Safo aka Juliet Ibrahim is a Ghanaian actress, born in Ghana to a Lebanese father – Mr. Hussein Ibrahim and a half Liberian/Ghanaian mother – Mrs. Sarah Elizabeth Ibrahim. She is the eldest of three siblings: Sonia, Nabil and Nadia. She is intelligent, talent -oriented, friendly, ambitious, highly-spirited, honest, humble and smart with a fun personality. She loves reading, writing, listening to music, dancing, modelling, shopping and travelling.
Photography: Dazzle photos
Styling: Desire 1709
Clothing: Desire 1709 Style and Studio
Accessories: Desire 1709 Style and Studio
Makeup: Maiworld Makeover
Hair: Sari Signature
Photo Credit: House Of Maliq