I was literally spell-bound when I saw Tiwa Savage's outfit for the Miss Nigeria 2013 Finale. She wore a beautifully fit Bridget Awosika suit paired with clean barely there make up, gold accessories and patent pumps. Her look had the perfect amount of everything and got me thinking – How can  we wear all white without it looking overdone? Well BN stylistas it's time for another edition of how to.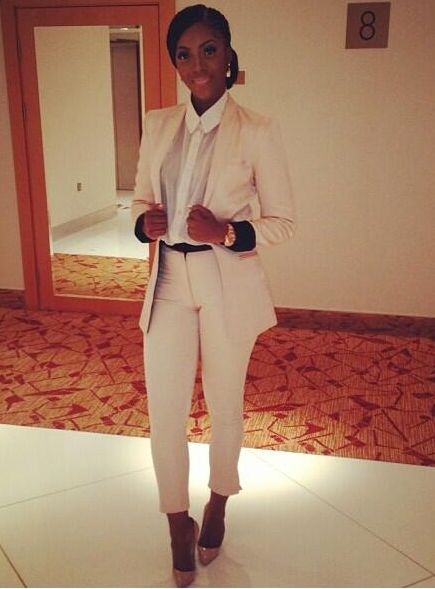 The all-white look has this classy and sophisticated appearance especially when it is a full outfit. So how can you wear all-white? Use these simple rules as a guide and I'm sure you will get the hang of it.
Try a Uniform Tone of White
First of all, when you want to create an all-white ensemble, try going for a uniform tone. This pulls the outfit together and creates continuity. If you cant create one tone, then you can add different tones like ivory and white or off white and bright white in other fabrics or textures. For example; Tiwa Savage decided to wear a sheer collared top underneath her suit. The top's colour is brighter than the rest of the outfit but it still gives the outfit a balance.
Use your Accessories to Create variance
When you pair accessories with your all-white outfit, use them to create the variance the outfit needs to stand out. For your accessories, any colour would go but I would advise gold. The gold look would compliment the outfit. With shoes, always go for something that either stands out or compliments. Wearing gold, silver, nude, black, white or shiny shoes would compliment the outfit; while red, yellow or any other colour would stand out.
Like Patricia from the MomentsofStyle fashion & beauty blog who has paired her white outfit with gold accessories and black high heel shoes, you could do the same. The accessories are minimal but they still go great with the outfit.
Do not Layer
When it comes to wearing white you do not want to layer on too much. You could try wearing a dress and pairing it with white shoes or wear a white top with white denim trousers. As is with every other trend, there is a limit to how many pieces you can wear at once.
Try a Pop of Colour
Try adding a burst of colour to your outfit. Sometimes colour can take away from the all-white look, but with the right accessories you can pull it off like Shirley B Eniang of the Meek – N – Mild blog with her white and red ensemble.
Pay attention to Detail
Sometimes, to be safe in your outfit choice, you may want to wear a white dress. But in doing this also go for making a statement and try something different. White can be a bit boring sometimes so it's always nice to amp it up. Try a detailed dress with an open back with crossed straps like Yvonne Nelson or some embellishments that will really make it pop.
Also, you could go understated sexy like Rita Dominic and get a dress shirt that says "business at the top but party at the bottom".
Use simple Make Up
When it comes to wearing make up with your all-white outfit, always keep it simple. If you like colour, limit it to only one part of your face like your lips or eyes. Too much make up would take away from the classy look you are going for.
In the photo below Rita Dominic has chosen to go for dark eyes and red lips while Yvonne Nelson has toned hers down with a light pink lipstick and understated eyes.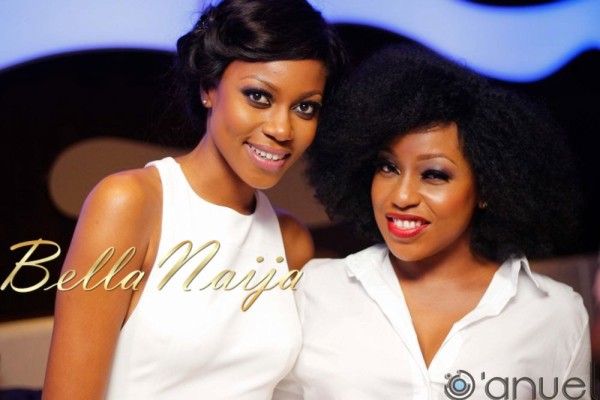 Now, there are a lot of rules as to where you can wear all white to, but this time the trend is going everywhere. From weddings to the beach, the all-white look has the ability to make you feel timeless, chic and still on trend on any occasion. Check out these fashionable people who have rocked the trend to different occasions, and rocked it well.
You can wear all-white to a Wedding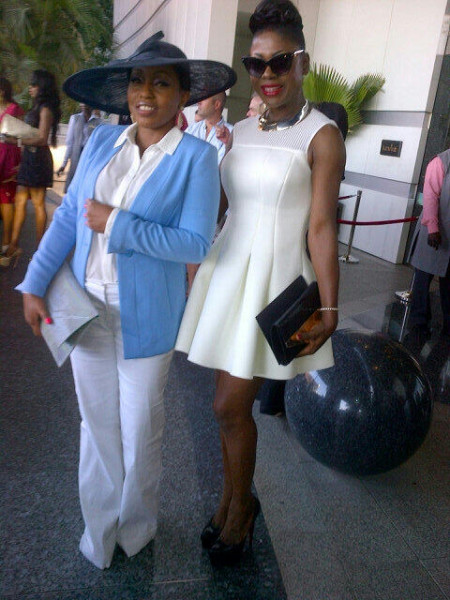 Official Events
The all white trend suits any style and all you have to do is add your personal touch to make it truly express your personality. Check out these style inspirations on how you can also white-out.
Still drooling over Tiwa's look? Then check out how you can recreate her chic all white look with our BN Style inspiration section.
Get a structured white blazer like this Crepe blazer from TopShop. You can make it look edgy by rolling up the sleeves to your upper wrist or elbow. Also you can add a broche to give the blazer some personality.
Buy here – TopShop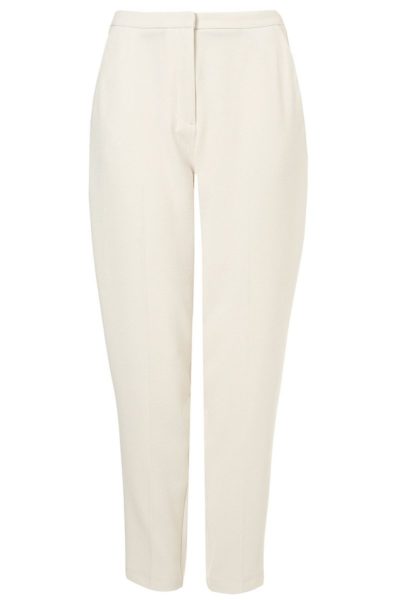 Up next, pair the white blazer with some nice textured pants. The colour is ivory to give your outfit a varied look without it being too distracting. Try a comfortable pair like the Premium Peg leg trousers in ivory from TopShop. Make sure it is your size so you can get a really tailored look.
Buy here: TopShop4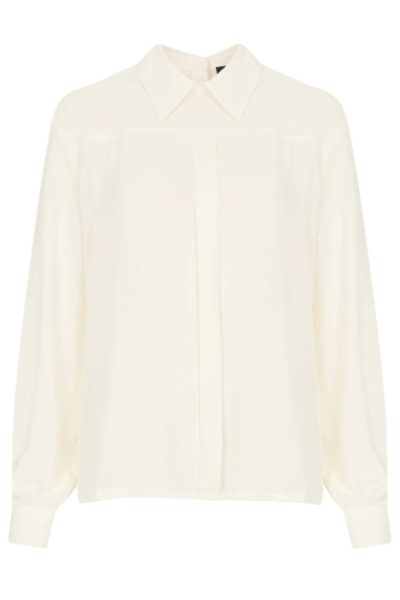 After you've gotten your blazer and trouser, get a sheer blouse that has a common colour with one of the pieces of clothing you already have. This Box Pleat Blouse from TopShop is in ivory and goes really well with the peg leg trousers above. Another reason why the blouse should have colours in common is so that you can always rock the outfit without the blazer.
Buy here: TopShop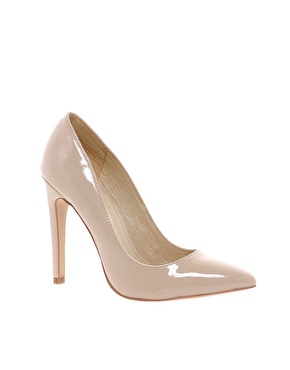 I love it when an outfit comes together; especially when it's with a nice pair of patent nude shoes from Asos. It blends well with the outfit and adds a little shine to your feet.
Buy here: Asos
So, have you ever tried the all-white trend? Don't forget to share all your tips and tricks with us.
Photo Credit: Mirror Me | FunmiOgunja | StylishForever | Urprettyhaute | Estellelamode | Momentsofstyle | Mocchachica | Eurweb | Starpulse | Naijadeevas