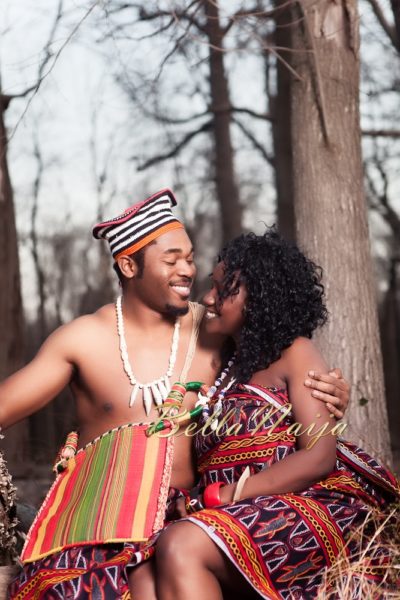 Today we have a romantic tale of two countries – the gorgeous bride and groom, Naomi and Dayo are from Cameroon and Nigeria. The lovely fabric they're wearing is Atoghu, particular to the North Westerners of Cameroon. They also made a cute pre-wedding video playing on where they're from. Enjoy!
Bride-to-be: Naomi
Groom-to-be: Dayo
Photographer: Andre Kemayou of Drevizion – www.drevizionmedia.com
Their Love Story
by Dayo
You know, it's funny — our first date was in 2006, but we only got into a relationship five years later. For a long time, Naomi was like a blinking light: "on" one moment, "off" the next. I couldn't for the life of me figure out why she was popping in and out of my life – why she didn't want to take the next step, why it seemed like something was holding her back. One day, out of the blue, Naomi sent me a message pleading for me to call her, and she finally revealed why she had been hesitant with me — because I'm not Cameroonian! But I had to ask myself, Why did I tolerate this back-and-forth thing with her when I had never done so with anyone else?
Simple: I realized I was truly in love with Naomi. And this time, this light was going to burn steadier and brighter than ever before.
Videographer: Olu Adewunmi – www.lynksdrivers.com | e-mail: olu "at" lynksdrivers.com.
Watch out for Dayo teaching Naomi some Yoruba. Aww! 
______________________________________________________________________________________
We love weddings as much as you do! Get in touch…
weddings (at) bellanaija.com
E-mail: weddings (at) bellanaija.com
Instagram: BellaNaijaWeddings
Twitter: BellaNaijaWed
FB: BellaNaijaWeddings