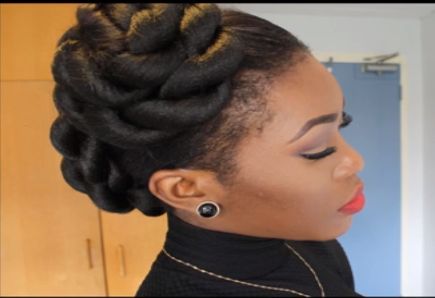 I love unique hairstyles. You know, the ones that make other girls (not so discretely) stare at your head wondering how you achieved your look. Weirdly enough it gives me a sense of empowerment.
Anyway, I found this Youtube video from a blogger named Ropo Ogundemuren and I thought it was fabulous. The look is called a Faux Hawk and it has an afro sensational feel to it. It's really simple, you only need a few items and it can be rocked to any occasion.
What you Need
– Yaki synthetic hair
– Some rubber bands
– A lot of bobby pins
– Hair gel
– A hair comb & brush
How to Achieve the Look
Take the weave out of the pack and divide it into 2 parts. Twist both parts until you get to the end and secure with a rubber band.
Section your hair into 2 parts like in the video and tie/wrap each loose end into a bun (weaving is optional).
Use the hair gel to sleek back any loose strands at your hairline for a neater look.
Take one twisted weave and secure the tip to the bottom of whichever bun you would like to start with first. Wrap the twist round the bun securing with bobby pins as you go along. When you get to the end, tuck it into the bun and secure well with a bobby pin.
You can decide to use one continuous twisted weave for both buns or use separate ones. It is really up to you.
Wrap the second twist weave around the other bun and secure just like the first bun.
And there you have it. You can decide to weave the weave instead of twisting it for a braided look. Click play for Ropo to show you how it's done.
Photo & Video Credit: Ropo Ogundemuren