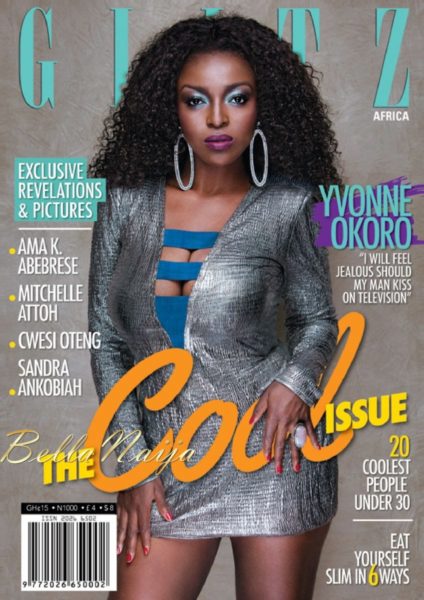 Yvonne Okoro is one HOT movie star.
The Ghollywood actress sizzles on the cover of Glitz Africa Magazine's new issue.
Channelling Diana Ross with her chic afro, Yvonne looks stunning in a racy grey long sleeve mini dress which features a generous décolletage, silver hoop earrings and a silver ring.
Her smouldering make-up finished the killer cover look.
For the editorial spread, Yvonne also rocks stylish outfits including a grey damask-and-yellow dress.
Read Excerpts from the interview;
On her relationship status
No I am not (in a relationship)
On if she has set the bar too high
(Laughs) Unfortunately, that's what people think but for me it's not really about money.
If you give me all the attention and make me laugh I think that's it. I am not in a relationship not because I don't want to. Let me correct that, because you go somewhere and people say "ohhh I am happy with just my job" but the truth is nobody is happy being single. Again you hear "I don't want to get married now" I think it's a lie.
In my opinion, it's because your master hasn't come yet. My mother always says that once your master comes you don't need anyone to tell you to go, you'll go. I haven't had my master yet but the truth of the matter is, because of what I do, I meet people.
However, it's so difficult for me to meet single people, it's so difficult as well to trust people and that is the problem. At a point, you realize that they treated you like a trophy and showed you off because you are on television. The ideal relationship for me would be to hang out with my boyfriend and his friends, who won't even care that I am an actress.
At this age, I don't see the point of dating someone and knowing deep down that it's not going to go far. I would rather be lonely and miserable than be in a relationship and be happy for a short while; then walk away because I realized this is not the kind of man I want to be with.
I'd rather stay put until my master comes. But what if my master comes at a time I am with somebody, then what, I have to bounce him.
On if she is picky about nationality
I don't care; he can be Ghanaian, Ivorian, even better for me to practice French with him, Nigerian, Caucasian. I don't mind as long as we have that connection that's all that matters to me
On if she can date someone in the industry
No I can't. It's out of the question. It's part of my rules that I don't date people in the industry. There are great men in the industry but truth be told, I feel because our industry is not solid enough, it's very difficult to get a man who thinks his career will last.
We are not paid well enough and I am too jealous to be in the position where my husband will be kissing people on television.
In addition to that I don't want the whole I am dating my colleague situation so when we are not talking everyone in the industry knows we are not talking. I don't want my relationship out in the public.
It's my relationship and I would like to keep it that way. Once everybody knows your relationship, they jinx it and it doesn't last. Best way is to keep it on the low.
On if she has been sexually attracted to anyone on set
Of course. If I say no then I am not human (laughs). There are some very good looking guys in the industry and I have had a crush on a couple.
Initially, I wasn't too active and so I had a crush on many and then I got to know them when I joined the industry and I kind of lost interest. Even if I was interested, because of that rule.
I would never mix business with pleasure. For instance, Majid Michel who I have know way back. I told him "do you know I had a crush on you?" he was like "are you kidding me? But you don't have it again?" I was like "err…no!" (laughs)
So I have had crushes on some people. I am not perfect but I have been able to control my urges.
For more on the interview, be sure to pick up the new issue of Glitz Africa Magazine.
Check out more pages from the magazine.