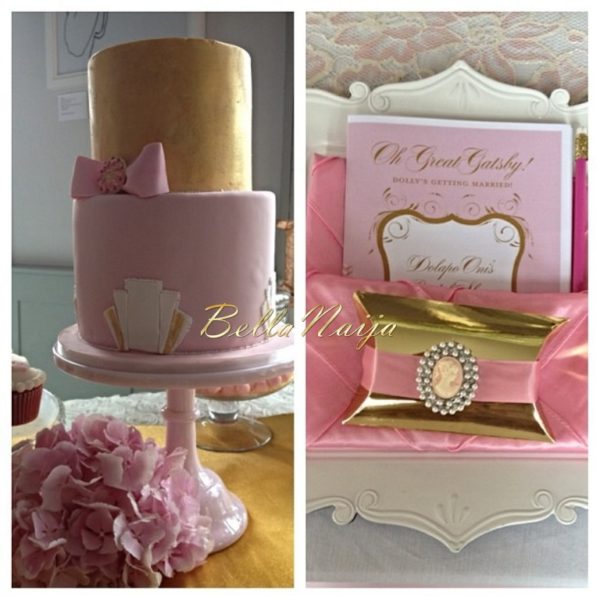 Yay! It's our 3rd edition of BN Wedding Décor. Today we're showcasing such a prettyyy pink Great Gatsby Inspired Bridal Shower by Abiyole Jones of Pretty Gorgeous Events in London.
From the Designer – Abiyole Jones of Pretty Gorgeous Events
"So what does an event designer do when one of her closest friends is getting married? Errr…throw her the most beautiful shower to celebrate of course 🙂

Our Great Gatsby Shower was designed in celebration of a dear friend, Dolapo Oni (Dolly), who is getting married in September. My inspiration was the current craze for all things 1920s but we wanted to give the theme a signature Pretty Gorgeous spin.  Rather than go for black and gold, we choose a more delicate palette of antique gold and pale pink with some sparkle. The look was luxurious and opulent as I expect Gatsby might have envisioned for his dream wedding with Daisy. In the brides's words – it was more than her wildest dreams – and I was chuffed to have given my friend a day as beautiful as her."
We at BN Weddings love every single detail – from the gold "DOLLY" and "LOVE" to the pink heart shaped balloons and elegant gold chairs.
If you'd like more info about the shoot or Pretty Gorgeous Events, contact: Abiyole Jones | Phone: (+44) 07854 157601 | Facebook | E-mail: yole "at" prettygorgeousevents.com
Additional Credits: Photographer – Gerry Otti Photography | Florist – Mirage Creations