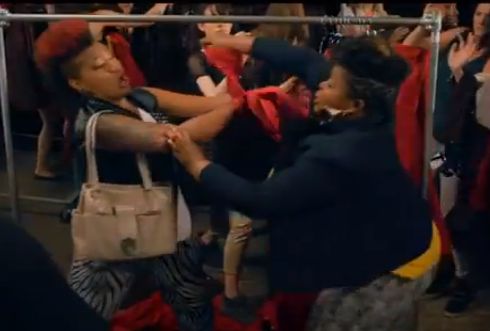 "I have never gotten into a fight". That used to be my answer when people would ask if I could fight. I used to think of myself as the younger version of Mother Theresa for my lack of fighting experience. But now I can't even mutter the word 'fight' because flashes of last week's incident goes through my mind.
Last weekend, I went shopping with a friend of mine at a fashion fair. She just had a nasty break-up so she called me up and said she wanted to go for some retail therapy. I quickly went because when my friend shops angry, some of the items she buys usually float my way. So there we were, shopping "innocently", when I saw a lady drop a pair of beautiful shoes she had earlier picked. The shoes were gorgeous! They were suede, had nice studded detail and above all were Office. I love Office shoes.
So I went over, checked that they were in my price range and picked them up. Fast forward 45 minutes, 6 full shopping bags and 1 semi-happy best friend later, we were in the check out line. It was almost my turn when this lady who had earlier dropped the Office shoes walked up to me and said "Sorry, excuse me, you picked up my shoes". For a quick moment I thought to look at her feet but then I realized she was referring to the shoes in my hand. After quietly explaining the circumstances that eventually led to our current situation (like she had a 45 minute coma) she still insisted that I drop the shoes for her to buy.
Now, I am not too proud of the next couple of minutes after that so I'll leave it out of my tale. I don't know why I didn't want to let the shoes go, but for some reason I held on to them. In the end, we had a steamed argument rooting from how she claimed I stole her shoe choice. According to her "Look you don't have to lie. I dropped the shoes because my hands were too full and I was going to come back for them. You were watching me to figure out if I would drop them and Immediately I did you swooped in and took them. They are the last pair and I need them so please can I have my shoes back".
I honestly don't know how it all sky rocketed to that level, but it was unbelievable how bad it got. My friend had to dig up her inner post break-up anger to yell the woman down. Then it took almost everyone in the vicinity to calm my friend down.
It got me thinking, did I really need those pair of shoes or was it just the way she spoke to me that made me defensive? Have you ever gotten in a fight for a fashion item? Maybe it was those pair of shoes that you just had to get. Maybe you had to argue your sister down for that top? Come on people, don't leave me hanging here. If you had the chance to do it over, would you have acted differently? 
A while ago a colleague of mine showed me this video and it just goes to show that women would really get down and dirty for a fashion item. Foreign designer Alexander Wang announced a one time only special event. What was the event about? Free clothes from his new & old collections and the people went crazy. Watch the struggle for couture below.
Quick question, would you act like the people above or would you act like the people above?
Photo Credit: Alexander Wang