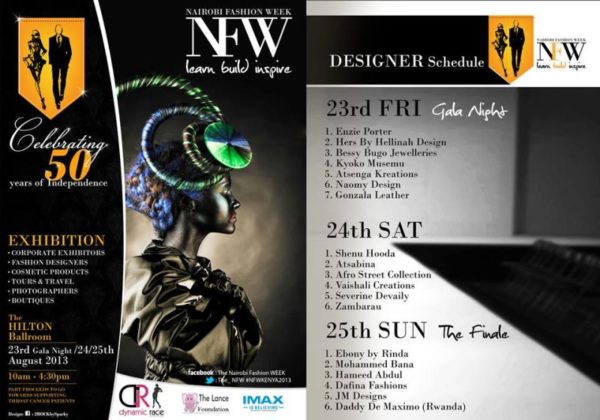 Kenya get ready! It's time for the Nairobi Fashion Week 2013. The event which kicked off yesterday Friday 23rd August 2013 will last for 3 days at the Hilton Hotel in Nairobi Kenya.
From all the popular names to emerging labels, Kenyans will witness a fabulous 3 day event where designers will showcase their latest collections. The Nairobi Fashion Week (NFW) is organized by Dynamic Race Modeling Agency, the regional leader in fashion events. NFW was conceived and created out of a vision to: "Bring creativity and innovation to fashion and forecast the future of African fashion and synergize Kenya into the fashion world."
I cant wait to see all it has to offer. View the schedule below.
Friday 23rd August 2013 (Gala Night)
1. Enzie Porter
2. Hers By Hellinah Design
3. Bessy Bugo Jewelleries
4. Kyoko Musemu
5. Atsenga Kreations
6. Naomy Design
7. Gonzala Leather
Saturday 24th August 2013
1. Shenu Hooda
2. Atsabina
3. Afro Street Collection
4. Vaishali Creations
5. Severine Devaily
6. Zambarau
Sunday 25th August 2013
1. Ebony by Rinda
2. Mohammed Bana
3. Hameed Abdul
4. Dafina Fashions
5. JM Designs
6. Daddy Maximo (Rwanda)
For more information on www.thenairobifashionweek.com or Follow them on Twitter @The_NFW