Salut a toutes!
Before I go on I want to thank everyone who has emailed and commented with pretty positive comments about the series. I still need people to mail in and lets see who tried out any of the recipes so far.
Today, my friend – Mosun Aderinokun (The Ambrosia Baker)- brings you a classic for your ovens and mouth pleasure. "The Classic Cookie". We have used M&Ms here for the chocolate chip and also for the nostalgia and extra colour it gives to the cookie.
This is a pretty straight forward recipe but again be careful not to over mix the batter and end up with rocks as opposed to edible goodness.
This recipe make about 3 dozen cookies but unfortunately that day we managed to squeeze out maybe a dozen and a half as i couldn't stop poking at the delicious dough. I was almost looking for ice-cream to make myself a cookie dough sundae. Sigh this fitfam struggle is so real!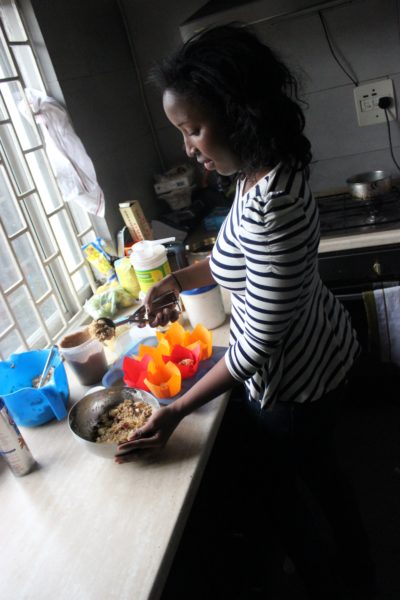 You'll need
3/4 cup (1.5 sticks) unsalted butter, softened to room temperature
3/4 cup dark brown sugar
1/4 cup sugar
1 large egg, at room temperature
2 teaspoon vanilla extract
2 cups all-purpose flour
2 teaspoon cornflour
1 teaspoon baking soda
1/2 teaspoon salt
1 & 1/4 cup semi-sweet chocolate chips or M&Ms
How To
Start off by preheating the oven to 350F or 176C. Line an un-greased cookie sheet with parchment paper (greaseproof paper) (or silpat if you happen to have one). Set aside.
Then, in a large bowl using a hand-held mixer or stand mixer with paddle attachment, cream the butter and sugar together on medium speed until fluffy and light in colour.
Slowly mix in egg and vanilla. Scrape down the sides as needed using a spatula. Then using a low speed, mix in flour, cornstarch, baking soda and salt.
Stir in chocolate chips. Dough will be thick and sticky, but still pliable with your hands or a cookie scoop. If you do not have a cookie scoop, no worries, just use a spoon to scoop little 'golf balls' from the dough.
Drop 1 tablespoon ball of dough onto cookie sheet. Bake for about 8-10 minutes, until barely golden brown around the edges. Please ensure you do not cook them longer than 10 minutes.
Remove and let cool for 3 minutes on the cookie sheet. Transfer to cooling rack.
CAUTION! Please be careful not drop dough onto warm cookie sheets. Allow cookie sheets to cool completely between batches.
Voila! There you have it. Feel free to mix it up and try it with maybe dark chocolate chips or white chocolate and maybe some raisins!
You do not need to get a tin like I did. Just place in a glass jar that's easy to find and stick on some nice paper on it and label it to the Lover, Mother, Father, Sister, Friend, Enemy, Boss, Neighbour… whoever really. Whatever you do thou must not consume all thereof by thine self.
Tip: Use an online baking converter site to convert temperatures and weights if any of the above measurements confuse you.
I use traditionaloven.com when I am in doubt.
Have a sweet weekend ahead and don't forget to share some of your baking stories with us. Till next week….
Be sweet!
Photo Credit: Adebayo Rotilu of Twelve 05 Foodography
____________________________________________________________________________
Chef Fregz loves to cook! He is a graduate of Le Cordon Bleu Paris Culinary Arts School in France and hosts monthly "Chef Fregz Specials" where he whips up a yummy menu with a different theme each time then everyone enjoys a taste.He also caters special events and private dinners. To find out more visit www.cheffregz.com. Chef Fregz provides premium private catering services. For bookings and orders email [email protected] | @Chef_Fregz on Instagram and Twitter. You can check out the Chef Fregz Page on Facebook as well.