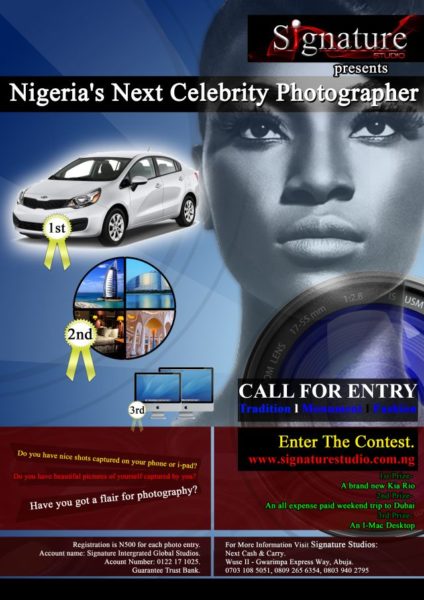 Do you want to be Nigeria's next celebrity photographer?
Signature Studio presents Nigeria's Next Celebrity Photographer, an online based quarterly photography contest in a class of its own, it is simply a game of pictures and the stories they tell. Pictures taken by everyday Nigerians on the street, in the bus, at home, work, shopping and playing.
Anyone with a camera phone, an iPad and a camera can participate.
Interested participants are required to register their pictures at www.signaturestudios.com.ng and then the public will vote for their preferred picture.
Each registration costs N 500. The more pictures uploaded the more the chances of winning.
Eight contestants with the highest number of votes will emerge and be lounged for two weeks at the Protea Hotel Apo, Abuja, where they will be assigned various photography tasks, to be held in December.
The grand finale is slated for the 3rd week of December 2013.
Prizes include;
1st (Grand Prize) – Brand New KIA RIO (2012) edition
2nd prize – Holiday trip DUBIA for 3 days
3rd prize – Apple MacBook Laptop
_________________________________________________________________________________
Sponsored Content