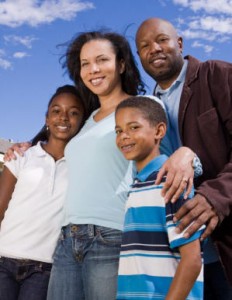 A few weeks ago, I took a leisurely 'scroll' down the streets of InstagramVille. It was a regular day on Instagram – photos of partying with Nigerian celebrities; food and the accompanying work out by members of #FitFam; and selfies with plenty prominence to booty. Same ol' routine.  Then I saw a photo posted by one of my friends. It was one of her with a baby and the caption was something along the line of 'my goddaughter is cooler than yours'. A few photos down, another friend  had a photo with another baby. 'my cute godson'.
Then, the realization settled. "Oh my God! I don't actually have a godchild!" It wasn't a realization that came with a lot of pain. I figured the reason why I didn't have a godchild was either because I'm generally not a very nice person or the fact that I'm poor.
I came to this conclusion about the poverty reason because I had heard one of my friends in a really bitter lament about the different parents of her godchildren.
You see, Sherifat has 4 different godchildren. With each of these children, she has been harassed by their parents for gifts and favours under the auspices of this esteemed position . She has heard all sorts. 'What kind of godmother are you? Your godson has started walking. Won't you send any gift?' or 'it's your goddaughter's birthday and you didn't put her picture up as your display picture'. My favourite – and the one which riled her up the most- is 'What souvenir are you making for your godson's party'.
After laughing at her, I asked her why she didn't renounce the 'appointment' when it was made. She said for some of them she didn't even know she was godmother until she went visiting and she heard 'Meet, Nifemi's godmother!'  Her biggest issue was how little time she was spending with the actual children and the amount of money she was having to spend… just to keep her title.
Seeing as I don't have godparents, I had to look up the meaning and their function. According to theFreeDictionary.com, a godmother is a woman who sponsors a person at baptism. 2. One that has a relationship to another person or to something that is the equivalent of being a baptismal sponsor.
Wikipedia defines godparent as… someone who sponsors a child's baptism. Today, the word godparent might not have explicitly religious overtones. The secular view of a godparent tends to be an individual chosen by the parents to take an interest in the child's upbringing and personal development.
The last definition lifted the veil of religious constraints. Technically Sherifat couldn't plead 'Estoppel by Religion' as a clause with which she could wriggle out of her new found responsibilities. By definition, the godparent of your child is someone you've chosen to take an interest in the child's affairs. I wondered if this was something one could say 'No' to. Or if it was like being asked to be a bridesmaid and you'd just have to say 'Yes' because you should feel honoured that you were asked in the first place.
What are the actual responsibilities of the godparent? When do those responsibilities end? Surely it has to be more than posting photos on Instagram. Does it end when you're appointed as 'Chairperson' at the child's wedding? For those of you who have children, how do you decide who is godparent to your child? How important is it that your child has a godparent? Did you have godparents? What roles did they play in your upbringing? Share some of your special godparent moments with us; and finally what are your general views on the role of godparents? Or is it one of those things that is the New Cool with our modern day Nigerian parents?
Have a beautiful week ahead. Smile and don't let anybody hold you back.
Peace, love & cupcakes!
Toodles!
Photo Credit: picstopin.com