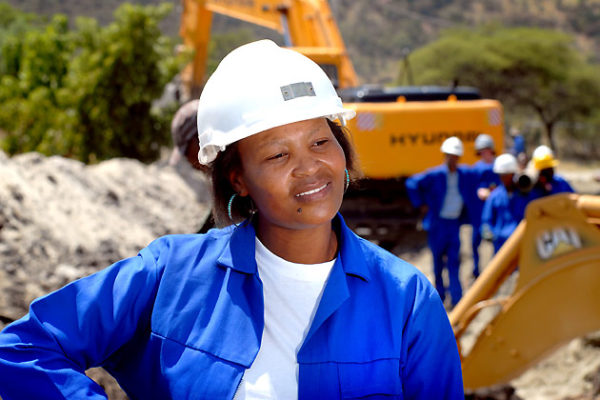 Move Back to Nigeria is a series on BellaNaija which aims to encourage young and not-so-young professionals in the diaspora who are trying to make the decision of whether to move back to Nigeria. In collaboration with the brilliant team at MoveBackToNigeria.com, we hope to bring you a weekly interview with individuals who have successfully made the leap, considering the leap, as well as those who have tried it and realized it is not for them.
The idea is to share their successes and their challenges as they made the decisions they did. A lot of Nigerians in the diaspora have questions about making a change at home in Nigeria. Many suggest really good ideas on how to make things better; others would like to contribute to making a difference back home but are just not sure where to begin.
Movebacktonigeria.com is the fastest growing online community of Nigerian professionals living, studying and working in diaspora.
We caught up with a returnee engineer who anonymously discusses her professional experiences and her move back to Nigeria story. Her pragmatic and detailed take on life as an engineer and what it entails, is definitely worth reading.
Thanks for speaking with us: Can you please introduce yourself?
I was born and bred in Nigeria, I left in 2000 for my A levels in Ireland. I then moved on to the UK, University of Nottingham, to pursue a Bachelor's degree in Chemical Engineering. After my BEng., I took a year out to travel, attempt to learn a new language and reflect on the future. By the end of the gap year, I landed a job in Investment Banking.
After a degree in engineering, your first job was in investment banking. Was this where your interests really were?
Not at all! My ideal job was in my field – engineering. However it was a nightmare getting a relevant job. So after several unsuccessful applications I took what I got as I couldn't stay much longer without a job. A lot of my friends and schoolmates were moving into investment banking as well and I thought – why not give it  a shot.
I always had at the back of my mind that it was not what I really wanted so I kept on applying for my 'dream job'.  Nine months later I got a job as a junior engineer at a petrochemical consulting firm in London.  I worked with the firm  for 18 months before moving on to pursue a Master's degree in Petroleum Engineering from Imperial College.
Right! So what came next for you after your Masters degree?
Upon completion of my master's degree, I got an offer to work with a leading oilfield service company in Nigeria. Therefore the decision to move back to Nigeria was not a deliberate one, it just happened.
You were not consciously looking for a job that would bring you to Nigeria?
Not particularly. When I interviewed for the job, the recruiter advised me to keep an open mind towards international assignments for some reason I never thought it would be Nigeria. Of course, I secretly welcomed the idea of being assigned to my home country, but at the time I wasn't mentally prepared for the move. When the offer finally came – it was for Nigeria, I gladly accepted it.
I figured that being assigned to my home country would offer me a great soft landing back home and into the job/role. In hindsight, I am happy that it was Nigeria. I knew that at some point I would definitely be returning home especially since I'm not the type to have lived abroad long-term.
Ok. Tell us about your current role.
I work as a Reservoir Engineer providing technical support in reservoir testing to our E & P clients in order to allow them prove their reservoir potential, confirm well performance and improve field productivity throughout the life of an asset. We generally are in place from the beginning of the field cycle up until the end; from exploration all the way to development and sometimes abandonment in the later years.
For those who may be considering a career in reservoir engineering, what is the average pay package at an entry level position for instance?
Let me create some background. There are generally two classes of companies in the oil industry; service and producing/operating company. For entry-level REs, operating companies pay way better than service companies. The perks of the service companies are extensive exposure and quicker career progression, but in terms of the pay, it is not at par with that of engineers at operating companies. In terms of figures, the IOCs typically start on about N13 million per annum (on average). Service companies packages start off lower, but tend to have more benefits such as housing, transportation allowances, for a basic figure I would say N7-8 million.
Right! How has your experience been since moving back?
It was interesting enough moving back to Lagos but suddenly I had to make another move to Port Harcourt, a city I had never been to, that was a huge culture shock. To be fair to the company, they make such transitions as comfortable as can be, taking care of accommodation and everything else. However, I was somewhat restricted in a sense because all my time was spent around work, all my friends were from work and so I really didn't get to experience the city and everything else that came with living in Port Harcourt. After my year and a half stint in PH, I moved to my current assignment in Lagos.
Now you're in Lagos, what is it like moving back home after being away for over a decade?
During my time away, I came back home almost every year. However, I know coming home during holidays and actually living in Nigeria are completely different. I must say it wasn't a terrible shock for me because there were some things I was well aware of such as the daily issues of traffic, the erratic electricity and dealing with people. It just took me a while to adjust to the Nigerian schedule and thankfully, I have a very good support system in my family who made sure I had everything that I needed. The work culture as well also took some getting used to.
So what have the positives of moving back been for you?
Definitely being around my family especially my grandma whom I'm very close to. Just being back home really – at the end of the day, home is home. Although I still miss the comfort and conveniences of living abroad, I don't regret my decision to move back home. Also, since I moved back I have been able to set up my own business, something I would never have even considered while living in the UK.
And the negatives, if any?
Negatives would be just the basic infrastructural challenges. They are not unique to me, every Nigerian faces these same challenges. It is very frustrating particularly because Nigeria has so much potential and it could be a hundred times better than what it is today.
That is certainly true. On a final note, what advice can you offer readers who may be considering the move back home?
I think whoever plans on making the move back home has to do so after extensive research as it is not a decision you just venture into it blindly. You have to be well informed which could be from regular visits, or from family and friends.
Getting a job prior to making the move is also one of the best things that could happen as it provides a very soft landing. The job market is really tough and unless you are actually living in the country, you don't get to hear about job opportunities but then thanks to people like you guys at movebacktoNigeria.com, more information on current job openings available for Nigerians in Diaspora is now easily accessible.
 Many thanks for your time and best wishes moving forward!
Photo Credit: madamenoire.com
_____________________________________________________________________________________________
The  primary objective of MoveBackToNigeria.com is to connect Nigerian professionals with various opportunities in Nigeria, ranging from recruitment drives to information & support regarding relocation processes, financial & tax advice and much more. Move Back To Nigeria also features social interest topics such as what's on, where to live, how-to survival tips and so on. Consistently engaging with and featuring Nigerian professionals in weekly  interviews, Move Back To Nigeria regularly publishes social interest articles relevant to the general public. Everyone is welcome to their online discussions & fora and you are invited to air your views & suggestions on the topical and trending matters section. For more information and further inquiries, please contact [email protected]