Afrobeat icon, Femi Kuti has been blazing the blogs all year long, with music, concerts and of course, a little gossip here and there. This time around, he's in the news for his music. Once again, one of the biggest awards in music history has found a rare gem in Femi Kuti's music.
His 2013 album 'No Place For My Dream' was nominated for the 2014 Grammy Awards in the "Best World Music Album" Category. Femi will be facing off such contenders as Indian musician Ravi Shankar, French group Gipsy Kings and South African group Ladysmith Black Mambazo.
This will also mark the Afrobeat legend's fourth Grammy nomination. Will he be bringing it home?
Congratulations Femi Kuti!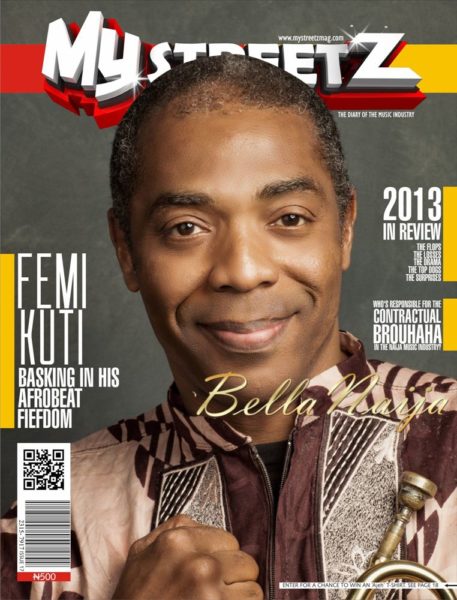 In other news, the crew at Mystreetz Magazine decided it was about time this great icon took their cover page. Here's what Sesan Adeniji, publisher of Mystreetz magazine, had to say about their new December 2013 issue:
'With the success of the recent Felabration, it is crystal clear that Afrobeat music is indestructible. With its newfound love within more conscious youths across the music industry, who are infusing more of it into their music and lifestyle, one can simply attribute the success of this genre to the creativity and originality that enveloped its creation decades ago.

'Among several artistes that have carried on the Afrobeat struggle after its creator Fela Kuti passed on, no one has done more to Afrobeat than Femi Kuti. Against incredible odds, Femi has consistently been increasing the fortunes of the genre and breaking previously unimaginable grounds all around the world. Since conquering the challenges of the early days and consequently shutting up naysayers and armchair critics alike with his unparalleled success, Femi has probably done more for Afrobeat than anyone can ever imagine.

'Femi has singlehandedly with his sibs given a brand new face to Afrobeat without compromising the revolutionary edge of the music. He has been able to open new frontiers for the genre in the last twenty years or so, raising a fan base that cuts across race, age and creed. He has proven that Afrobeat is not a fad, art form nor another genre but a culture and a movement. Let's join this journey with Femi Kuti who is now basking in his Afrobeat fiefdom'.
Do you think Femi Kuti will be taking home the Grammy? What's your take on his cover look?
Share your thoughts!