BellaNaija Weddings is glad to present Yawa & Yaw's gorgeous Ghanaian wedding! The intimate celebrations were organized by the beautiful bride. The couple has a love that speaks volumes. We'll let the photos (and the bride) do the talking.
Enjoy!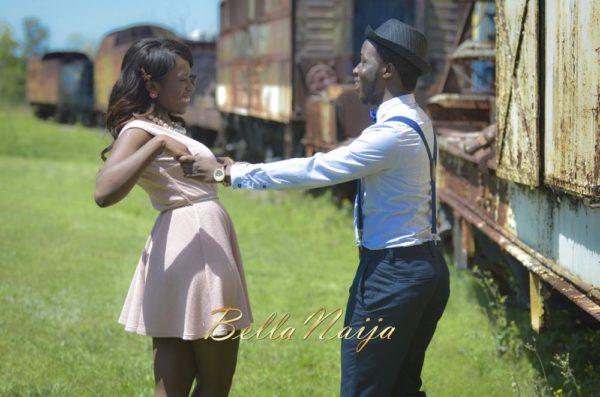 How Yawa & Yaw Met
From Yawa, the bride
We were childhood acquaintances who were reconnected through Facebook. Although our social circles intersected in many ways while growing up, it was not until we reconnected that we really started to get to know each other. This subsequently led to our long distance relationship, with Yaw in Atlanta and I in Chicago. Three years into the relationship, I moved to Atlanta with the aim of us being close to each other. A few months after, we both decided to take our relationship to the next level when we got engaged.
The Proposal
On the night of my birthday, Yaw had planned a special night out for us to have dinner. Of course he took me to my favorite restaurant (I Love Italian food). After dinner just before dessert and still had no clue, Yaw got down on one knee and asked me to marry him. Yes I know it sounds cliché but Yaw is the quiet kind of guy who likes to do personal and intimate things. So imagine my surprise with this man down on one knee in a restaurant. That totally blew me away. I always expected him to propose at home, maybe even on the couch (our favorite place to hang out). Now you see that is the kind of couple we are.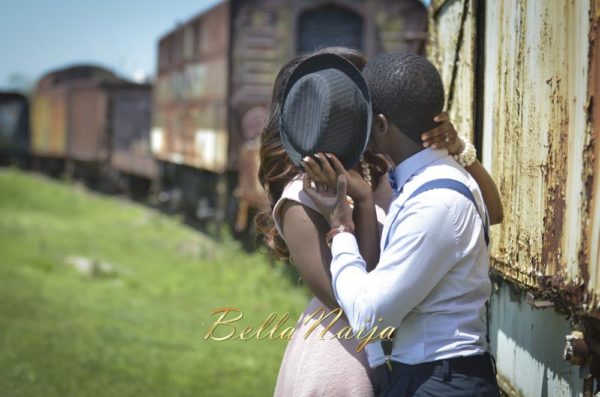 ***
Yawa and Yaw radiated love throughout their pre wedding shoot and ceremonies. The couple went with a rustic vintage theme for both their e-session and wedding, while their traditional wedding was an intimate gold and white affair at the bride's sister's home in Chicago.
For the white wedding, the colours of the day were eggplant purple and chartreuse green. The wedding was infused with the sweetest personal touches like ring-bearer signs, a tree log as the cake stand and the bride got to wear her dream dress – at a dream price! She says,
"Because of my love for lace, I had to have a lace dress with straps or sleeves. Luckily for me, I found my dress at a local bridal boutique for a steal. Finding a dress was interesting in the beginning, but after a couple trips to the bridal salon, I was getting tired of seeing bridal gowns. Funny enough, my gown was the first I tried on, but I refused to pay the asking price, but lo and behold two months after, I got an email from the bridal salon saying they were having a blowout sale. I got there and the consultant says "your dress is still here" for a huge steal!"
We love it! – a frugal yet fabulous bride. No wonder she could pull off organizing her wedding by herself. The bride has some inspiring words for others intending to tie the knot:
Because I planned my own wedding I became familiar with the stress involved. However, I learnt to trust my vendors and executed to what my husband and I envisioned our day to be. My wedding planning tip is to trust your vendors and take in a deep breath. On the day of, do not let any little thing upset you. Remember keep a smile at all times because your photographer might take a picture. 😉
We hope you enjoy and are inspired by their special day!
BellaNaija Weddings wishes the couple a home filled with joy.
***
~ Photography: Leslie Marie Photography
Pre Wedding Photoshoot
White Wedding
Traditional Wedding
Photography: Leslie Marie Photography | lesliemariephotography (at) gmail.com | lesliemariephotography.com
Wedding Details
White Wedding Date: September 28 2013
White Wedding Venue: Windermere Golf Club in Cumming, GA
Wedding Colours: Eggplant Purple & Chartreuse Green
Wedding Attire
Bride's Wedding Dress: Pronovias Gown from Bride Beautiful – www.bridebeautifulinc.com
Groom: JOS. A Bank – Charcoal Grey Tuxedo
Traditional Make up: Face by Maori – https://www.facebook.com/facebymaori
White Make Up: Olive Krofah – Instagram – @olivekrofah
White Wedding Vendors
Cake: Cake Envy – http://www.cakeenvyonline.com/
Center Pieces & Decor: Laurens Floral – http://www.laurensnorton.com/
Officiant: Rev. Joseph Essilfie
Photobooth: LVH Photobooth – http://www.lvhphotobooth.com/
Limo Rental: LVH Limo – http://www.lvhlimo.com/
Day of Wedding Coordinator: Yaa Sarpong-Addae
DJ: DJ SamQ
______________________________________________________________________________________
We love weddings as much as you do – get in touch for inquiries, inspiration & more!
E-mail: weddings (at) bellanaija.com | E-mail for #AsoEbiBella: asoebibella (at) gmail.com