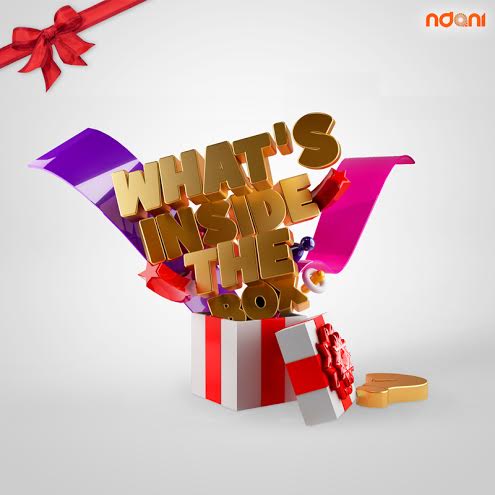 Christmas is all about the sharing love and giving gifts to those we care about. It's a season of joy, laughter and celebration.
Ndani loves Christmas and they recognize the significance of this time of year to our audience and with this in mind they've decided to make somebody's Christmas special with The Ndani Box!
The Box is a campaign Ndani is embarking on to show love this Christmas. They encourage everyone to tell what he or she would like to get for someone special to him or her this Christmas.
How you can you enter? Simply follow these simple steps.
The first step is to like Ndani on Facebook: Facebook.com/NdaniTV, Follow them on Twitter: @NdaniTV, Instagram: @NdaniTV and Google+.
Next, make a 1 minute video or send a photo collage showing the gifts you would like to put in your gift box this Christmas and who you would like to give it to.
The Box will be filled with various amazing gifts like electronic gadgets, perfumes, beverages, books, games, multiple fashion items and lots more. Needless to say, whoever wins The Ndani Box will definitely not be disappointed.
Entries are already being accepted and the competition closes on Sunday 15th December 2013. The Ndani team will then choose 10 of the best entries; The more fun, Trendy, African, Fun, Cool etc the better! And a poll will be started on
the Ndani website: www.ndani.tv for the public to vote for the best entry.
Voting closes on Tuesday 24th December 2013 and the highest number of votes will be presented the Ndani Box on Boxing Day.
______________________________________________________________________________________
Sponsored Content