With all the Christmas and holiday parties going on right now, I thought it would be essential to deliver some looks based on some of the major trends this season. Consider this a little guide on how to transition your work attire to party ready looks!
Not everyone one has the luxury or time to go home and change before attending the many holiday/work parities or social gatherings with friends. So instead of forfeiting an invite, here are some key outfit pieces that will help you seamlessly switch from work to play.
Skin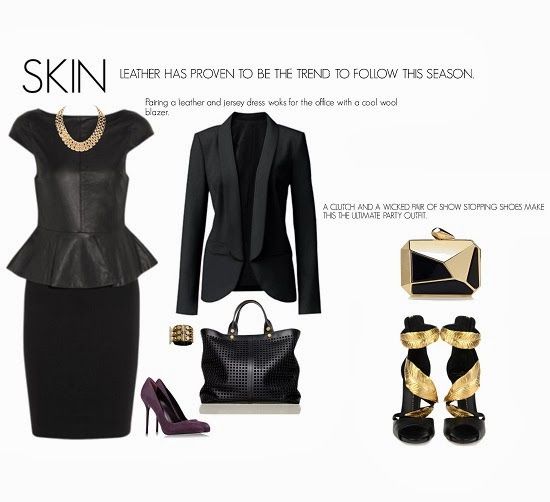 Leather has proven to be the trend to follow this season. Paring a leather & jersey dress that works for the office with a clean classic blazer is a great basic for the trend.
For switching to night, all you need are to change the accessories. The gold tote features laser square cutouts, brush gold studs and suede. The necklace mimics the squares, the shoes have stunning gold leaf details and the studs are visible on the bracelet. You can't go wrong when you use details to tie an outfit together.
Geometric Patterns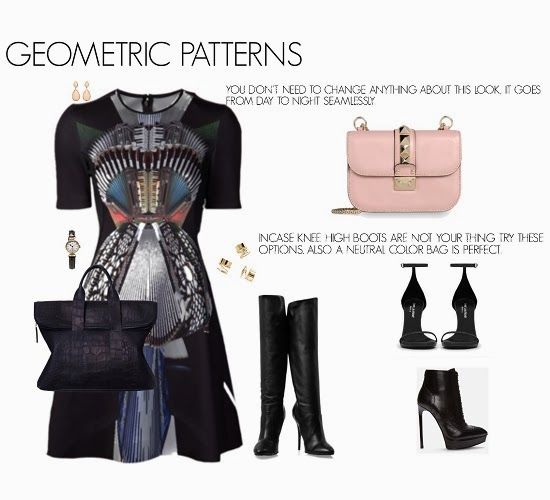 You don't need to change anything about this look, it transforms easily from day to night without a glitch.
Geometric patterns have proven to be huge for the last couple of seasons and if you have checked out the Pre-Spring and Pre-Fall 2014 shoes you know that it is here to stay. Because the print is so bold you really want accessories that complement without taking away from the real focus. In case knee high boots are not your thing, wear a classic pump like the Christian Louboutin So Kate shoes and you can definitely take this look from the office to your night out for drinks and good times.
Lady Like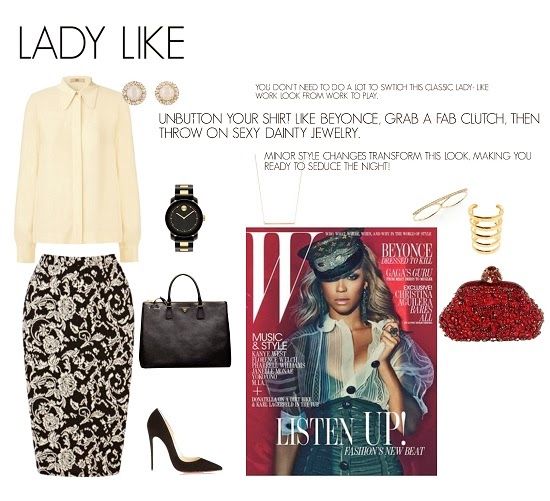 You don't need to do a lot to switch this classic lady-like work look from work to play. Calf length pencil skirts are extremely lady like and super classy and has proves to be trendy and very popular. It is a great look for work paired with a silk shirt.
Undo a few buttons on your shirt like Beyonce, grab a fab clutch, and then throw on sexy dainty jewelry to create a clean and sexy look. Minor style changes transform this look, making you ready to seduce the night.
Flower Power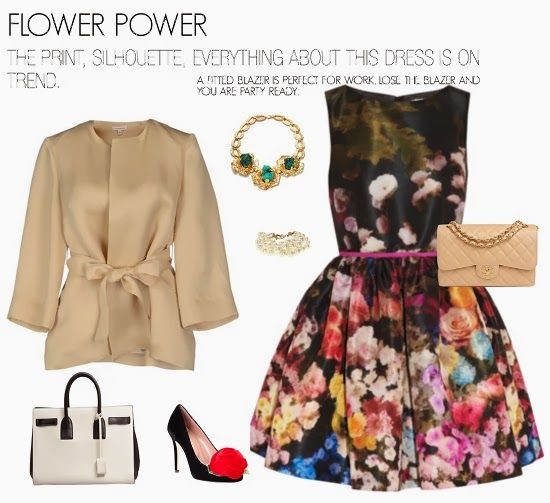 I don't think I will ever get enough of flower prints. It is such a girly trend and that is why it will forever be present in fashion. The print, the silhouette, pretty much everything about this dress is on trend. With a burst of colours on the dress, it is easy to pull in more color in with your bag, jewelry and shoes.
A fitted belted blazer in beige softens the color without taking away from the print. After work, lose the blazer and you are party ready.
All that Glitters is Gold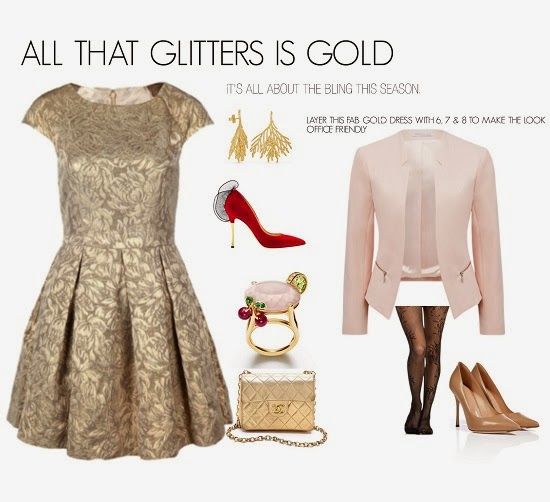 What would Christmas be without glitter and gold! It is all about the bling this season, so go through your closet and bring them out.
For work you might not want to go too sparkly, so opt for a dress similar to the one featured in this look. Damask fabric is classic and stands out without being overwhelming, and it looks amazing in gold. Layer your fabulous gold dress with a nude blazer to tone it down for work. Nude colored pumps and patterned stockings also aid in making the look work appropriate.
To wear this look at night add accessories that feature gold and complement the dress. You can also add color by adding pieces that have gold details like a gold stiletto heel or colored jewelry. Style is all in the details, and details will transform your look, and give you the opportunity to shine this holiday season.
There you have it lovelies. I hope you got style inspirations for the festive season. Don't forget to let me know which of these looks "work" for you and how you would rock it this holiday season.
______________________________________________________________________________________
Monica is a fashion enthusiast who owns a fashion and style blog called www.awedbymonica.blogspot.com, loves to inspire her followers on how to create effortlessly chic looks and has 15 years worth of fashion knowledge and experience from her work in the high-end fashion industry. For more information on her, visit her blog, email her at [email protected] or Like her on Facebook.