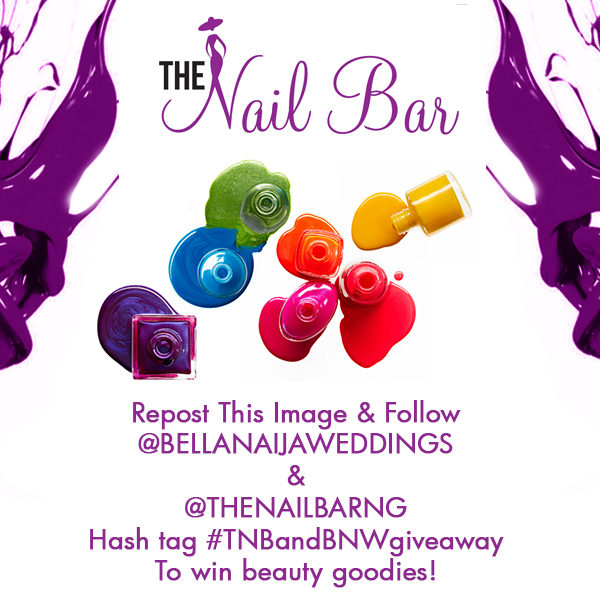 On the 14th fabulous day to 2014, BellaNaija gave to me – 4 Beauty Packages for 4 LUCKY readers ! – from The Nail Bar, Abuja.
We announced a fortnight of fab giveaways, and this is our 14th and FINAL one! To learn more, click HERE! To see other giveaways, click HERE.
Till next year guys! But for now…
***
BellaNaija Weddings & The Nail Bar, Abuja are teaming up to bring you 4 amazing prizes – open to Abuja and Lagos residents on Instagram.
If you're in Lagos and you win any of the beauty treatments, that's alright, just be aware they need to be exchanged for services by the last day of March – 31st March 2014.
***
THE PRIZES!
The 4 packages – beauty goodies and services, cover everything beauty – from nails (of course!) to hair and skin. The winners will be chosen at random, from the posts on Instagram.
The brands include OPI, Essie, Keracare, Bahiyah, Ours by Juliada, Organics and more!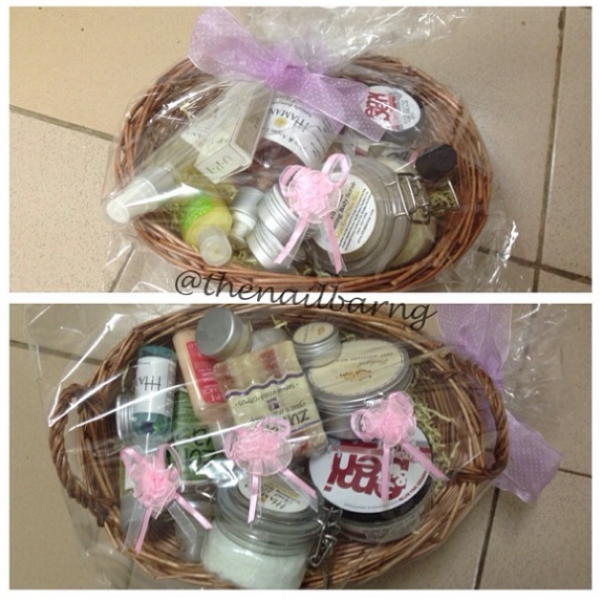 1. Body Special Package
Body Bliss Massage (30 Mins) Voucher for service at The Nail Bar Abuja – expires end of March 2014
Emi And Ben Body Butter
Ac: Organics Body Polish
Ac: Organics Body Cleanser
Zum Goats Milk Soap
Hhamana Body Mist
Hhamana Argan Oil And Shea Body Lotion
2. Happy Feet Package
Express Mani And Pedi Voucher  for service at The Nail Bar Abuja – expires end of March 2014
Bahiyah Organics Lemongrass Foot Scrub
OPI Nail Lacquer
Essie Nail Lacquer
OPI Nail Treatment
Bahiyah Organics Foot Butter
OPI Avojuice Hand Smoothie
OPI Avoplex Cuticle Oil
3. Haircules
Wash & Blow Dry Voucher  for service at The Nail Bar Abuja – expires end of March 2014
Keracare Hydrating Shampoo
Keracare Essential Oils
Bahiyah Organics Deep Moisture Hair Mask
Ours By Juliada Hair Butter
Neriah Naturals Leave In Conditioner
4. Tranquility
Pukka Spa Tea
Hhamana Soy Candle Trio
Room Diffuser
Organic Honey Pot
***
TO WIN! – STEPS
1. You must follow both @BellaNaijaWeddings & @TheNailBarNG on Instagram
2. You must repost the first image in this post AND use the hash tag to win –  #TNBandBNWgiveaway
Very Important: If your account is private, send a screenshot of the image posted on your Instagram account to weddings (at) bellanaija.com with #TNBandBNWgiveaway in the title, if not your entry will not be seen or counted.
CONDITIONS
1. Open to Nigeria – Lagos and Abuja only – you must be able to pick up the beauty good from either location. If you won a service, you are responsible for transportation to The Nail Bar, or you can transfer to a representative.
2. Competition length – 1 week.
It'll end on January 14 2014 at midnight!
Winner will be chosen using a random name generator online, then contacted shortly after, via Instagram or e-mail (if you have a private account).
____________________________________________________________________________
To find out more about The Nail Bar!
Web: http://www.thenailbar-ng.com
Facebook: TheNailBar
Twitter: @TheNailBar_NG 
Instagram: @thenailbarng
Address: 26 Monrovia Street off Aminu Kano Crescent, Wuse II, Abuja, Nigeria
Phone: (+234) 818 259 5009 | E-mail: info (at) thenailbar-ng.com
Walk ins are welcome but you are HIGHLY encouraged to make an appointment before hand.