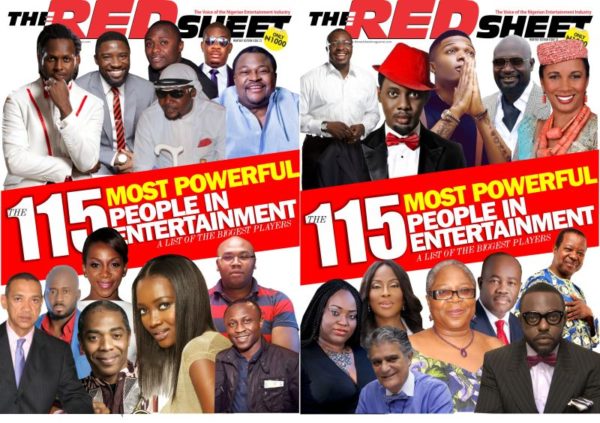 For its January 2014 cover, The Redsheet Magazine is all about celebrating the most powerful people in the Nigerian entertainment industry. There are 115 people on the list.
BellaNaija.com's editor-in-chief/CEO Uche Pedro and music editor Onos O are also listed.
Check out some other names on the list;
Betty and Soni Irabor
Ovie O
Rotimi Pedro
Chris Ubosi
Sola Fajobi
Prince Adeyanju Lipede
Adams Ibrahim
Audu Maikori
Toolz
Mildred Okwo
Tunji Balogun
Ayo Animashaun
Cecil Hammond
Linda Ikeji
Banky W
Olamide
2Face Idibia
Flavour N'Abania
D'banj
Ropo Akin
D'Tunes
Cobhams Asuquo
Seun Oloketuyi
Stephen Keshi
Gov. Henry Seriaki Dickson
Ayiri Emami
Mike Adenuga
Amin Moussalli
Mo Abudu
Read the official release;
A who's who list of the biggest players

They're the masters of the multimedia universe: the studio heads, directors, and stars who light the fuse that begins a movie; the TV producers and performers who dominate prime-time (and the network executives who can make them stars); the writers who command astronomical advances and the editors and publishers who command the best-seller lists; the musicians and moguls who can pack adoring crowds into stadiums and record stores. State Governors/business moguls who have invested so much in the entertainment sector in their various ways.

In this issue, we offer a roll call of the 115 most powerful men and women in Nigeria's entertainment Industry today. Some perform in the public eye; others prefer life in the background, pulling invisible strings. This year, at least, they share one thing. They've got the power.

A few ground rules: Those who made the list were chosen on the basis of their accomplishments in the last 2 years.

Who are the most powerful people in entertainment? Men and women who, for better or worse, have the authority to get a project started or stopped, who influence what you see, read, or hear, whose talent, connections, or reputation guarantee that attention will be paid. In most cases, it's a lot more than attention. Most of these people didn't simply have power handed to them — they took it, and once they seize it, they don't easily relinquish it.
The Redsheet Magazine is available at the following stores nationwide;
Hub Media Store, The Palms Shopping Mall, Lekki, Lagos
Shoprite, Surulere, Lagos
Mega Plaza Supermarket, Victoria Island, Lagos
Hub Media Store, Shoprite, Enugu
Abuja Airport Magazine Stands
Super Foodco Supermarket, Jericho, Ibadan
Booksellers Magazine Store, Jericho, Ibadan
Feedwell Supermarket, Sango, Ibadan
Esco Supermarket, Warri, Delta
Magazine stands at all Airports nationwide
Contact: For more info and general enquiries, call 08182004858 | 08170148966 | 08080265053 | 08182004858 | follow @dredsheetmag, @Chris_ayojoseph on Twitter | log on towww.theredsheetmagazine.com | add BB Pin 2998B8D3