Happy Monday! It's the beginning of the wedding week here at BellaNaija Weddings and we couldn't be more excited to share Nka & Mike's sweet wedding story and beautiful wedding.
It took less than 3 months for Mike to know Nka was 'The One'. They met in November 2012 and on Valentine's Day 2013 the beautiful couple was engaged. Although Nka was skeptical of relationships that happen too fast, Mike's sincerity soon won her over and they were married by October – less than a year after they met.
Enjoy their beautiful wedding story…
Pre-Wedding Photos: Spicy Inc Studio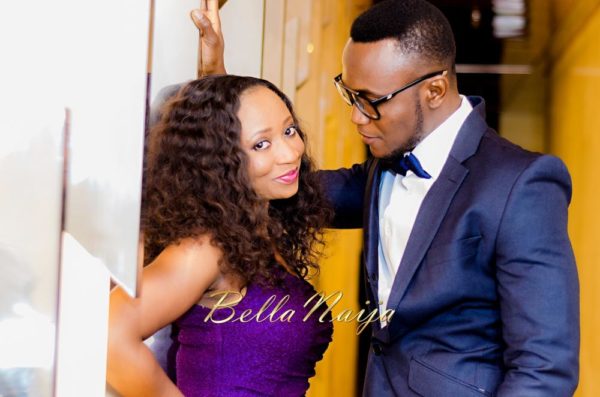 How We Met
Mike's Version
I had recently returned to Nigeria when Nka's mum was being made a bishop. Being family friends with her family (although Nka and I had never met prior to this) I went along with my family on the evening of November 22nd, 2012 to visit her mum, to find out if there was anything we could do to help make her event successful.
We got to her house and after gisting with Nka's mum, she insisted we stay back to attend the church service scheduled for that evening. I wasn't exactly thrilled about the idea because my brother and I had other plans for our night. I can still remember how mad my brother was at me for agreeing to attend. Lol
Then I spotted Nka from afar… I didn't know who she was at the time but I couldn't get my eyes off her. She was drop dead gorgeous and had the body of a Greek goddess. She was walking gracefully, smiling and greeting people. These people seemed happy to see her. I didn't blame them cos I didn't even know her but I was happy to see her too. Lol. I then said to my bro "Who be this babe abeg? I need to meet her."
Luckily for me, she walked towards us to say hello to us because she was already friends with my sister and she knew my dad and brother as well. That's when my sister introduced us. We talked briefly because she was headed to the venue where the church service was taking place. Of course I attended the service! And after the service, I stayed back to chat with her. She was accommodating, warm, friendly, funny, intelligent and very interesting. She still is! That's how it started.
I know this may sound cheesy but the truth is, I fell in love with Nka at first sight and just when I think I've reached my peak, I fall in love with her even more. I never thought this was even possible…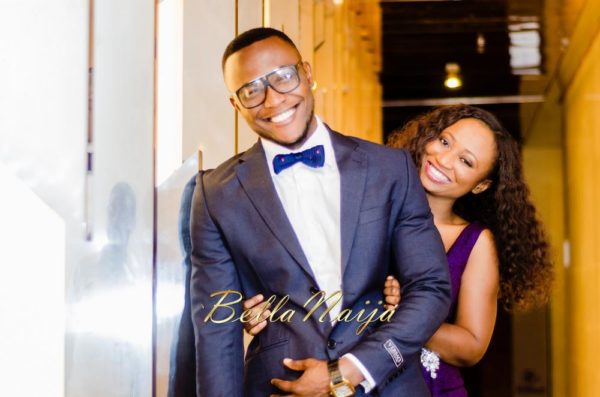 From Nka, the Bride
Mike's sister and I were close friends. She jokingly used to call me her sister. We have the same native name, Nyimenka and her parents are pretty close to my mum. I remember my birthday in 2012, Nyimenka came to visit me and she mentioned her brother that was schooling in Europe. She even showed me his picture. In the picture he looked short and he had hideous long dreads. Lol. I was so not interested! Apart from the fact that I didn't like the way he looked in the picture, I wasn't really a fan of matchmaking.
Five months later, my mum was elected to be a Bishop and I came to our Port harcourt home from Abuja to help plan and coordinate the event. Nyimenka and her family came to visit and on my way to the evening service organized that day, I stopped over to say hi. That's when I saw Mike for the first time. After she introduced us I was surprised and relieved to see that he wasn't anything like the picture I saw. He was much taller and looked so much better without dreads. That was all I thought about. It never crossed my mind that we would be a couple at all.
After service we gisted for a while. He asked for my BB pin and that's how we continued communicating. Mike didn't stop telling me how he felt about me. And he emphasized that he didn't want to play, he wanted something long term. I've never been a fan of relationships that happen too quickly. I always believed they crash almost as quickly. But when Mike kept making his intentions known, instead of feeling irritated as I normally would, I actually found it adorable and at some point I started to believe him.
I remember telling Mike that I didn't want to waste my time or his so if in 3 months he still felt the same way then maybe I would consider it. That didn't stop Mike o. I did everything to discourage him but for where? Mike didn't go away o. He was consistently sweet, romantic, real and sincere. I liked his sincerity a lot. Even if he was trying to get me to like him, he didn't give me a false impression of himself. He practically came clean about his past, present and plans for the future. He wanted me to decide for myself if he was worth the shot.
On Valentine's Day last year he took me out for a romantic dinner and proposed to me. Now look where we are 🙂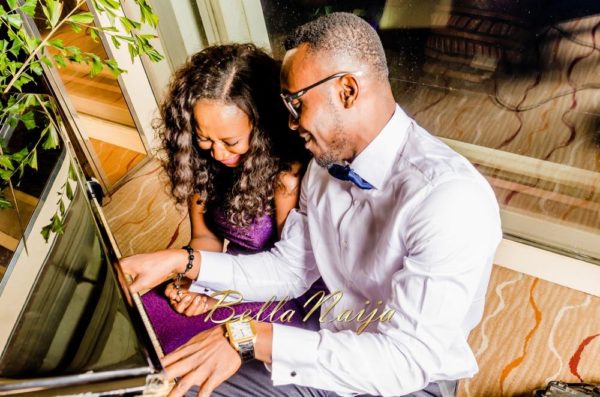 The Proposal!
Mike took me out for a romantic dinner at Woks & Koi Chinese Restaurant in Abuja on Valentine's Day. We gisted, joked and laughed over dinner like we usually did whenever we were together. When we were ready to leave, Mike signaled to the waiter to bring the bill.
Shortly after that, the bright lights in the restaurant went out leaving only the dim red lights on. For a few seconds, I thought it was power failure and the red lights were the backup. When suddenly, P-Square's "Onyinye" started blasting from the restaurant speakers from this "…See the girl I wan marry…" Then I saw the waiter with a tray with a ring box on it and sparkling light next to it. We started hearing screams from other people in the restaurant (mostly ladies' voices). I remember leaning towards Mike to whisper "I think someone wants to propose to his babe" but Mike wasn't in his seat. He was on one knee smiling at me and asked "Will you marry me?" I found myself nodding my head. Lol
At this time, the waiter was already at our table so he handed Mike the ring box. I was so stunned that when he placed the engagement ring on my finger – yellow gold with diamond stones – no words came out of my mouth.
I started feeling flashlights from cameras around me and hearing stuff like "Congratulations", "hope you will invite us to the wedding" etc.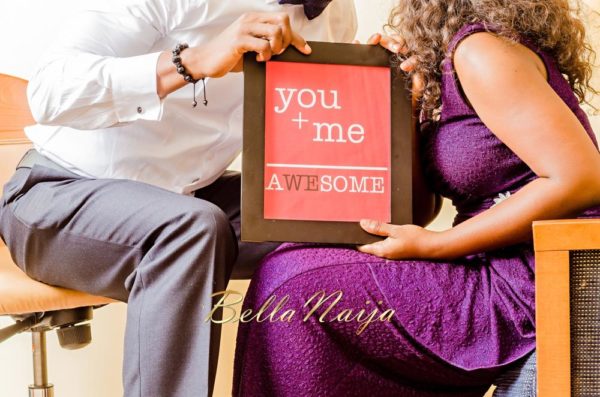 See their pre-wedding trailer by PapilonMexy Studios! Goofy and fun all the way.

50 years from now … also see some special moments from their wedding day!
Advice from the couple –
Commit the wedding and marriage to God
Pre-marital counselling is tres important
Start planning your wedding early enough so you don't break down during the process
Learn to delegate to people according to their abilities
Make sure your vendors totally understand what you want
Remember to have fun!
It's easy to see Nka & Mike had fun every moment leading up to their wedding and on the special day… and they also will in 50 years 🙂
***
The couple was wed by the bride's mother in a touching ceremony where bride and groom recited their personalized vows. Nka wore a Terry Costa crystal embellished mermaid dress with long ruched train, with a unique red bouquet to match the gold, red and white theme. The couple, ever goofy and fun, danced along to KCee and Flavour at their reception.
The beautiful BN bride comes from the rich Eleme town in Rivers State and will walk us through the events and their significance at her traditional marriage ceremony.
BellaNaija Weddings wishes Nka and Mike a beautiful life together as One.
***
~ Wedding Photography: Spicy Inc Studio
White Wedding
Traditional Wedding
"The first outfit I wore (the one with my tummy showing and no makeup) isn't exactly my native traditional attire. It was the invention of me and the lady that styled me/dressed me up. The story behind it was to show me in a natural state going about my daily activities hours before the wedding."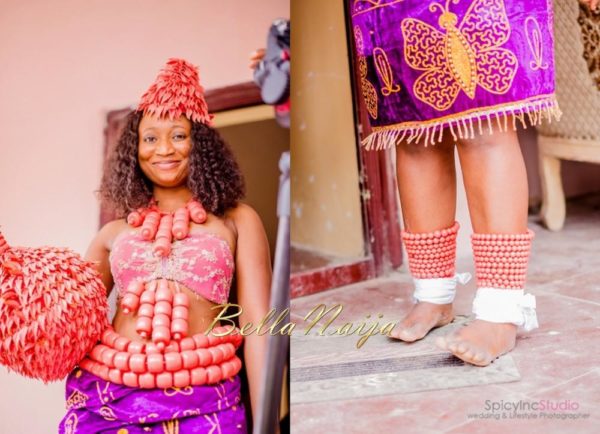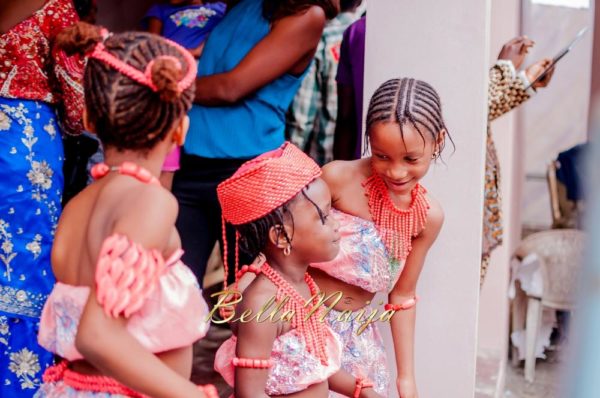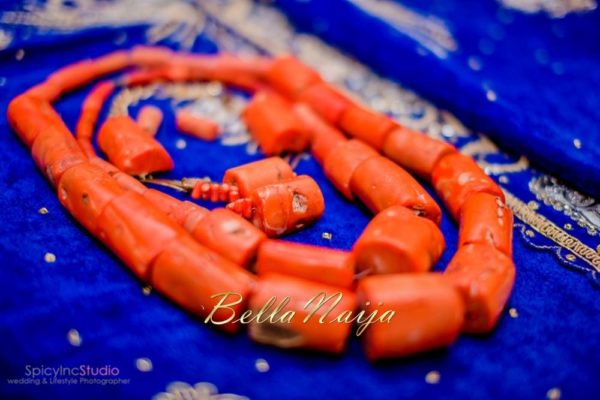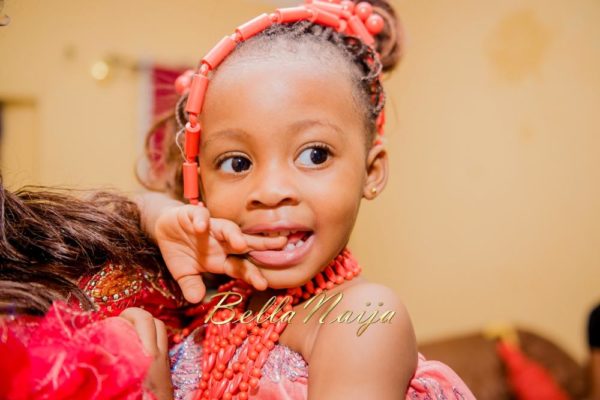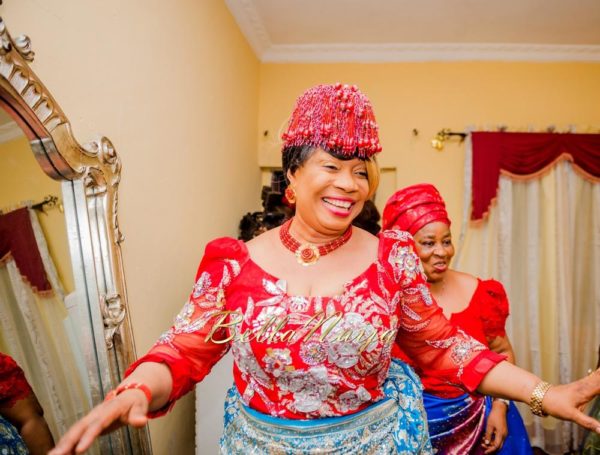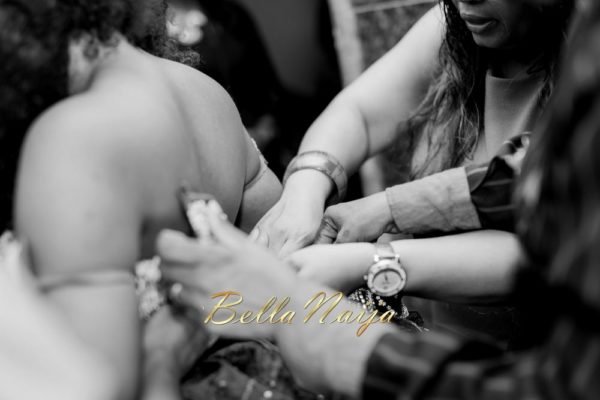 The 2nd outfit is called Mgbete. Originally the Eleme bride is expected to go bare chested with the bulky wrapper tied around her waist. The significance is to celebrate the virginity of the bride (the firmness of her breasts is supposed to signify her virginity. Lol) Well, of course I had to modernize it by using a coral tube blouse instead (to still keep part of our Rivers State heritage). People in Eleme don't really do that part of the traditional marriage anymore but I really wanted to tie the bulky wrapper. I had 10 different wrappers tied underneath this blue one, hence the bulkiness. Whew. Lol.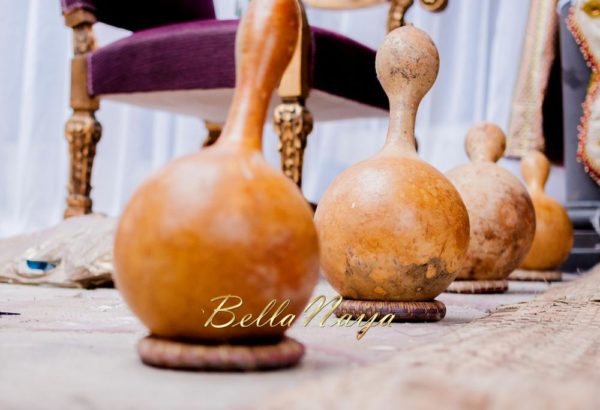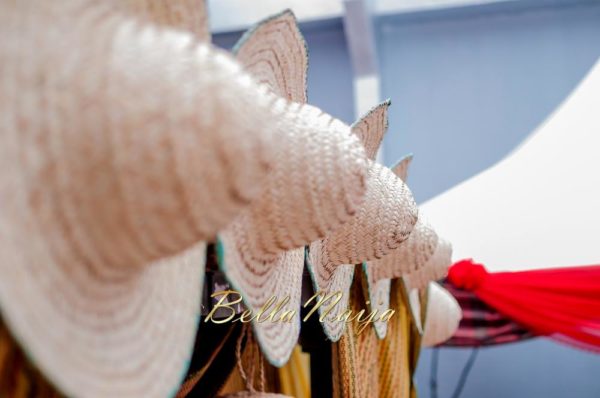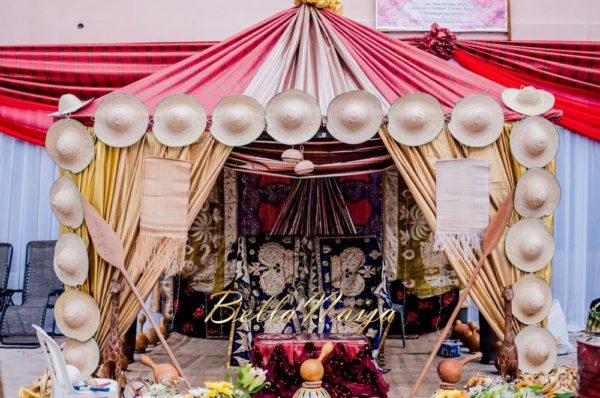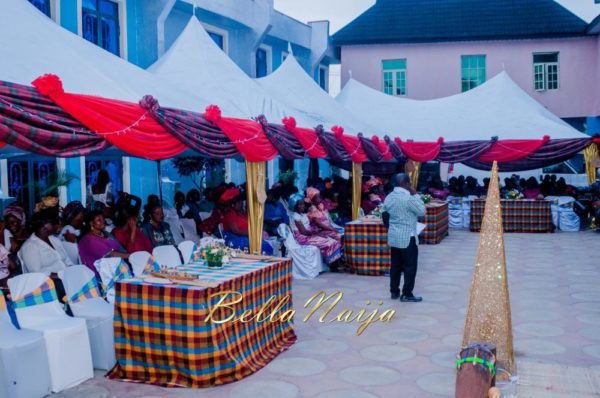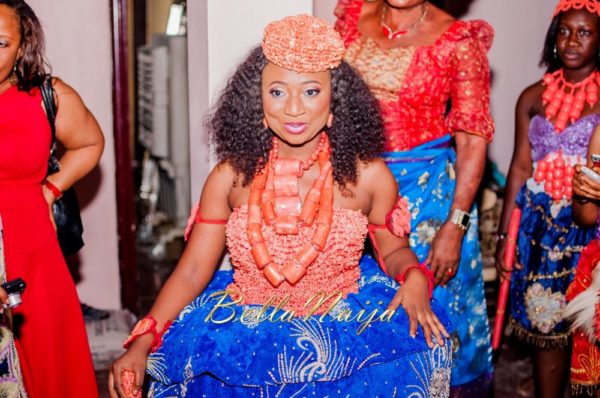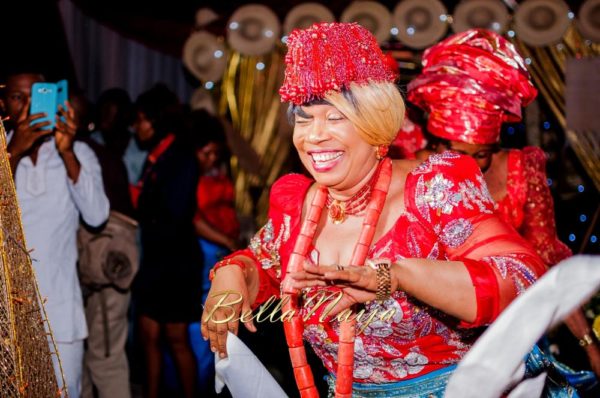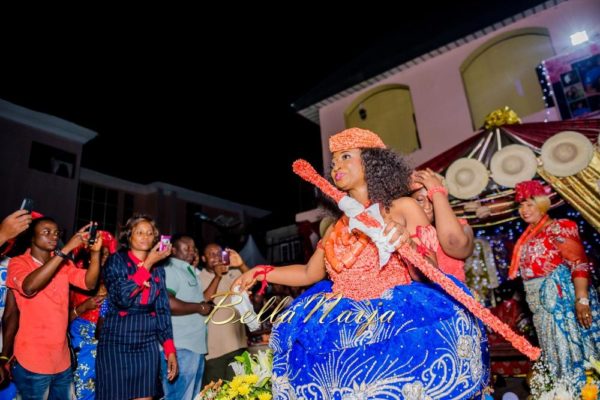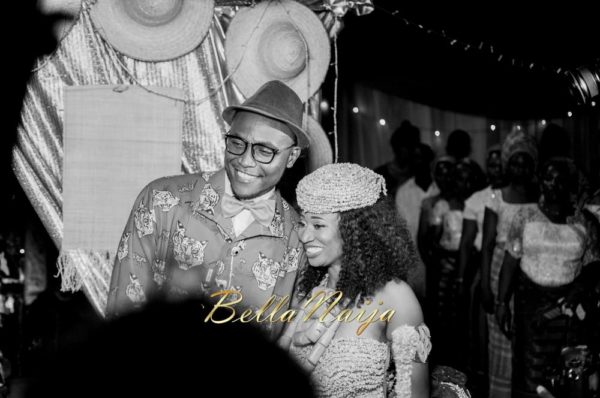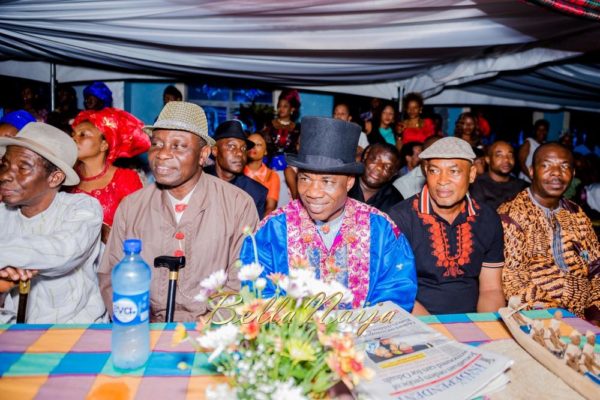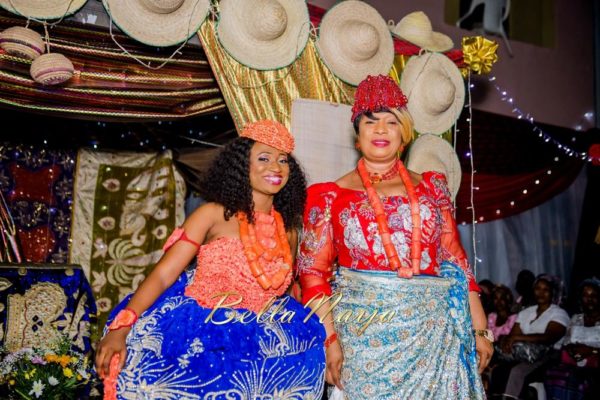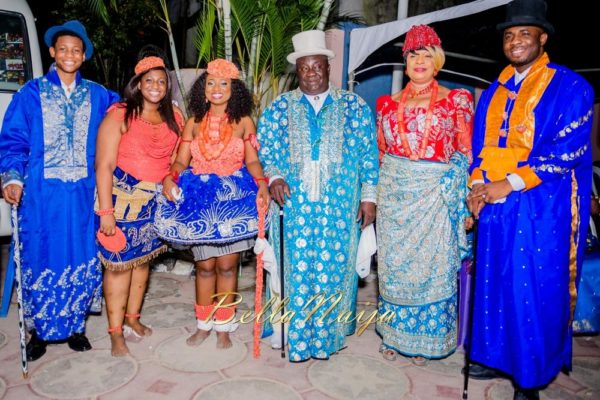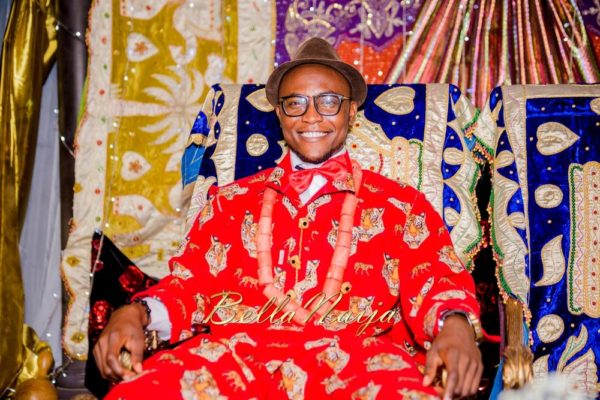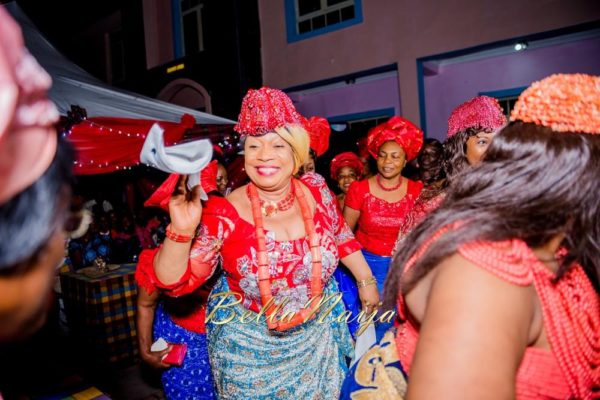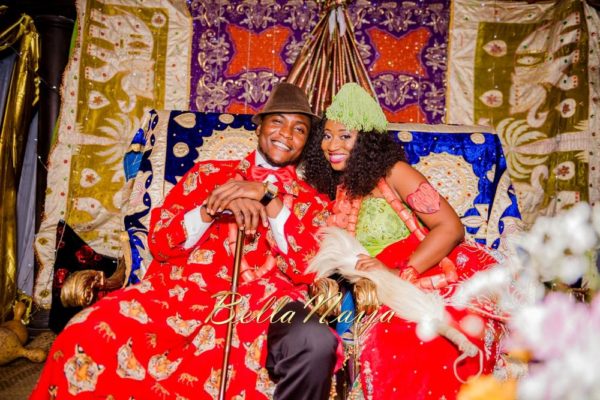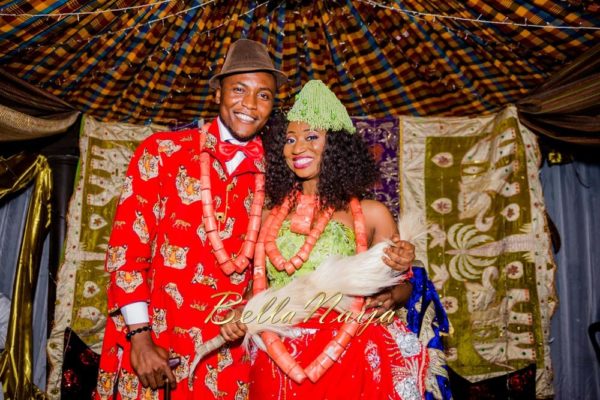 According to Eleme tradition, the mother of the bride ties a wrapper on the groom to signify that she accepts him as her son.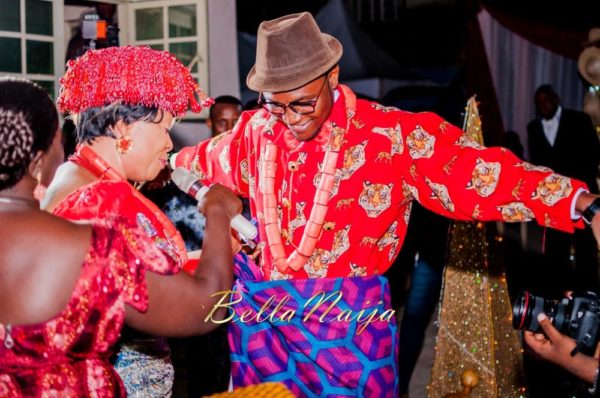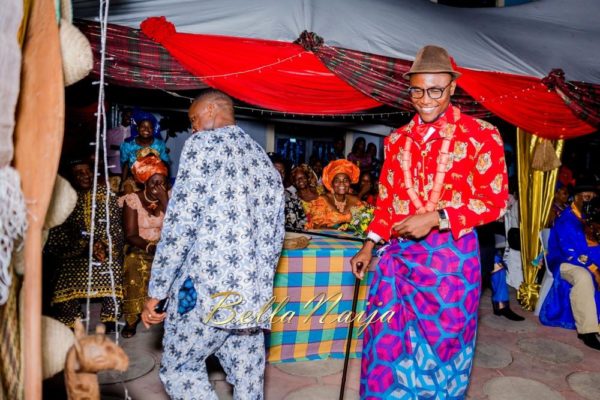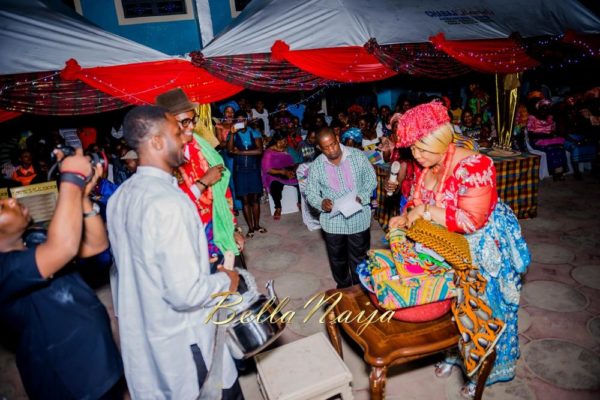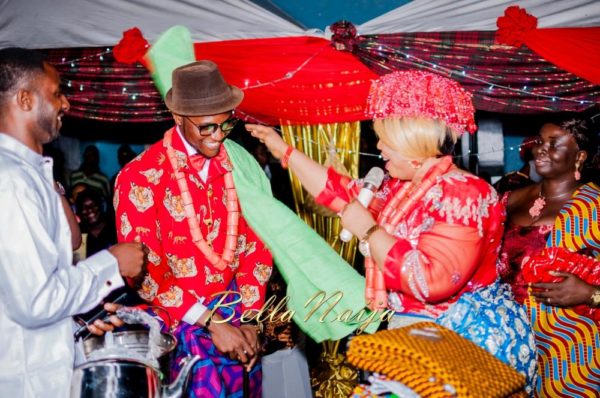 The feeding part of the traditional marriage is called oja onu which literally means "buying of mouth". The food is our native food: nja esaa – pounded yam with palm oil, lolo mbalo – pepper soup & njira -fish. This is where the couple gets to mutually feed each other. That's their first marriage assignment. Just as food is vital to life, this feeding signifies that they will nourish and take care of each other for the rest of their lives together 🙂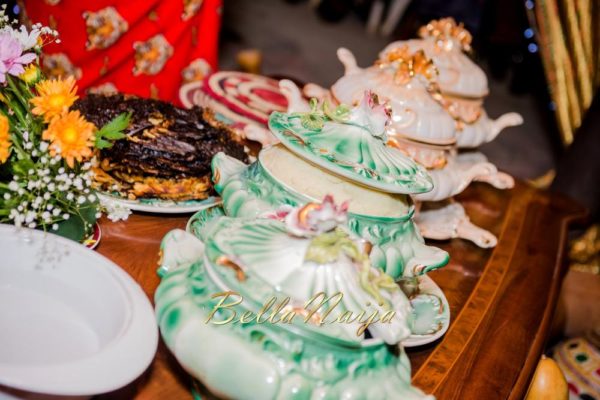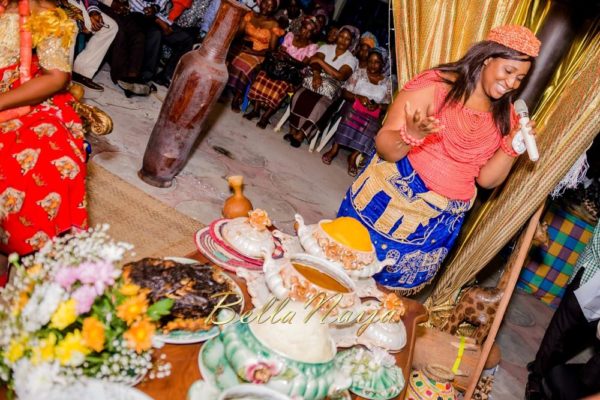 We also followed the modern tradition of cutting and serving each other our wedding cake.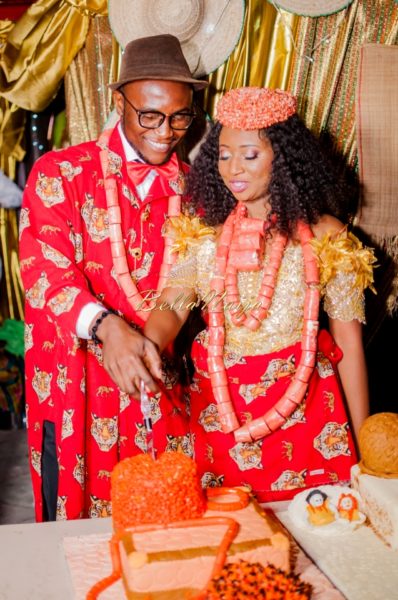 After all the rites were done, we danced into the night with family and friends…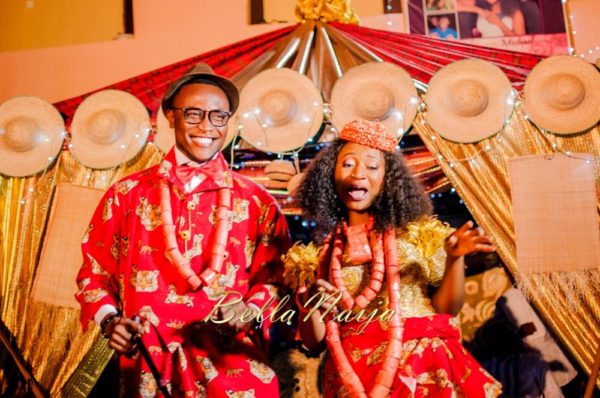 Photography: Spicy Inc Studio – [email protected]
Videography: Papilonmexy Film Studios
Wedding Info
Wedding Dates
Traditional Wedding: October 24th, 2013
White Wedding: October 26th, 2013
Venues
Traditional Wedding: Bride's Home
White Wedding
Church: Shammah Christian Ministries Int'l. Mao Alesa Eleme, Rivers State
Wedding Reception: Marquee @ #7 Paul Obelley Street, Mao Alesa Eleme, Rivers State
Wedding Colours
Traditional Wedding: Red and royal blue
White wedding: Red, gold and silver
Wedding Attire
Wedding Dress: Terry Costa
Make-up: Bellezza Faces
Groom's Suit: Caravelli
Bouquet: Yvonne Williams
Vendors
Wedding Planners: Creme 'n' Posh Event Planners – 07067740388, 08037090772
Wedding Cake: Gift Nwakwo
Wedding Decor: Intimacy Event Designers
Drinks: Cocktails In & Out
Invitations and Wedding Programme: Flakeside
Food: Various caterers
Vendor coordination: Creme 'n' Posh Events and Dreamweavers
________________________________________________________________________________
We love weddings as much as you do – get in touch for inquiries, inspiration & more!
E-mail: weddings (at) bellanaija.com | E-mail for #AsoEbiBella: asoebibella (at) gmail.com