When you follow an Aunty out an errand, you never know where she might take you … it just might be to meet the love of your life…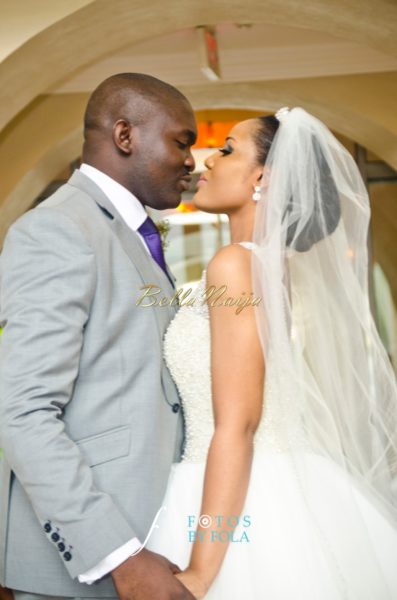 Bisodun & Dipo were joined in a touching and beautiful wedding in November. Enjoy their colourful wedding and funny story of how they met!
How We Met
Bisodun's Story
I remember we met on a Friday, it was June 17th. I left work earlier than normal that day because I wanted to get my hair done. Interestingly, I had a date later in the day – there was this guy I was talking to that 'made sense'. I had previously arranged to see my 'Aunty', who kept calling me while I was at the salon saying she was waiting for me at the car park in my office. Honestly, it was strange for Aunty came to my office – she was such a busy person, so I knew I had to show face. When I finally saw her, she was with Dipo and we were introduced. I remember he said something really funny, and I thought 'funny guy' but trust me my mind was on 'Mr. Potential' and our date that evening. Dipo asked for my number and I gave him. Two days later he called and these were his words – "I need your help, a friend of mine is having issues with his girl and wants to get her some jewelry, I told him about your jewelry business, can I get your BB pin so I can see pictures of your stuff so I can show him" . I remember laughing in my head thinking, "bobo yii oo le mehn!" (BN Editor's note – roughly translates: "this guy is not serious"). Obviously he was looking for a way to make conversation. I kinda found it cute though. That night we spoke for 4 hours. We clicked right away! I was smitten by his level of intelligence. I had a date the following day with 'Mr Potential' but you know what? I cancelled, I wanted to get to know this guy.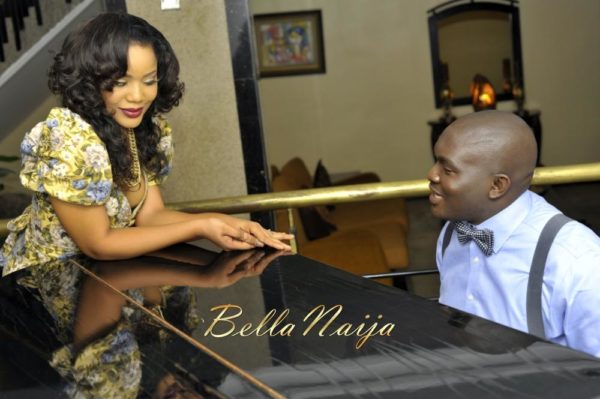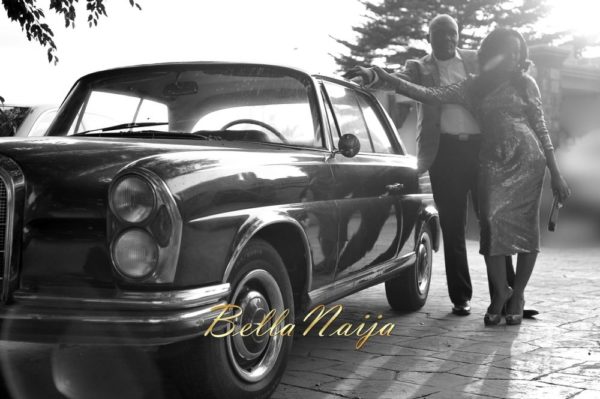 Groom – Dipo's Story
Thursdays are usually a busy day for me and this one was no exception. I was at my office trying to sort out some work stuffwhen my aunt asked me to take her somewhere. I was not excited at all as I couldn't say no and I still hadn't finished my work – we were preparing for a program the next day. So reluctantly I drove her to her requested destination. As we arrived, my impatience only grew as my Aunty had a knack for gisting away and would probably waste my time. All my impatience and anger quickly melted away when I laid my eyes on her. She was very beautiful with her natural hair freshly done with an acrylic silk black and red top exquisitely matched with a flared black skirt. She danced wryly to my car and introductions were made. She asked why I had so many drugs in my car and I replied "I'm a drug dealer" (I'm actually a pharmacist). She smiled coyly and numbers were exchanged.
The Proposal
He proposed on the 20th of February 2013 – it was a very beautiful private moment in Dipo's house with just the two of us…on one knee and sealed with a kiss!
***
At the engagement, the bride shone in her sequined top and white gele, as they performed the rites of a traditional Yoruba engagement – the proposal letter was read and accepted by the bride's family, she placed the fila on her groom's head, and he lovingly accepted with a prayer and a kiss. Yinka Ayefele performed at the joyous occasion before the new Mr & Mrs changed into matching pink.
On their wedding day, Bisodun's parents walked her down the aisle – a special moment for the bride. She shed a tear or two as they said their vows, in what was a touching start to their marriage. After the ceremony, the couple celebrated before their family and friends, all captured by the amazing Afolabi Sogunro of Fotos By Fola. As the night wore on the party continued and the bride stepped into a stunning dress she made herself – via her label Omoge Creations.
Just for you! Advice from the couple –
Please delegate duties to your friends and family! Very important.
Ensure you attend pre-marriage counseling, very important!
Pray pray pray! We cannot stress that enough.
BellaNaija Weddings wishes Bisodun & Dipo a beautiful life as One.
~Pre-Wedding Photography: T & K Photography
~White Wedding Photography: Fotos By Fola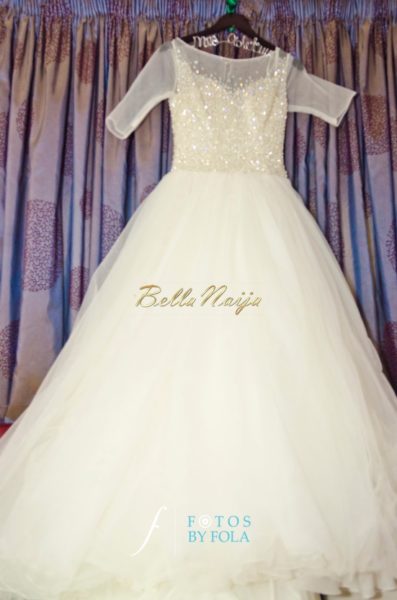 ~Traditional Engagement Photography: Fotos By Fola
Photography
Engagement & Wedding Photography: Afolabi Sogunro of Fotos by Fola | Website: www.fotosbyfola.com | Email: info (at) fotosbyfola.com | Instagram: @fbfatlanta | Facebook: Fotos by Fola
Pre-Wedding Photography: T & K photography | Phone – 08024554657
Wedding Details
Wedding Dates
Engagement: November 7th 2013
White: November 9th 2013-wedding
Wedding Venue: Grandeur Events Centre – Billings Way, Ikeja, Lagos
Wedding Colours
Traditional
Groom's side: Silver and wine
Bride's side: Blue and wine
White: Chartreuse green and eggplant
Wedding Attire
Bride's Makeup: Segilola Ajisoge | Phone number: 08105433987 | Instagram: @segilolaajisoge
Hair: Demola
Traditional Engagement
Aso Oke: Super Q | Phone: 08064537090 | Email: superqaso (at) gmail.com
Bride's 2nd outfit: Dupe Sagoe
Bride's Engagement Fan: Gem Haven – Funto Onabokun | Phone – USA number – 5044285348 | Nigerian number – 08134120658
White Wedding
Wedding Dress: Bride Beautiful in Atlanta, Georgia, USA
2nd Dress: Omoge Creations (bride's label) – Phone number- 08055610878 | Email- omogecreations (at) gmail.com | Instagram: @omogecreations, with help from Tsalach Fashion
Groom's Suit: Christian Legend | Phone: 08059180454
Bridesmaids dresses: By the bride – Omoge Creations
Groomsmen: Christian Legend
Vendors
Wedding Planner: Ayo Onakoya for Pisces Events Planners | 07033602446 | Ayomidele (at) yahoo.com
Decoration: Roastal Flowers – 08023109892
Wedding Cake: Cakes & Cream
Food: Biobak kitchen – 08036547901
Drinks: Bonix
Invitations: Ink Hearts Studio | Phone: Nigeria contact 08074783309, USA contact-4044520702 | Email: info (at) inkhearts.com | Website: www.inkhearts.com
Engagement Music: Yinka Ayefele
White Wedding Music: Faith Band
________________________________________________________________________________
We love weddings as much as you do – get in touch for inquiries, inspiration & more!
E-mail: weddings (at) bellanaija.com | E-mail for #AsoEbiBella: asoebibella (at) gmail.com