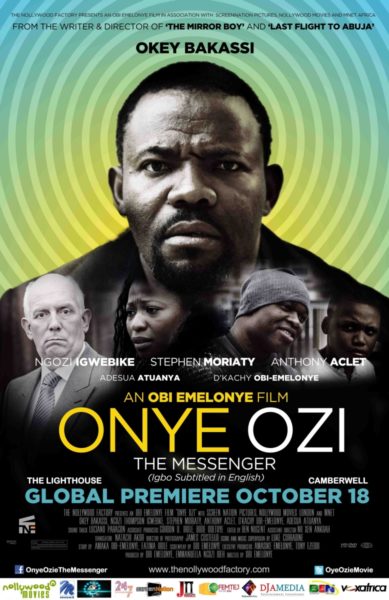 Director: Obi Emelonye (Last Flight To Abuja, Mirror Boy)
Writer: Obi Emelonye (Last Flight To Abuja, Mirror Boy)
Notable Stars: Okey Bakassi, Ngozi Igwebike, Adesuwa Atuanya, and Anthony Aclet.
Synopsis
A naive Nigerian man excitedly joins his fiancée in the UK after several trials at getting a visa, believing that formidable success awaits him in London. When his expectations are not met, he is thoroughly disappointed.
Writing
I must confess, seeing the name 'Obi Emelonye' before the title 'Onye Ozi' had put me off for a long time, and led to me not giving this movie a trial. Apologies to the hit maker and respected Nigerian filmmaker, but both of his previous efforts in Last Flight To Abuja and Mirror Boy haven't been impressive to me. Not one bit. My issue with his movies have always been the writing. The stories never seem to add up and take the most awkward turns and twists. But then, after seeing this movie, I must say this is the best of his efforts yet. Hey don't get excited yet folks, I am not saying it didn't have its flaws (we are getting to that), but Onye Ozi is hilarious and gives a satisfactory fairytale ending.
My favorite parts of the story were whenever Mkpurunma's kids (who I believe are Mr Emelonye's actual kids) were in the room exchanging banter with Metu (played by Okey Bakassi). In every scene he bragged about his degree in political science…(excuse me for a minute, I need to laugh again). I also loved the creativity of all the actors including the Caucasians speaking Igbo and not a single sentence was made in English. That was brilliant.
That said, there were flaws in the story. In the beginning, Mkpurunma (played by Ngozi Igwebike) says she has only known Metu for 5 months, then during the Wedding party, Metu while giving a toast says he met her a few weeks ago in Lagos at a friend's wedding. No attention was paid to little details. Also, we didn't need to see a repeat of the 'full' chase of TJ by the two bikers during Metu's 'mini-flashbacks'.
Thirdly, how do you not recognize a man who you held in your hands closely for several minutes before he gives up the ghost the very moment you step into his house and see his portrait?
Although I enjoyed this movie and I understand it wasn't a movie to be taken for more than just laughs; some characters needed more depth and so does Obi Emelonye's writing. For example Adaaugo played by Adesua Atuanya was intended to be seen as a bad character in the end. The audience was supposed to empathize with her but honestly, the lady wasn't well portrayed as a villain. All in all, I will say a job well done to Mr Emelonye.
Directing
Onye Ozi seems like a low budget movie which took a very short time to shoot, nevertheless, it came out looking good. From all indications and reports so far, it is also doing well profit wise. The colour correction is mostly well done, unlike the trailer which had so many visual flaws (one of the reasons I avoided the movie).
I also like how Obi Emelonye does his montage and cuts before establishing a story as was the case with Last Flight To Abuja (before losing it somewhere along the line).
The technical flaws noticed in the movie include the gun shot sound which wasn't any different from a clap. The special 360 degree effect done to TJ after he was shot which was totally unnecessary and uncalled for. I mean, the first time he was shot, we saw none of that, and then second time, comedy becomes sci-fi. The sound recording wasn't exactly the best.
Lastly, the proportion of the picture frame kept changing. One minute it's like Hulk standing over Okey Bakassi, the next it is tiny as a hobbit.
Acting
The acting in this movie was just perfect. Worthy of award nominations and wins. If you ever doubted Okey Bakassi's ability as an actor, watch this movie and that doubt will be cleared. Ngozi Igwebike as Mkpurunma, who I am seeing for the first time in this movie, is also a talent I will like to see in more movies. She owned the screen like she was born on it. Adesua Atuanya as Adaaugo was also really cool in her role. The acting was simply superb.
Verdict
Onye Ozi is a movie to watch if you want to simply have a great laugh. It's one of the most hilarious movies I have seen come out of the Nigerian movie scene in recent years. Nevertheless, it could have been better made. Too much of a mystery was created around the movie's big reveal of what was in the letter and the attention to details in Nollywood really needs to step up.
Onye Ozi earns a Popcorn and Hotdog.

You can catch the movie online on your favorite Nigerian online movie distributing sites.
So, have you seen it and what do you think about the movie? Do let us know in the comments box below. This review was brought to you by www.sodasandpopcorn.com Award winning movie blog. We Watch Movies So You (Don't) Have To.