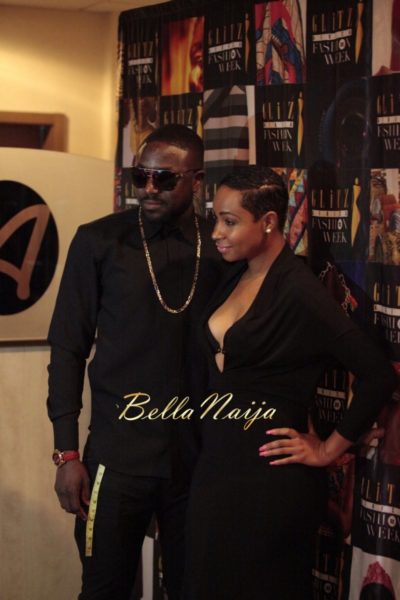 Is it over for everyone's favourite Big Brother Africa: The Chase couple Elikem and Pokello?
File this under so false.
Social media was abuzz with reports that Polikem have split for good. The former reality TV star and fashion designer took to his official Twitter account to shut down the reports.
He also hinted that the two may have secretly tied the knot.
Pokello and I are still happily together. This sh*t is insane. What has polikem done to these people. I love my wife. Period.

— elikem Kumordzie (@elikem_detailor) March 17, 2014
Elikem reportedly broke things off with Pokello, to begin a whirlwind relationship with German-based Theresa Onnen, the creative director of Unique World Fashion.
A few weeks ago, the BBA power couple were invited by Theresa Onnen to the launch of her label at the Royal Richester Hotel, Accra, Ghana.
Days later Elikem attended another event organized by Theresa, without Pokello in attendance.
Theresa later took to her Facebook page to share photos of her Elikem and together as well as a hair cut with the initials E and T (Elikem and Theresa).
She described him as her "babe", even going further to state "U bring out the best in me".
In a telephone conversation with Showbiz Ghana, Theresa revealed that she is pregnant. "I am two weeks pregnant for Elikem. We fell in love the very first day I met him at the launch of my clothing line of which he was part of the models. We exchanged numbers and we started a relationship from there. It is barely a month since we got to know each other, but anyone who has seen us together would think we have been dating for more than two years, simply because we click" she stated.
Theresa who is a mother of two, goes on to say. "I don't know why anyone should have problems with me. For some days now, family members of Elikem and friends of Pokello have been disturbing me with phone calls to stay away from Elikem but all I tell them is we are in love and no one can stop us.
If Elikem tells me he is no more interested in me, then I will understand that I am the loser and back off but for now, we are happy together."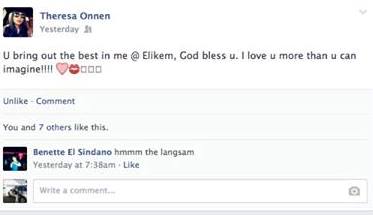 She has since taken down the images from her Facebook page but snapshots of her posts have made its way online.