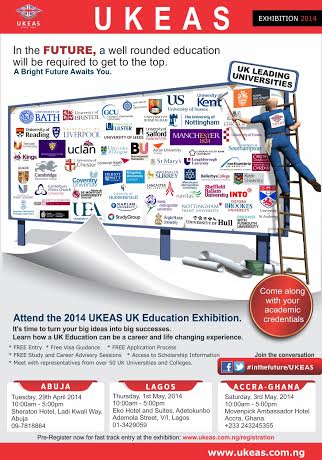 Nigeria and Ghana get ready! The UKEAS UK Education  Exhibition 2014 is coming and they have got over 50 quality UK universities and colleges for you to choose from.
The free entry fair will come to Abuja first then move to Lagos, Nigeria and then move over to Accra, Ghana. It affords all interested participants the opportunity to discuss your career and study plans with the UK University representatives in one-on-one discussions; and even the possibility of getting on-the-spot admission offers from these international institutions if all your academic qualifications are adequate.
UKEAS is also offering free study and career advice, free application processing, free visa processing and free access to scholarship information. With all those Freebies, you would be missing out if you don't attend.
Pre-register now at www.ukeas.com.ng/registration
Event Details
Abuja
Date: Tuesday 29th April 2014
Time: 10AM — 5PM
Venue: Sheraton Hotel, Abuja
Lagos
Date: Thursday 1st May 204
Time: 10AM – 5PM
Venue: Eko Hotel & Suites, Victoria Island, Lagos
Accra, Ghana
Date: Saturday 3rd May 2014
Time: 10AM – 5PM
Venue: Movenpick Ambassador Hotel, Accra
____________________________________________________________________
Sponsored Content