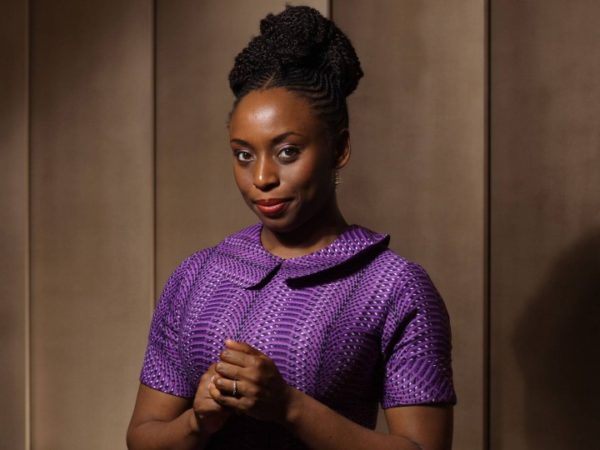 There's just something about a Chimamanda Ngozi Adichie interview that just draws you in.
Be it a printed interview or on our TV screen, she always comes-off as someone older than her years, with a wealth of experience to share – one letter at a time, one word at a time.
The Nigerian author who was recently called one of Africa's Greatest Innovators in Arts and Sciences – read it here, had an exclusive sit down with OK! Nigeria Magazine for its new issue in May 2014.
In it, she speaks on her success, education, the movie adaptation of Half of a Yellow Sun, feminism, the word – "role model", as well as what she really thinks about Beyoncé .
Read excerpts;
On the current state of education in Nigeria compared to growing up: "It's very easy to think that your childhood was better, but it was. The education system was much better back then. I went to the university, primary and secondary school where I got a fantastic education, I don't think it is possible now in Nigeria to get the kind of education I got in a school of that sort without paying tonnes of money and having to do the British curriculum or something. So education has gone down since then, which is a terrible shame."
On is she expected Half of a Yellow Sun to be this well received: "No, when you write a book you never know what to expect and I wasn't writing a cool story. I was writing about a war in Nigeria in the 1960s, there's nothing cool or sexy about it. It was personal for me and many people said 'What are you doing? Nobody will read it'. But I wrote it, because that's what I wanted to write and I'm very happy that it's done well."
On what makes HOAYS different from other Biafran war stories: "Mine is a novel that looks at the world from different points of views such as race, class and gender. For me it's not so much 'how is it different?' I'm hoping many more people will write about that period, there are many stories that haven't been told."
On being called the 21st Century Daughter by The Washington Post Book World: "(Laughs) I have no objections to that. I think it's a lovely compliment. Chinua Achebe is the closest I have to a hero. He was a remarkable man."
On if feels like an advocate for women empowerment: "I don't really like the expression 'female empowerment'. I like gender equality, because female empowerment can mean that we want women to have more privileges than men or be stronger. What I want is equality; a world where we don't say to women 'You have to do a certain thing because you're a woman.' I see myself as someone who believes very deeply in gender equality and I talk about it because I care about it. There are young women who have said to me, because they heard my talk they now identify as feminists and also some young men. It's not just about women it has to also be about men."
On if Beyoncé is a good role model for females: "I don't like the expression 'role model' the role model that children really need are their parents. I don't think it's the place of a public figure who has her own life to be expected to do what we want her to do. I do think that it's wonderful that Beyoncé lives life on her own terms. If she were a man I don't think we would be questioning things like 'Is he a role model?'."
On how her husband feels about her success: "I'm sure he's fine with it. Nobody would ask a man 'How does
your wife feel about your success?' because it would be considered, of course she would be happy and supportive. We live in a world where in many ways we tell women that they're less important in relationships and women themselves buy into that. I'm supposed to say 'He handles it very well, he doesn't mind'."
On what she meant by "feminism is an idea, not a movement" (watch): "Anybody who believes in gender equality is a feminist. It's not a party or a movement where you have to get an identity card to belong to it. There are different feminisms, some I do not agree with everything, but the whole goal is that we want a world where there is gender equality. Feminism is not just about women it's about men. A man who believes in gender equality is a feminist. It's believing in in the idea and working towards it."
To read more on the interview, pick up the new issue of OK! Nigeria.