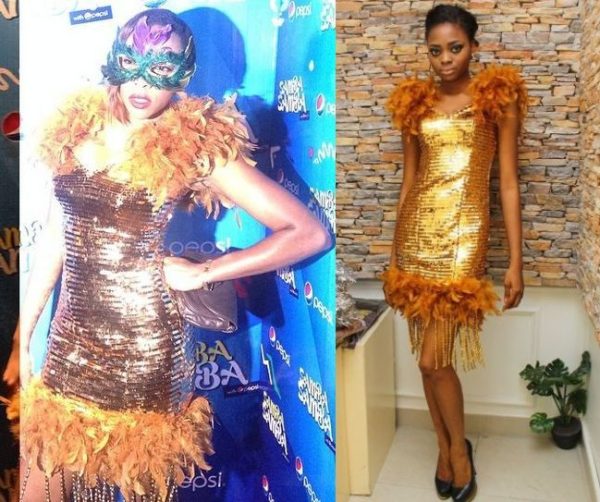 BN Style brought you the recap of The Fashion Protégé on Friday, where all contestants were asked to create and present to the judges a dress inspired by Brazilian sultry dance Samba – read it here.
Antoinette won the challenge.
Fade Ogunro who is also the host of the first-of-its-kind reality TV show in Nigeria,chose to rock the winning piece to the Pepsi Samba Party which coincidentally took place on Friday 23rd May 2014 at Spice Route, Lagos – just 24 hours after the show aired on Africa magic.
Fade styled the sequined dress which features feather ruffles on the shoulder and hem, as well as beaded fringe, with a blue mask, silver bracelet and a silver clutch.
Don't forget to catch The Fashion Protégé every Thursday at 8pm , Friday at 9.30pm, Sunday at 8.30pm and Monday at 1.00am on Africa Magic Entertainment, Channel 151