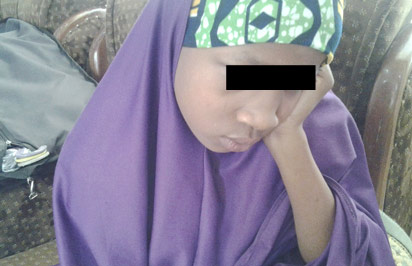 Wasila Umaru, the 14-year-old child bride who killed her husband because she did not love him and was forced to marry him, is begging for freedom.
Umaru confessed to the murder and was charged with "culpable homicide," and has remained in custody since April.
During a court proceeding for the case, she wept, begging the trial judge for freedom.
Chatting with Vanguard, Umaru said:
"I miss my mum who has not been allowed to visit me in a strange land.
What, however, keeps me going is the fact that my family are with me at this critical point in my life, and I am highly comforted by their prayers.
My dad and aunt visited me a few days ago and conveyed my mother's message but the vacuum created by  her absence can not be filled by anyone 
I  have been receiving help from the people I did not know from Adam, I mean women who have shown concern, and cater for my needs at the remand home where I have been detained by the authorities. 
"I know for sure this trial will come to an end one day and I would reconcile with my family," she said.
Umaru had previously been arraigned before a magistrate court, however; protests from a women lawyers' human rights group prompted the Kano State Judicial Council to transfer the case to the juvenile court.