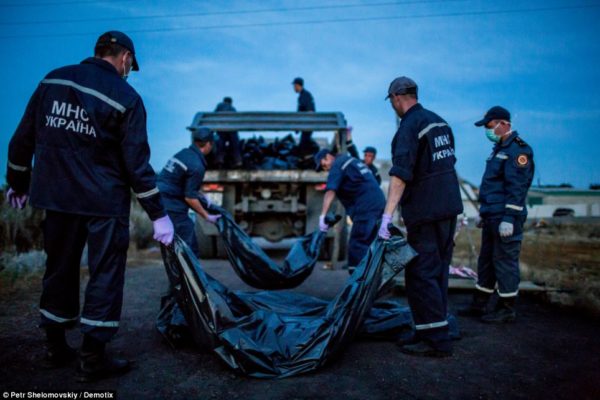 The family and loved ones of the Malaysia Airlines MH17 crash victims are expressing outrage at what they have called the "inhumane" and "degrading" treatment of the corpses.
According to reports, the 298 corpses were left to decompose in the heat on the crash scene for 3 days, Daily Mail reveals.
It was only during the weekend that clean-up was conducted. The bodies were reportedly wrapped in black plastic bags and lined up on the roadside, before being tossed onto dirty trucks.
The corpses were transported to a refrigerated train heading to some experts for examination. After the examination, the bodies are to be sent home to respective loved ones. 
Sources are alleging that the refrigeration on board the trains had not been working.
The controversy surrounding the handling of the crash, as well as the delay in families receiving the bodies of their loved ones, has heightened the grief of the bereaved families, as they are currently unable to make funeral arrangements because of the delay.
Photo Credit: Daily Mail/Peter Shelomovskiy/Demotix