Salut my BN Cuisine Fam!
First, I'd like to say a big thank you to Matse for that recipe last week. Jesus is Lord! I know I wasn't the only one who just wanted to collect the rice from their screen and sharply heat it up the the microwave and enjoy the goodness that is life! If wishes were horses abi?
Today, my post is for brunch – that middle point between breakfast and lunch. It's the perfect excuse to first eat pancake then go in on some Jollof rice and peppered snail and what not. However, I may still be in my American food tour spirit where breakfast could easily be lunch or dinner set so that's probably why this meal came out the way the it did. This recipe is fitting for a Saturday breakfast or something you could have friends over for on a Sunday. Just find an excuse to make these make-your-heart-do-small-shoki- potatoes and heaven-on-earth-make-you-dance-sekem eggs.
The potatoes need that butter so no FITFAM here! The combination of lemon chilli and thyme is perfection and those eggs… *drops mic*
This recipe is a reflection my new wave of keep things simple but extremely delicious. These are ingredients that can be found everywhere. For the fresh stuff you can find the dried versions. I get fresh herbs from L'epicerie, La Pointe, Delis, Goodies and Spar a.k.a Park n Shop.Sometimes, I source them at the local market at Law School or Ilupeju Indian Markets. It a daily cheap recipe as it cost me less than N2,000 to make!
All you need is a little patience here. Once it all comes together, the rest is history. All you would remember is the deliciousness you just finished experiencing. The food items you need are below but please more importably please do have a good non stick fry pan! This is so important.
Potatoes
1- 1.5 kilos potatoes
1 tsp salt or to taste plus extra
3 cloves garlic (smashed open)
1 tsp coarsely ground black pepper
3 fresh sage leaves or 1 tsp dried sage
1 sprig fresh rosemary or 2 tsp dried rosemary
2 sprigs fresh thyme or 1 tsp dried thyme
60g unsalted butter cut into cubes (butter nor margarine please)
1/2 tsp turmeric powder mixed with 2 tsp water
2 tbsp finely chopped parsley
Small bunch spring onions
Chicken
1 Small chicken (whatever size you like really) cut into four parts
2-3 cloves of garlic
Zest of half a lemon (I used the imported type because I had them. The locally grown ones work just as well)
Juice of half a lemon.
1 tsp rock salt (use regular salt of you do not have rock salt. its fine)
1 tsp coarsely ground black pepper
2 tsp fresh thyme or 1 tsp dried thyme
1 small thai chilli (tiny looking shombo chilli) or on dried chilli flakes or Habanero a.k.a ata rodo(thai chilli is nicer… the heat is there without the fruitiness of the atarodo)
2 green peppers cut into large squares
2 red bell peppers or tatashe cut into large squares
Eggs
3-4 eggs
2 tbsp olive oil
Espelette pepper to taste or Cameroun Pepper or a sweet dried pepper powder.
10-12 tiny drops Worcestershire sauce (Please insist on the Lea&Perrins brand. they have been making it for like 3 centuries now)
Start by marinading your chicken.
In a mortar or bowl smash the olive oil, garlic, salt, black pepper, chilli, zest, altogether and massage well into the chicken pieces. and leave to one side for about 10-20 minutes – maximum, an hour. This marinade doesn't need 24-hour type marinading but if you're making a big batch and just want to get things ahead of the way please by all means do it the night before.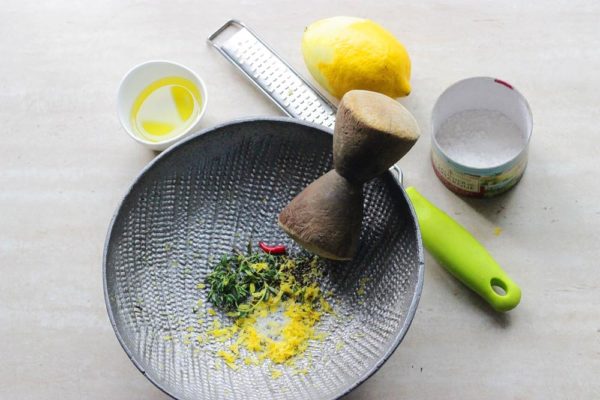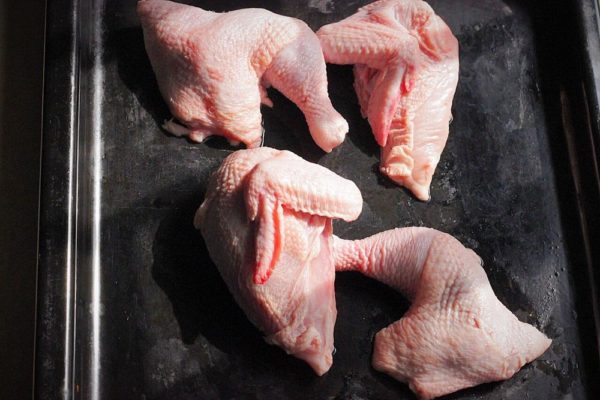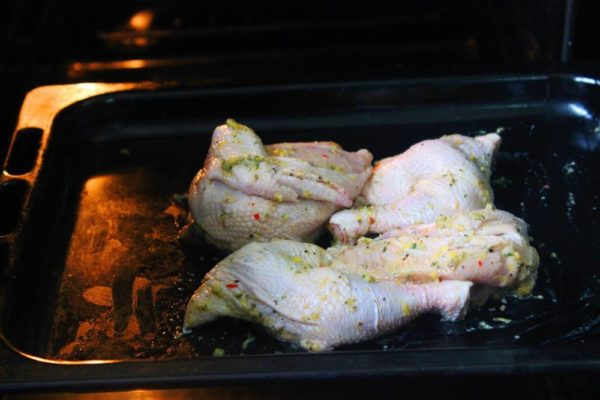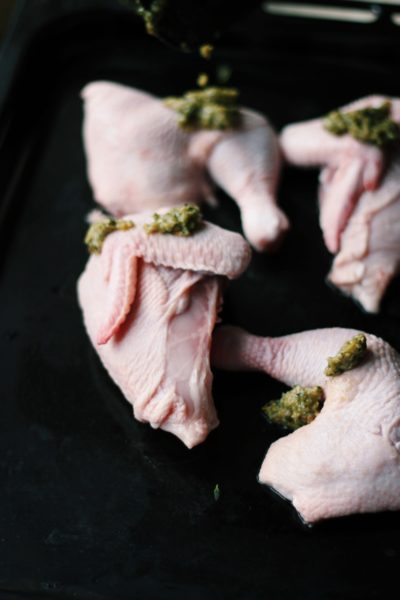 Place in a hot 200*C/392*F/400*F Oven middle rack and leave to cook for about 15 minutes
While the chicken is dying a second death for your sake, peel and cut your potatoes into cubes. Whatever size you choose, just make sure there are similar sizes so they all cook at the same time. Place in a saucepan/pot and boil with the "plus extra salt" (salt it to your taste but not too much) for about 12 minutes to till it's done -that's when a knife goes through it easily without resistance.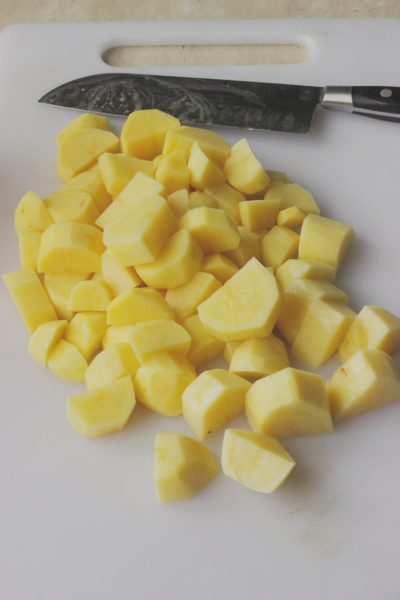 Do not boil it too soft we need it to retain it's shape for the next stage of cooking.
Drain the water and leave to dry out for a minute in the strainer/colander. To you hot pan, add the oil and butter but do not allow the butter brown, then add the potatoes along with all the herbs and smacked cloves of garlic expect the parsley, salt and black pepper (the black pepper would burn and the parsley would over cook and turn black quickly) cook on a fairly high heat.
Toss the potatoes well in the butter and oil and shake out to even them out on the pan. Leave like that for about 5 minutes to allow the sides of the potato to start to crisp up nicely. Allow for 2-3 rounds of cooking – 5 minutes on each side or till browned well and looking golden all round. The addition of the turmeric add a subtle woody flavour and a boost of gold saturation to the potatoes.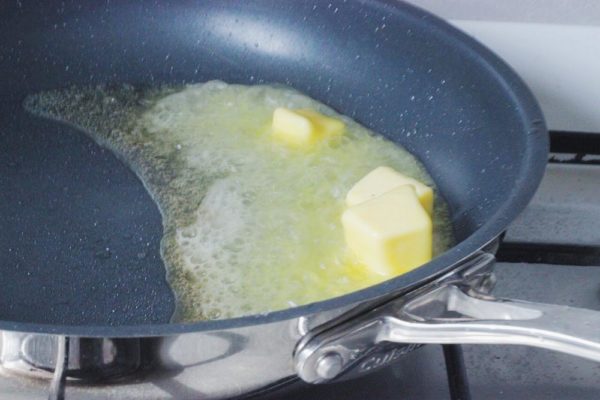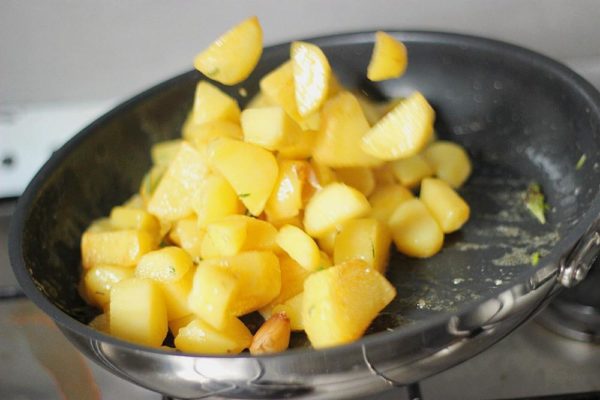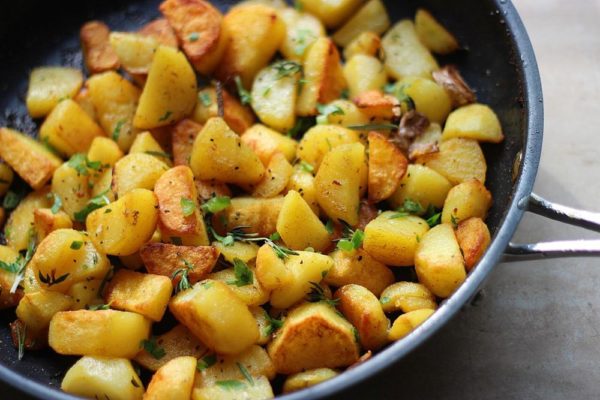 Finish off by add the parsley, spring onions and black pepper. Check if it needs a touch more salt.
By now the chicken should be ready. Take it out of the oven and place the bell peppers in the same oven tray. Put in the oven for another 8-10minutes or till soft and taken all that chicken juice flavour. Check for seasoning and adjust as you like.
Finally, in a cup or bowl, break your eggs gently. In your non stick pan, add your olive oil. When it gets a little smoky, add the eggs and reduce the heat to a medium flame. Top with whatever dried pepper you're using, then proceed to use the secret weapon which is the Worcestershire. Be very careful when dropping. It's pretty strong, but so good!
You wont need salt for the eggs because the sauce has a salty but sweet element to it. I like my eggs easy, so my yolks are still a little runny. If you like your yolks done, Place under a grill or just leave to cook on the lowest heat and cover with a lid or foil paper. this would cook the top and would avoid you the risk of flipping the egg and destroying the beautiful effect it has in the pan. finish off with spring onions or fresh parsley if you like.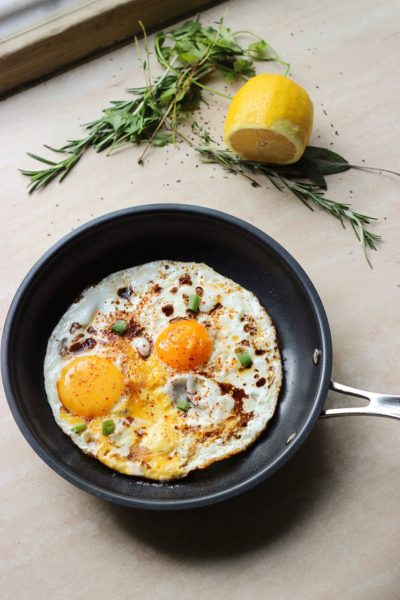 Toss the peppers with the chicken lay all out straight from the pans or in nice serving dishes. Get out you freshly squeezed juices or packet if you can't be bothered and the breakfast/brunch conversations.
My mother almost didn't make this photo shoot happen because she found the potatoes irresistible. I won't lie, the minute I said it was a wrap I threw out all decorum and grabbed the potatoes with my bare hands. No time for fork and knife!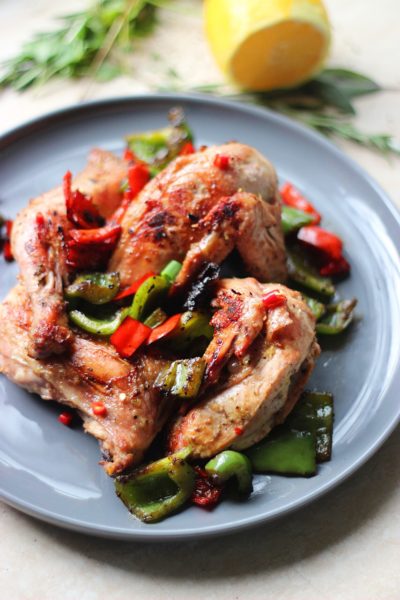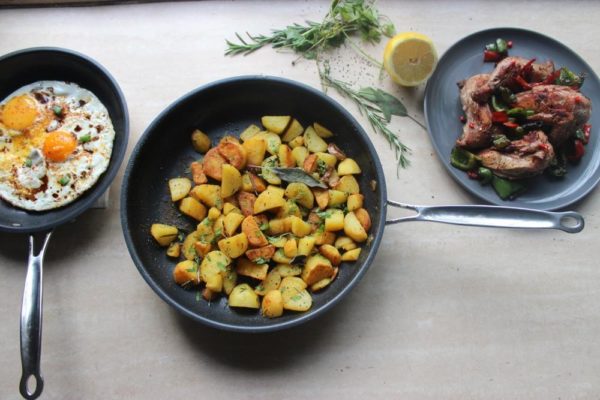 The biggest thanks to my assistants Moses and Charles who assisted me as my burnt fingers were kind of in the way of the cooking.
Let me know how yours turned out! Have a blessed weekend people!
Demi-Sec and Fried Yam Love…
Ciao!
Photo Credit: Gbubemi Fregene for Chef Fregz