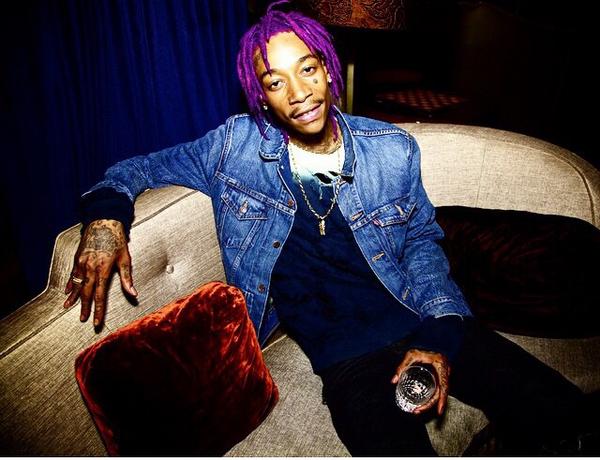 Where you may go for ice cream or chocolates after a breakup, and while Amber Rose tweets about the pain of her separation from rapper husband Wiz Khalifa, he decided to go a unique way.
Wiz Khalifa's breakup remedy seems to be dyeing his hair.
The rapper took to his Twitter page to share his new look with his fans, calling his newly dyed purple dreadlocks 'Purple rain'.
Wiz Khalifa also took to social media recently to share heartwarming photos of his son Sebastian "The Bash" Taylor Thomaz, two weeks after Amber Rose filed for divorce. The 27-year-old rapper shared a cute picture showing him sitting casually in the driver's seat of a car with his son on his lap, as well as a picture showing Wiz and his son playing with toys on the floor.
We can't seem to get over his purple hair.
Wiz debuted his colorful new hairstyle on Twitter earlier in the week and even documented the dyeing process.
Stage 1. pic.twitter.com/CiuyTB7Y6v

— Cameron (@wizkhalifa) October 7, 2014
Purple Rain. pic.twitter.com/lkXsZ21ciD

— Cameron (@wizkhalifa) October 7, 2014
Smile for the day. pic.twitter.com/OjHCONQeux

— Cameron (@wizkhalifa) October 7, 2014
The purple hair is certainly a bold look. Do you think it works for him?
Photo Credit: Twitter|WizKhalifa